Visitors to the Gare du Nord over the past week will have noticed among the patrolling soldiery and prowling beggars a startling new arrival: a square, two-storey glass kiosk with a diamond-faceted chrome-clad roof and white neon lettering bearing the phrase L'Etoile du Nord.
This is the new station buffet, named after the train which used to connect Paris Nord to Amsterdam in the days of mythic lines such as the Oiseau Bleu to Brussels and the Fleche D'Or to London.
In naming the restaurant, the French state rail company SNCF is underlining its place in a grand design, to reclaim the tradition of French station catering before it disappears beneath the floodwater of Starbucks, Pret a Manger and Burger King.
Once legendary continental trains were matched by splendid station buffets, often outstanding examples of Art Nouveau, of which the last extant example is the magnificent listed monument Le Train Bleu in the Gare de Lyon. The Gare du Nord's equivalent, the old Fleche D'Or brasserie, disappeared in the seventies and the Gare d'Austerlitz's dowdy buffet was finally bulldozed in 2012, the year the resurgence started.
At the inauguration of the new Etoile, Patrick Ropert, head of SNCF stations, spoke of enrolling the big names of the restaurant world to re-invent railway gastronomy, and commented that 30 per cent of station users now come for facilities other than travel.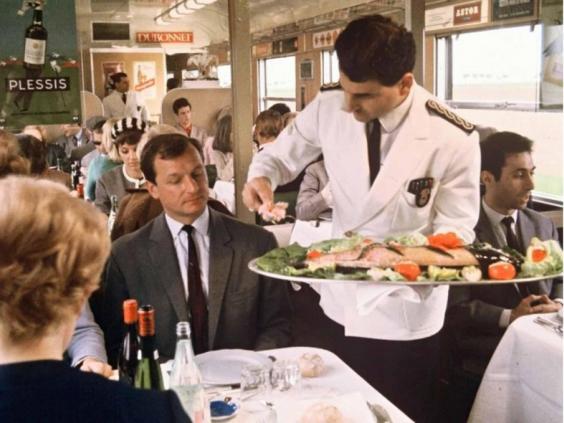 Meanwhile, the restaurant's gnome-like figurehead, Thierry Marx, star chef of the Mandarin Oriental hotel, dashed among the microphones dropping sound bites such as a place of conviviality while a crack waiting team got on quietly with mastering the gleaming new equipment. One of Marx's guidelines for the food is the old tradition of dishes referencing the regions served by the trains, so items of cuisine du nord such as endives gratinees au jambon feature, as does fish and chips, a positive plague which affects would-be trendy Parisian menus at the moment.
The idea of the operation, open from breakfast to post-dinner drinks, is to function as a canteen for the quartier, and this is symbolised by its position, open to the station concourse and also to the street beyond.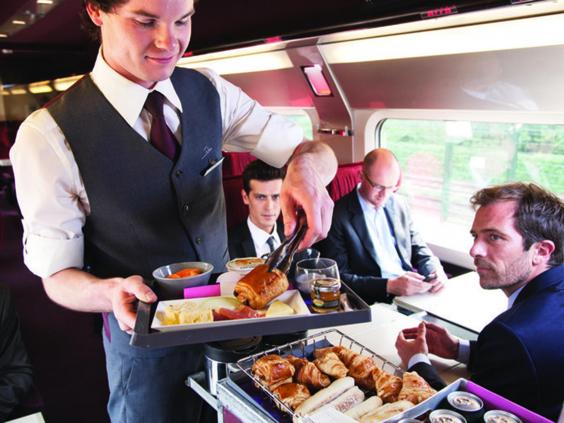 The predecessor of the Etoile is doing this very successfully across town, in Lazare, the new buffet of the Gare Saint Lazare –Paris' oldest and second busiest station. Its 15-year Euro renovation was finished in 2012, where the SNCF invited offers to open a restaurant in one of the last units in the three floors of built-in shopping mall not yet taken by the likes of Swarovski and Promod. "Nobody else would risk it so I got a good deal," says Eric Frechon speaking in his office in the Hotel Bristol, whose grand restaurant L'Epicure he officiates over, turning out dishes such as his speciality lievre a la Royale (hare) at 110 Euros. I'd just eaten Frechon's lievre at under half that price in Lazare.
Food and drink news
Food and drink news
1/20 You can now get a job as a professional chocolate eater

The company responsible for some of your favourite chocolate brands – think Cadbury, Milks, Prince and Oreo – have officially announced an opening to join their team as a professional chocolate taster. The successful candidate will help them to test, perfect and launch new products all over the world.

Getty Images/iStockphoto

2/20 MSG additive used in Chinese food is actually good for you, scientist claims

For years, we've been told MSG (the sodium salt of glutamic acid) - often associated with cheap Chinese takeaways - is awful for our health and to be avoided at all costs. But one scientist argues it should be used as a "supersalt" and encourages adding it to food.

Getty Images/iStockphoto

3/20 Lettuce prices are rising

Not only are lettuces becoming an increasingly rare commodity in supermarkets, but prices for the leafy vegetables seem to be rising too. According to the weekly report from the Government's Department for Environment, Food and Rural Affairs, a pair of Little Gem lettuces had an average market price of £0.86 in the week that ended on Friday, up from an average of £0.56 in the previous week – that's an almost 54 per cent increase.

Getty Images

4/20 Food School

Kids celebrate Food School graduation with James Martin – a campaign launched by Asda to educate young people on where food comes from. New research has revealed that children across the UK just aren't stepping up to the plate when it comes to simple facts about the food they eat – with almost half of children under eight not knowing that eggs come from chickens

RichardCrease/BNPS

5/20 'Do-It-Yourself' restaurant

To encourage more people to cook and eat together, IKEA has launched The Dining Club in Shoreditch – a fully immersive 'Do-It-Yourself' restaurant . Members of the public can book to host a brunch, lunch or dinner party for up to 20 friends and family. Supported by their very own sous chef and maître de, the host and their guests will orchestrate an intimate dining experience where cooking together is celebrated and eating together is inspirational

Mikael Buck / IKEA

6/20 Ping Pong menu with a twist

Gatwick Airport has teamed up with London dim sum restaurant Ping Pong to create a limited edition menu with a distinctly British twist; including a Full English Bao and Beef Wellington Puff, to celebrate the launch of the airport's new route to Hong Kong

7/20 Zizzi unveil the Ma'amgharita

Unique pizza art has been created by Zizzi in celebration of the Queen's 90th birthday. The pizza features the queen in an iconic pose illustrated with fresh and tasty Italian ingredients on a backdrop of the Union Jack

8/20 Blue potatoes make a comeback

Blue potatoes, once a staple part of British potato crops, are back on the menu thanks to a Cambridge scientist turned-organic farmer and Farmdrop, an online marketplace that lets people buy direct from local farms. Cambridge PhD graduate-turned farmer, Adrian Izzard has used traditional growing techniques at Wild Country Organics to produce the colourful spuds, packed with healthy cell-protecting anthocyanin, which had previously disappeared from UK plates when post-war farmers were pushed towards higher-yielding varieties

9/20 France plans to usurp Scotland as the home of the world's best whisky

France is planning to usurp Scotland's reputation as the home of the world's best whisky, fired by a growing national obsession with the drink. According to a study by retail consultants Bonial, the French drink more whisky than any other country – an average of 2.15 litres a year, compared to 1.8 litres in second-placed Uruguay and the US in third on 1.4 litres

Bloomberg via Getty Images

10/20 The price of an avocado is set to rise

Britain's avocado coulovers are facing a significant increase in the cost of their favourite salad food because the so-called superfood is becoming too popular. High demand from health-conscious consumers has led Peru to triple its avocado exports since 2010, with exports to the UK up 58% over the past year

11/20 Eating cereal may not be the healthiest way to start the day

The old saying goes that breakfast is the most important meal of the day, so many of us do as we are told and grab a bowl of cereal before we head out the door. But an expert has warned that while many cereals boxes claim their contents are the perfect start to the day, many are packed full of sugar and carbohydrates with little nutritional value. Even some seemingly-health muesli cereals have a lot of added sugar in the form of honey, malt, molasses, dried fruit or "even fruit juice"

Getty Images

12/20 Crisps made with real ingredients

Michelin starred chef, Simon Rogan in action cooking a menu inspired by the provenance ingredients in the new Chef's Signature range from Kettle Chips. Kettle Chips, the nation's favourite premium crisp brand, has launched the new range of crisps with exciting new seasonings, made with the highest quality food ingredients rather than chemicals or artificial flavours

13/20 Japanese whisky crisis

Suntory's chief blender Mr. Fukuyo San blends component whiskies to create Suntory Yamazaki Distiller's Reserve, a blend of young and old single malts. Japan's warm climate and varied seasons makes it perfect environment to age and blend whiskies, creating subtle, refined and complex expressions.The recent trend for Japanese whisky has put the spirit on the verge of a global shortage

14/20 Non-alcoholic cocktails are seriously chic

We are living through a new era of creative, non-alcoholic drinks that go way beyond a coke or sweet mocktail. The world is becoming more health conscious. There's the war on sugar, and teetotalism is on the rise, with more than one in five not drinking at all (especially young adults), according to The National Statistics for Adult Drinking Habits. This abstinence is even more pronounced in London, with almost one in three turning away from alcohol. An increasing number of mixologists are applying their talents to the creation of non-alcoholic drinks that taste as good as their boozy alternatives

15/20 'Heat map' shows which areas of Britain enjoy the spiciest curries

After Bradford was named the Curry Capital of Britain for the fifth year running, a map has been released showing which regions of Britain enjoy a spicy curry and which prefer the milder variants. According to the map developed by Hari Ghotra, Kent, Essex, West Yorkshire and Lancashire are the heat-handling kings of Britain, while Scotland, Northern Ireland and Wales all prefer milder curries. The data was collected by monitoring the location of social media posts that mentioned names of curries. These were then given a spice rating and were then collated to give each area a score out of 1000

16/20 Guinness to become vegan-friendly

Guinness is set to become vegan friendly for the first time in its 256-year history, as the company announced its plan to stop using fish bladders in its filters

17/20 Why the salmon on your plate might not actually be salmon

Salmon that ends up on the dinner table may not be salmon at all, a study has suggested. The problem of salmon mislabelling has become an increasing issue in the US in the winter months, according to American research published by Oceana. The findings show that 43 per cent of the salmon tested was mislabelled – the most common instance of this being when farmed Atlantic salmon was sold as wild salmon

18/20 How dangerous is a bacon sandwich

A recent WHO report warning that processed and red meats can cause cancer may have left you thinking a little harder about whether to pick up that bacon butty for breakfast or ditch a beef-filled Bolognese for dinner - but how worried should we be? The review of 800 studies for the International Agency for Research on Cancer (IARC) prompted global health experts to cast processed meats - including bacon, ham and sausages - into the ominous-sounding list of group 1 carcinogens, where they joined formaldehyde, gamma radiation and cigarettes. Eating just a 50g portion of processed meat – or two rashers of bacon - a day increases the risk of bowel cancer by 18 per cent, the experts concluded

19/20 New Zealanders are behind a lot of the interesting food and drink stuff happening in the UK

Dark beers are more suited to cold months, so the thinking goes, but in one part of the world they're always popular. "Lots of breweries in New Zealand have got stouts and porters among their best sellers," says Stu McKinlay, one half of the duo behind Wellington brewing company Yeastie Boys. McKinlay recently swapped Wellington for west Kent in order to launch Yeastie Boys in the UK, and he's joined forces with four other breweries (8 Wired, Renaissance, Three Boys, Tuatara) as part of the New Zealand Craft Beer Collective, to promote his country's finest over here

20/20 Additives in popular chicken nuggets

Ingredients, a new book co-created by photographer Dwight Eschliman and food writer Steve Ettlinger distils 25 products, including popcorn, Red Bull and chicken soup, focusing on 75 of the most common food additives and revealing what each one looks like, where it comes from and why it is used. McDonald's chicken nuggets were found to contain 40 different ingredients. These included dextrose, a sugar also used by shoe makers to make leather more pliable, and corn starch, used for thickening food as well as also being a substitute for petrol
This is pretty remarkable for a station caff, albeit an exalted one, though not so swanky as to exclude Frechon's excellent Toulouse sausage and mash with chicken gravy. Was Frechon planning on opening in other stations? ''Well, I would have,'' replied the maestro, immaculate in white with touches of red blue and gold insignia, ''but I was disappointed when the SNCF decided to go to other chefs for their next ventures.''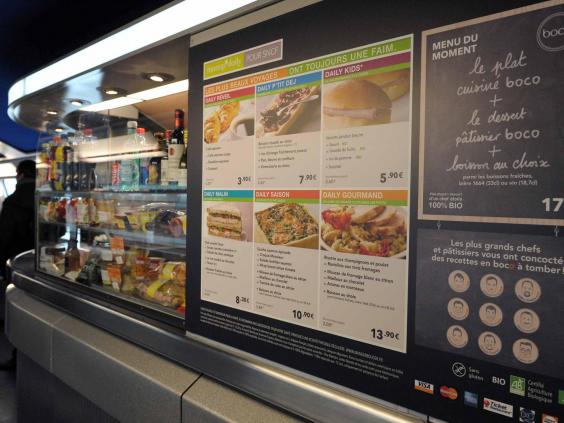 So what is next? Metz, to be handed to Michel Roth, ex-chef of the Ritz, and in Paris the Gare de Montparnasse, a real challenge, as the complex was turned into a vast concrete Legoland in the dying gasp of 1960s architectural vandalism. Montparnasse has been awarded to Alain Ducasse, the biggest superchef of them all, and an inkling of the future could be available in the form of Ducasse's Champeaux, a new brasserie opened earlier this year in a glass walled retail premises high above the huge RER station in the newly renovated Forum des Halles, a close cousin of the Montparnasse complex.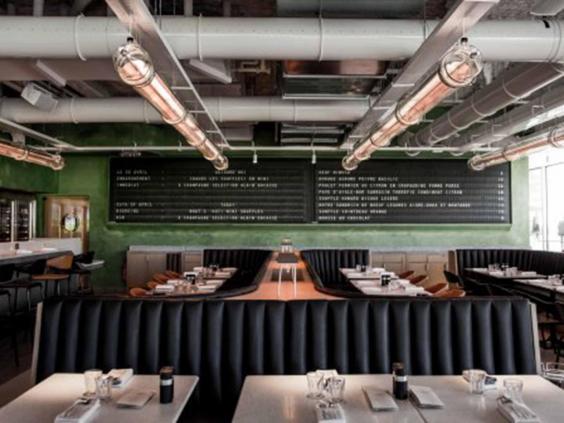 Champeax's interior nods to vintage station imagery with a big mechanical timetable board, its revolving lettering clacking out the dishes on the carte. Interesting design touches include the aluminium table lamps, controllable by customers. The barmen's outfits – white shirts, black bowties, and dun-coloured cloth caps – are more akin to 1950s Yorkshire ferret fanciers than mixologists.
What cannot be quibbled at is the food, a high quality selection of steaks, croques, onion soups, snails, souffles, and carafe wines, or the service, delivered by the classic squad of directeur, maitre d'hotel, chefs de rang and commis. Unfashionable among young French maybe, but nothing serves food better than a well-oiled Parisian brasserie.
What's now begging for re-invention is the food on the trains themselves. While Britain's station catering looks about to be left far behind by the new French buffets, recent innovations such as the South-West line restaurant car service, catered by Mitch Tonks, are giving the Brits a head start once they succeed in getting on board.
The SNCF trains are still on the downward slope to Pringles via Rombouts filter coffee and muffins. Will it take the wholesale takeover of French catering by Starbucks before the spirit of resistance is finally ignited?  One hopes not, and the renaissance of the buffets de la gare is a ray of hope in a world beset by storm clouds.
Reuse content