Making a knife is a lot like making puff pastry. If the connection between hard steel and flaky pastry seems tenuous it's not, just ask Joel Black.
Black is a knife maker who came to the profession after working as a chef for 17 years.
For the past five he's been a blacksmith and his Damascus steel blades are coveted by both serious cooks and knife connoisseur.  
"The steel that I make, which are lots and lots of layers, is essentially puff pastry with steel. It's tougher and hard but it's made in almost exactly the same way," he says. "You fold it over, you put layers and layers and layers through it and you end up with a lattice which is the same as a mille-feuille or puff pastry."  
Today, Black's knives sell from around £75 for a small paring knife to £300 or more for a bespoke knife, with custom orders taking 4-6 weeks depending on demand. Eager would-be buyers track his website and snap up new knives almost as soon as they're posted. Black creates only a few knives each week (his partner helps with the website and marketing), making every knife himself from hand-forged metal blade to handle. 
He also teaches want-to-be knife makers at a two-day course at his forge in Hereford. The move from wielding knives in a professional kitchen to making them, came about after a trip to India. He'd worked in kitchens in the UK, Italy and France before deciding to chuck it in and travel. "When I got back, I decided I wasn't very happy in the kitchen and thought I'd do something about it so I signed up for a blacksmithing course and that was that."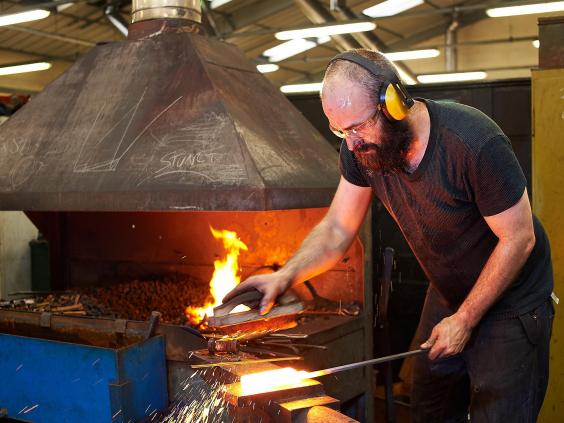 That first course was an experience, "taster" day, mainly spent making a lot of nails. But it was enough to get him hooked. He went on to get a BA Honours Degree in Artist Blacksmithing at Hereford College of Arts. The goal?  To learn how to forge the perfect chef's knife. But what is a perfect knife? "It depends what the job's for, what the knife is made for. If you've got a boning knife, you want it to be tougher. If you've got a fish filleting knife, you want it to be a bit flexible but very, very sharp."
What he's aiming for is very tied in with his experience as a chef. "I know what I like when it comes to a knife. It's very different from somebody who's come from an engineering or a blacksmithing or a design background." But knowing what he wants and translating that into a piece of razor sharp metal that can slice through food cleanly are two different things. "When I started doing blacksmithing I had no idea what steel could do, no idea how to work any of the machines, or how to forge properly."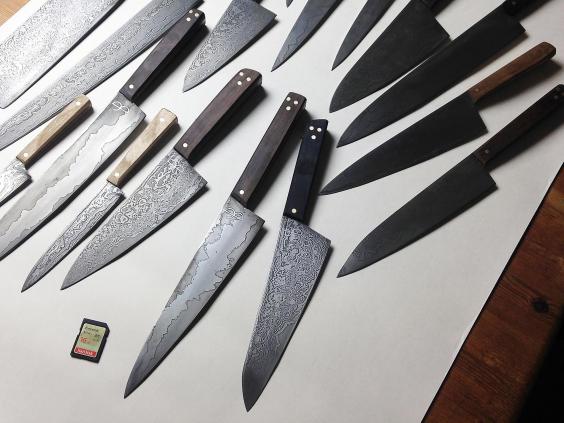 He tells a story of mistakes early on like when he purchased a sheet of stainless steel only to find out it was the type used for making cheap cutlery and worktops – not the finest chef's knives. He's spent years getting the right steel. "You've got the perfect amount of carbon to make the steel very, very hard but not brittle." Trial, error and lots of practice and now Joel is making knives that are admired by knife pros like chef Henry Harris.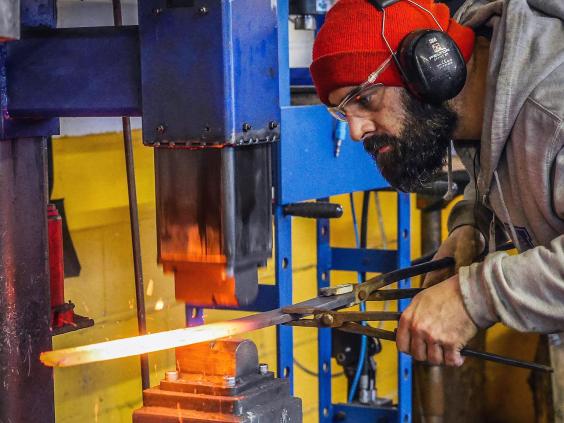 Harris learned about Black from Tim Hayward, author of Knife: the culture, craft and cult of the cook's knife. A self-confessed "obsessive hoarder", Harris has kept every knife he has ever owned, including some of the original carbon steel knives he used when he went to Leith's Cookery School.
The joy of a well-forged knife is both an aesthetic experience as well as a practical one for Harris. "It's less tiring because it requires less effort. You let the knife do the work and also it's infinitely more pleasurable."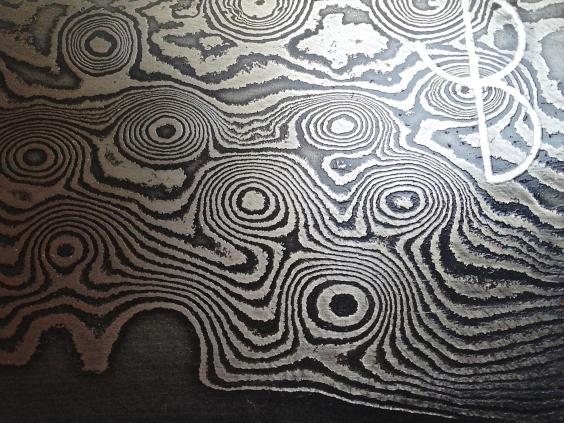 Harris was tempted by a small paring knife Black posted for sale. "I thought, 'I want to buy that.' It looked the most perfect shape for me as a paring knife and it was a nice Damascus-patterned steel. And I thought, 'No, I can't just buy it, as nice as that would be.'" Instead he decided he wanted to meet Black. Even better, he learned that Black was launching knife-making classes at his forge. Harris joined another chef for a special mid-week session to try his hand at crafting his own knives.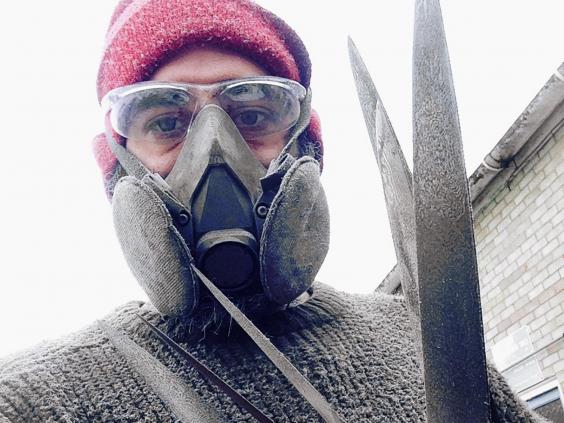 Harris discovered that creating the paring knife of his dreams wasn't going to be easy. "It's surprisingly difficult when you're forging something by hand, even if you're using a pneumatic hammer, to keep it straight and it requires an understanding of where to tap the metal when it's at that stage to bring balance to the blade."
By the end of the two-day course, Harris says he was exhausted – not only physically but also from absorbing so much new knowledge.
"I was slightly humbled by it," he admits. Harris' idea for a paring knife turned into two knives, both with handles made from bog oak that has an intensely rich, deep, dark grain. It was a choice that seemed right. "The setting is so beautiful. The resonance of the hand forging, the natural reclaimed wood to make the handle with – it just came together."
Would Harris recommend the course? "I think every cook should do it. It's just very different and he's (Black) driven by what he does. He does it because he loves the whole craft." Harris' knives are proudly displayed on Instagram and he's toying with the idea of going back to make more. "It took over a week for my hands to lose their black, scaly, grubby, engrained dirt, which I carried with pride."
Knife: the culture, craft and cult of the cook's knife (Quadrille) by Tim Hayward. The next knife making course runs 13-14 June 2017
Reuse content