Some of the unexpected wedding gifts we received included: an ornamental bird cage, a ceramic mouse that dispensed parmesan cheese from its whiskered nose, and a set of three Pyrex® glass baking dishes. The whereabouts of the first two are unknown. The Pyrex dishes, I'm happy to report, are in the kitchen, having survived six moves and 25 years.
I say the Pyrex dishes were unexpected because they weren't on our wedding list and – let's be honest – they were hardly the most glamorous gift. They shouted practicality, and practicality they've delivered in spades. Conservatively, I estimate that I've used at least one of the dishes at least once a week. If my math is correct, that makes around 1,300 culinary outings in total. Not bad for a gift I didn't ask for.
What I didn't appreciate 25 years ago but do now is that Pyrex kitchenware is tough as old boots, and that means it earns it's place on your kitchen shelves. In addition to the iconic glass baking dishes, they make ceramic oven to tableware, metal bakeware and classic measuring utensils (I've got at least three Pyrex measuring jugs too). You'll find them in most kitchens and while they're not flashy they are incredibly well-designed, sturdy and dependable.
The Pyrex story started in the early 20th century in the United States. Jesse Littleton worked in the research and development department at Corning Glass Works – the leading producer of railroad signal lights. He was working on creating a new type of glass that could withstand sudden temperature changes. The commercial applications were tantalising but Jesse's wife, Becky (Bessie) had something in mind that was far closer to home.
Like most home cooks back then, she relied on earthenware products for much of her cooking. The problem was that many of these couldn't withstand the heat of the oven and ended up shattering. Bessie had an idea that the commercial glassware that Jesse was developing could solve her problems in the kitchen too. She convinced Jesse to bring home two sawed-off battery jars used for railway signage and tested them out as cake pans (I would like to send Bessie a posthumous thank you and if time travel were possible, go back and have a slice of that first cake).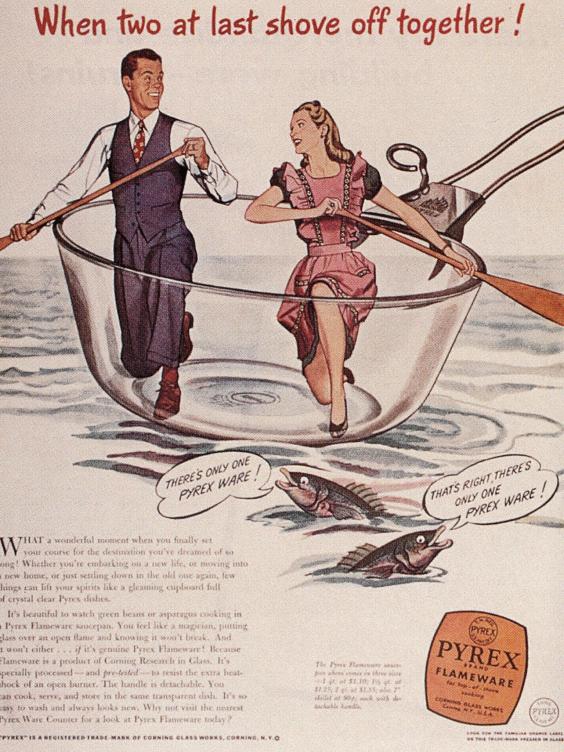 Bessie's cake was only the beginning. The couple tinkered with the glass recipe to come up with something that would work perfectly as cookware. Their aim was durability, safety (no shattering), and practicality. The end result was the very high tech-sounding G 702 EJ – a lead free borosilicate glass that could handle sudden temperature changes, offered superior cooking capabilities, and cleaned up easily – in short, every cook's dream.
The Pyrex brand launched in 1915. One story says that the name was originally going to be Py-right (after an original pie plate) but was changed to Pyrex in order to rhyme with Nonex, an ingredient in the glass formulation. But I like another story which says that it's a contraction of the words pyro (from the Greek pur for fire) and rex (king in Latin).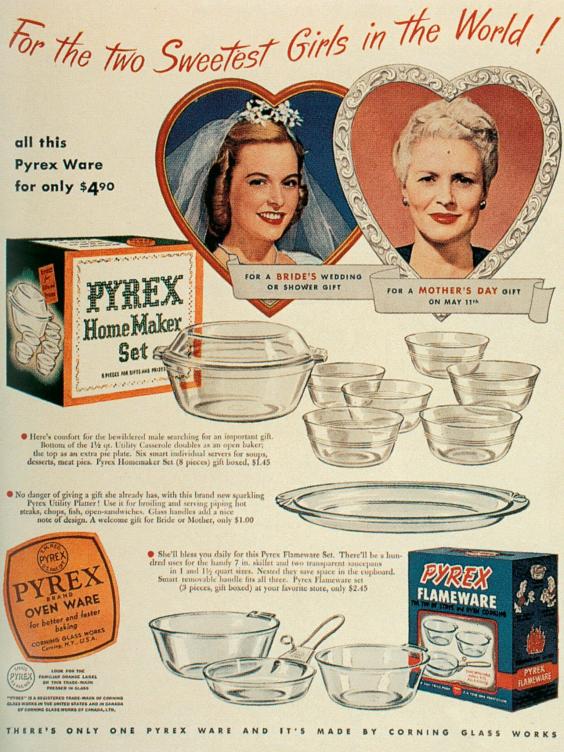 The special glass formula proved to be just the ticket for a whole range of cookware including casserole and cake dishes and of course my baking dishes. In the Forties and Fifties, colour appeared in new Pyrex products. They looked like ceramic cookware but in fact were made from the borosilicate glass and could handle both a hot oven as well as a cold freezer.
In the Sixties and Seventies, Pyrex came up with a new formulation that was even tougher and could go from the freezer to oven without the necessity of defrosting first, making it truly freezer-to-oven-to-tableware. This glass ceramic product was called Pyroflam and was so tough that it could even handle the heat from the stove top. And once microwaves became a kitchen fixture, the traditional borosilicate glassware gained a renewed popularity as people realised they could store food in Pyrex containers in the refrigerator, then reheat them in the same container in the microwave.
Today, Pyrex is still owned by Corning. They continue to expand their line and now make hundreds of products from practical storage containers to pots and pans, with prices ranging from a modest £3.49 for a classic glass ramekin to £135.99 for a cast iron casserole. The most popular sellers are their glass prepware, roasters, casseroles and storage containers. My Pyrex dishes are "resting" now but I'll be pulling them out today or tomorrow or the next day. It might be for a batch of brownies or a baked pasta or another roast chicken. But whatever it is, I think – I hope – that Bessie would have approved.
Reuse content