The key to a chopped salad is lots of colour and lots of crunch. It's also a great dish to make when you want to clean out the fridge because most vegetables are a candidate (as long as you'd eat them raw).
It's also the perfect meal for those days when turning on the oven and cooking goes under the category of 'too hard'.
The only fiddle is slicing and dicing but as long as your knives are sharp and you've got some music playing, it isn't a hardship. 
Start with lettuce – the more crunch the better. Little gem or cos are both strong contenders. Then choose additional vegetables like the tomatoes, cucumber, radishes, peppers, spring onions that I used here.
Fennel, radicchio, celery, carrots or finely sliced cabbage would be contenders too. Add some cheese –feta, goat's or shaved parmesan – if you like and bacon, pancetta, or sliced chicken would be happy protein partners.
The dressing needs to be sharp and tangy and herbs – basil, dill or chives –  round out the flavour nicely. This isn't one for leftovers unless you want to blitz them in the blender for an impromptu gazpacho. Best to chomp it all down and revel in your healthy cooker-less cooking.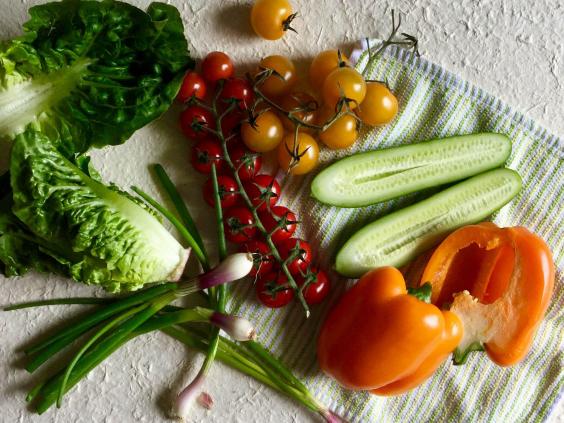 Chopped salad with dill dressing
I've provided approximate weights but you don't need to get too fussed. You want to aim for around the same amount of each vegetable, chopped roughly the same size.
Serves 2 as a main course
1 large head little gem lettuce (about 130g)
Several handfuls of cherry tomatoes (about 250g), sliced into halves or quarters
1 yellow or orange pepper (about 200g), diced
4 small spring onions (about 30-40g), sliced
1 small cucumber (about 100g), sliced on the diagonal
6 large radishes (about 100g), sliced thinly
Dressing
1 Tbsp chopped dill
1 tsp Dijon mustard
1Tbsp white wine vinegar
2-3 Tbsp olive oil
Salt & pepper
Chop the lettuce into long ribbons. I find the easiest way is to place the leaves on top of each other, roll it like a cigar and slice. Place the lettuce on a platter and array the rest of the veggies around it.
For the dressing, place all the ingredients in a jar and give it a healthy shake to mix together. Season with salt and pepper. 
@juliapleonard
Reuse content