Baby artichokes 
1. Prepare some acidulated water by filling a bowl with water, adding some vinegar or a couple of slices of lemon, and a pinch of coarse sea salt.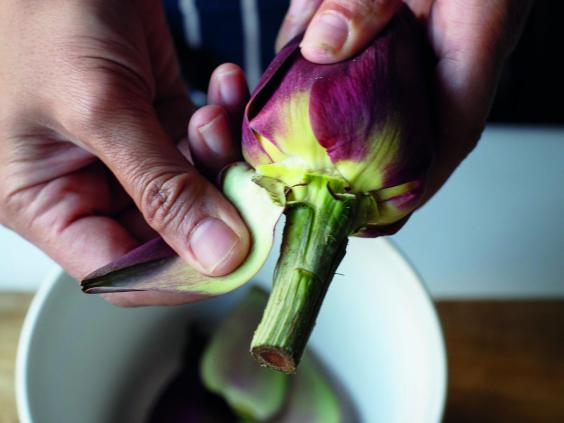 2. Peel off and discard the first 2-3 layers of outer leaves. Cut the end off the artichoke stalk with a small, sharp knife.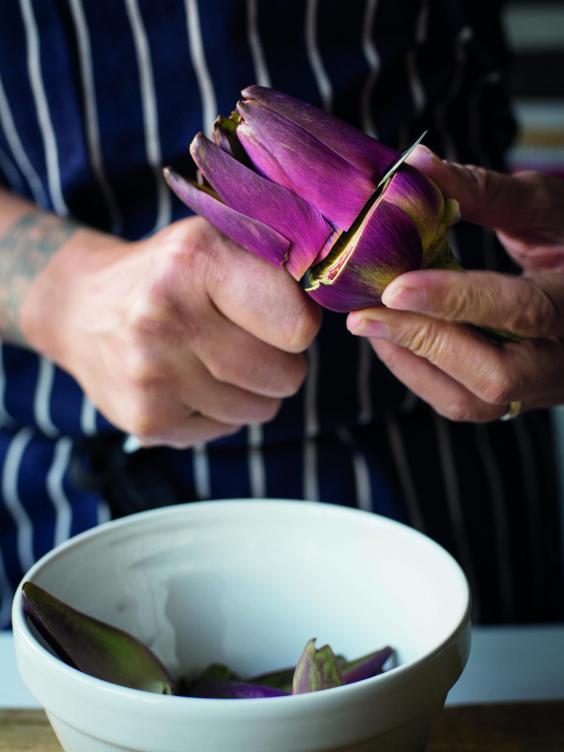 3. Cut the top half or two-thirds of the artichoke.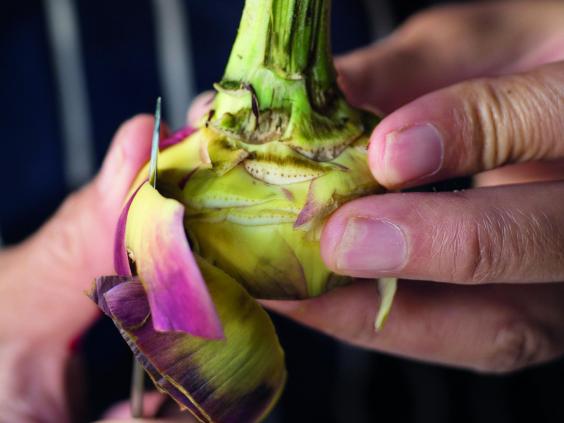 4. Cut away the remaining, tough leaves at the base of the artichoke. Using a teaspoon or melon scoop, scrape out the hairy choke inside the heart of the artichoke.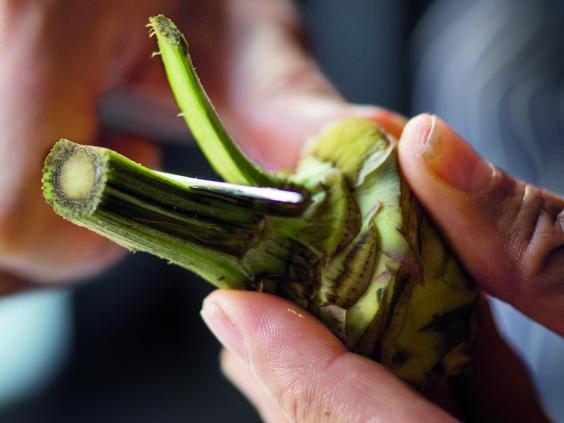 5. Using the same knife or a vegetable peeler, peel the stalk to reveal the lighter part.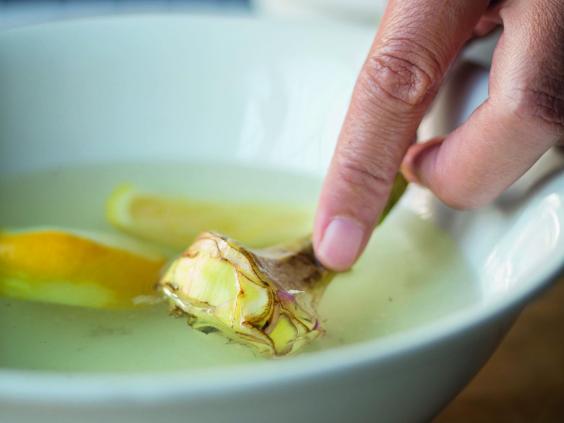 6. Place the prepared artichoke in the bowl of acidulated water until ready to use. 
Artichoke salad with lemon and fennel 
Serves 4 
4 globe artichokes olive oil, for cooking
1 garlic clove, peeled
1 small baguette, very thinly sliced
1 large fennel bulb, with fronds reserved 10g baby spinach
10g rocket or dandelion leaves
1 tbsp chive batons
1 tbsp flat-leaf parsley leaves
1 tbsp tarragon leaves
10 pickled walnuts, roughly chopped
1 small preserved lemon, seeds removed, skin finely sliced, and flesh roughly chopped
2 walnuts, to garnish Sea salt and freshly ground black pepper 
Dressing
100ml walnut oil
1 tsp Dijon mustard
2 tbsp white balsamic vinegar.
Prepare the artichokes and set aside in a bowl of acidulated water. 
Heat a little olive oil with the garlic clove in a frying pan and cook the baguette slices on both sides until golden, then drain on kitchen paper. 
Thinly slice the fennel, using a mandolin, and place in a bowl of iced water. Still using the mandolin, thinly slice the prepared artichoke into a large bowl. Drain the fennel and add to the artichoke. 
Gently mix in the baby spinach, rocket or dandelion, and the herbs. Add the pickled walnuts, preserved lemon and fennel fronds to the salad. Season with salt and pepper. 
For the dressing, whisk the walnut oil, mustard and vinegar together and use to dress the salad. Finely grate the walnuts for garnish and sprinkle over the salad. Add the crisp baguette slices. 
'The Skills' by Monica Galetti (Quadrille, £20) Photography: Christian Barnett
Reuse content