Sweating onions is one of the first techniques that made me appreciate how cooking can totally change the taste and structure of an ingredient. There are certain foods that are best left to shine in their natural state: fruit and fresh herbs, say. However, the beauty of cooking is that you can enhance ingredients and create something quite amazing depending on how you treat them.
In the restaurant kitchen, given any chance, I will sweat onions. Even when I am cooking staff meals, one of the most important times in a professional kitchen, I will always find a way to work them in. My love of the onion has a good rationale, I promise. When you sweat onions over a low heat they turn translucent and become sweet and juicy. You can also fry them hard and fast until they become nutty and crispy.
You can then make 
All kinds of possibilities emerge. Sweated onions enrich a tomato sauce. I like to pile soft onions on toast with melted cheddar cheese and mushrooms. For me, though, the best example of the beauty of onions is French onion soup, its beauty built around onions that become translucent then you increase the heat and cook them down until they are caramelised. This method also works well with quiches, tarts, tortillas, pies and chutneys. I love to use different types of onion – red, white, shallots, or a mixture all of them will give different depths in dishes. Onions are to be played with and truly relished.
How to sweat onions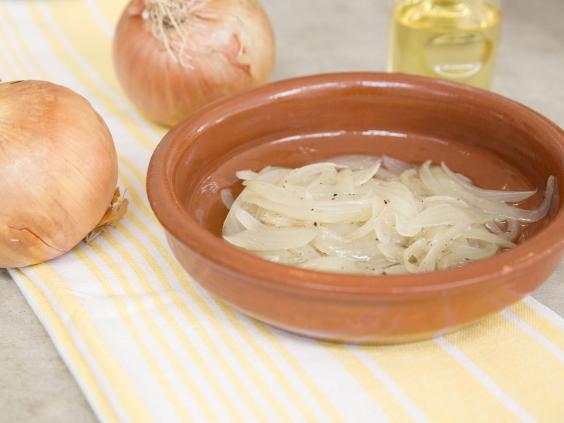 Ingredients
3 onions
1–2 tbsp. vegetable or olive oil
Sea salt, cracked black pepper
Equipment
Board
Knife
Saucepan and lid
Spatula
Greaseproof paper
Scissors
How to
Peel and thinly slice 3 onions into roughly uniform slices.  Heat the oil in a saucepan over a medium heat. When the pan is warm add the onion and stir well with a spatula. Turn the heat down to low. You want to cook the onions gently so that do not get any colour on them. Season well with salt and pepper while cooking.
To quicken the cooking process you can cover the onions with a cartouche. Make a cartouche by folding a square of greaseproof paper in half into a triangle. Cut the triangle so that is slightly larger than the width of your pan. Unfold the cartouche, crumple and dampen lightly with water. Place the cartouche on top of the onions with the lid on top and leave to sweat on a very low heat. After 10 – 15 minutes the onions should be translucent. Try squeezing one it should be very soft and taste sweet. The next step would then be to caramelise the onions by increasing the heat, some extra oil and cooking on a medium heat until golden brown.
What to do if
If the onions start to take on colour, reduce the heat and add a splash of water while stirring well. If the onions colour unevenly, ensure the onion is roughly sliced the same size for even cooking.
Lamb meatballs with rose harissa tomato sauce and cannellini beans
Serves 2
200g lamb mince
1 clove garlic, peeled and finely crushed
1 tsp ground cumin
1 small egg, whisked
2 – 3 tbsp olive oil
2 onions, peeled and thinly sliced
1 tbsp tomato paste
1 tbsp rose harissa or plain harissa
1 x 400g tin whole plum tomatoes
1 x 400g tin cannellini beans (borlotti or butter beans also work well)
Sea salt, cracked black pepper
How to
In a bowl combine the lamb mince, garlic, cumin and egg with a generous pinch of salt and pepper. If you like you can fry off a little piece of the mix to check the seasoning. Shape into small walnut sized meatballs. Refrigerate while you make the sauce.
Heat 2 tablespoons of olive oil in a medium sized frying pan and fry the meatballs over a high heat for 4 minutes or until golden brown on the outside. Cook them in batches depending on the size of your pan. Remove from the pan and drain on kitchen paper.
As lamb can release a lot of fat when cooked, I tend to remove most of the fat in the pan but keep a little to cook with and for the flavour. Now heat the same pan over a low heat, with another tablespoon olive oil if needed. Add the onions and stir well with a spatula. Season with salt and pepper. Turn the heat down to low and leave to sweat for 10 minutes until the onions are soft.
Then add the tomato paste to the pan and increase the heat to medium. Cook for 5 minutes or until the paste starts to caramelise. Next pour the harissa and tinned tomatoes in. Stir well and leave to cook for 5 minutes, simmering gently. Then put the meatballs back in the pan and cook the sauce out over a low heat for 20 minutes. Just before serving mix in the drained cannellini beans to warm through. I like to finish with a little dollop of Greek yoghurt or some freshly chopped coriander leaves.
Next week's Kitchen Essentials: how to make a tomato sauce
For more tips follow Laoise Casey on Twitter @laoisecooks and Instagram @laoisecooks
Reuse content