I start thinking about lunch as soon as I've finished my cereal in the morning. While others can wait till one or two in the afternoon (perish the thought), I'm getting techy at around 11:30. If I make it until 12:01, it's a good day. 
But it's more than simple hunger; lunch is a punctuation mark in the day.
I've made my way through morning emails and deadlines and twitter temptations and that's worth celebrating, isn't it?
If I'm lucky, I've got something left over from the night before –roast vegetables, slices of chicken that somehow weren't plundered, a bit of feta cheese I found happily marinating in olive oil and herbs in the back of the fridge. I can usually cobble together something that resembles a meal, pop it in a container and be out the door.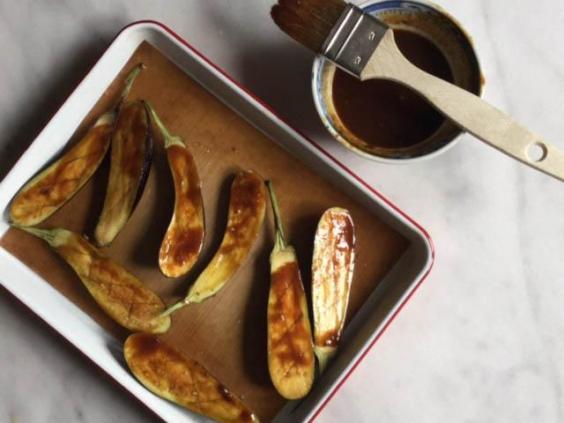 But if I'm out of luck and then aren't any leftovers to be had, then I've got to pick something up or make something from scratch. I aim for option two when I can. One choice is a very quick, simple and delicious miso aubergine. The great thing is that you can make it the night before and stash it in the fridge so it's ready for the next day. You could double or triple the marinade and use it on salmon fillets or on slices of firm tofu too. 
Served with Asian noodles or brown rice and you've got a very satisfying meal. The noodles cook in no time and the whole meal can be prepared in about 30 minutes, which isn't bad. I'd happily eat this warm or cold which is handy at 12:01 when there's a line for the microwave.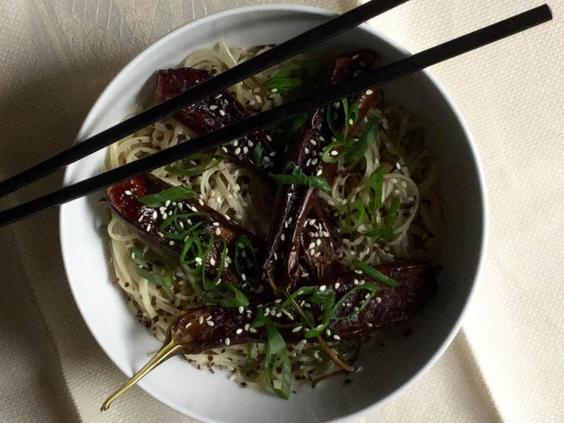 Miso aubergine  
I serve this with some lovely brown rice & wakame (seaweed) noodles. You could use soba noodles or brown rice too. The great thing about the noodles is that they cook quickly – mine are done in less than five minutes. Refresh them with cold water and toss with a splash of sesame oil. Place in a container and top with the aubergine. You could do all this the night before. They'll travel well to work and absorb some of the lovely aubergine marinade.
Serves one but can be doubled or tripled
4 small Japanese aubergine
1 Tbsp vegetable oil
Marinade 
1 Tbsp red miso paste
1 tsp sesame seed oil 
2 tsp runny honey
A pound coin-size piece of ginger, peeled and grated
Garnish (all optional but they add a nice touch)
Sesame seeds
Chopped spring onions (green only)
Seaweed flakes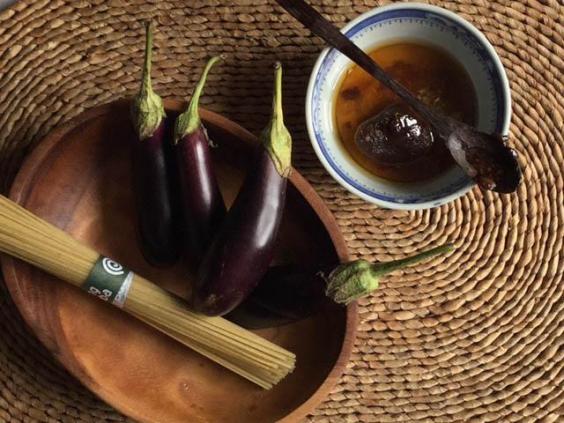 Preheat oven to 160ºC. Slice the aubergines in half and place on a non-stick baking tray, flesh side up. Make slits into the aubergine flesh, being careful not to slice through the skin. Lightly brush the flesh and skin with the vegetable oil. Mix all of the marinade ingredients together. Brush some onto the flesh side of the aubergines. Place the pan in the oven.
Every ten minutes or so, take the pan out and brush the aubergine with a bit more of the marinade until they're cooked through – about 20-30 minutes. Place the remaining marinade in a dish and serve alongside the aubergine. Serve the aubergine on its own or with noodles or rice and the garnishes of your choice. 
Reuse content