When it comes to beer drinking, not all glasses are born equal. Take the half pint, for example. For years it has been the poor relation of the full pint, a slang name for someone of lowly stature.
But every vessel has its day, and the half pint appears finally to be escaping the shadow of its taller, wider cousin. New research by YouGov suggests that a growing number of Britons prefer their beer in smaller glasses – half pints and (whisper it) diminutive third-of-a-pint glasses.
Today, more than one in three people choose to have a half when trying a new beer – compared with only a quarter of people opting for a full-blown pint, according to the study which will be released by the Campaign for Real Ale (Camra) this week. 
The less-is-more approach is a reflection of broader tastes and a willingness to experiment. "People are becoming more open to trying new beers and moving away from the mentality of drinking pint after pint of the same brew," said Tim Page, Camra's chief executive. Drinkers are particularly drawn to smaller glasses when sampling stronger, more full-flavoured real ales such as barley wines, strong porters and stouts. Such sturdy brews make a half or a third of a pint a "much more sensible option" and allow people to try a range of beers, Mr Page added.
Other factors behind the rise of the half-pint include a growing fear of beer bellies and a more restrained drinking culture, says Camra.
Best craft beers in London
Best craft beers in London
1/5 The Kernel Brewery: Pale Ale Citra Chinook Amarillo - 5.6%

This pale ale from Bermondsey's finest has a wonderfully vibrant maltiness and a distinct citrus note, coming from the use of Citra, Chinook and Amarillo hops.

2/5 Late Knights Worm Catcher 5%

Getting the balance of bitterness and fragrance is all down to how heavy handed the brewer is with their hops and this IPA from Late Knights in Penge, South London nails it perfectly, giving a flavoursome pale ale with enough bite to excite the palate.

3/5 Redchurch Brewery: Hoxton Stout 6%

Dark, velvety and very complex indeed. This perfect after dinner beer, made by the Redchurch Brewery near Bethnal Green, offers an incredible palate of rich coffee and dark chocolate notes.

4/5 Meantime Brewery: Chocolate Porter 6.5%

Amazing flavours of espresso coffee, dark chocolate and rich molasses, all driven by a highly complex maltiness.

5/5 Camden Hells Brewery Lager: 4.6%

A distinctly German inspired larger with a very clean, crisp palate, with a light vibrant maltiness. Easy drinking and perfect for the summer months.
The whims of 21st century Britons could not have been foreseen in 1698, when an Act of Parliament decreed that ale should be sold in pints or full quarts (two pints) across the land. Today's pint, 568 millilitres to be metrically exact, is almost 200 years old, dating back to the British Weights and Measures Act in 1824.
But nothing lasts for ever, and beer is no exception.
Steve Livens, beer sommelier at the British Beer & Pub Association, said: "The greater popularity of smaller measures has got to be a sign that more and more people are trying the huge numbers of beers now available, and that pubs are encouraging customers to do so."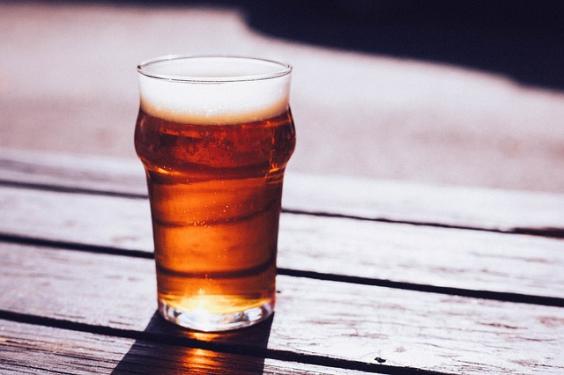 One sign of the trend towards appreciating a variety of brews is the beer "platter". Featuring four small glasses of different beers on a wooden tray, it's the beer drinkers' version of a tasting menu.
BrewDog, which has 21 bars in the UK, is one of a growing number of companies offering beer platters to their customers. "In our bars we serve pints, but we also serve half pints, schooners [379ml], thirds and nips, and it's these latter measures that make up the majority of sales," said a spokesman.
Small glasses will be much in evidence this week when the Great British Beer Festival opens on 11 August at London's Olympia.
A pint glass is not even an option on the "ale trail" where visitors are advised to drink in third-pint measures.
The pint glass may have taken a knock, but it will always be part of British pub culture, according to Mike Benner, managing director of the Society of Independent Brewers.
"I'm sure the good old pint glass is here to stay," he said. "But the growing importance of the half pint shows that beer drinkers are choosing quality over quantity and trying different beers."
Reuse content