The world's most decadent bars have been crowned at The World's 50 Best Bars Awards 2014, with London and New York dominating the top five as the finest drinking destinations.
Filled with high-end speakeasys and hotel bars, this probably isn't a list of the 50 best bars to stumble out of at 5am feeling like you've discovered previously hidden truths to a city (there isn't a dive bar in sight), but it does represent many damn fine places in which to get a cocktail around the globe.
The top 50 list, as voted on by 300 drinks industry experts, is as follows:
1 The Artesian - London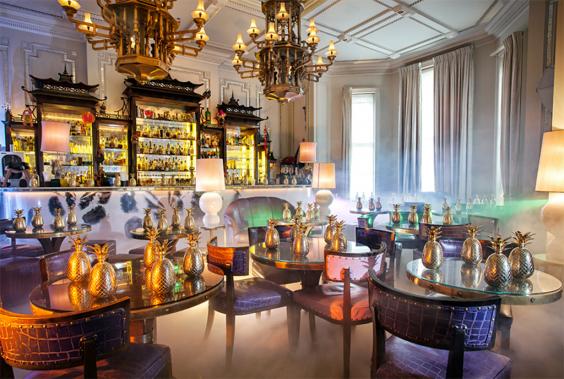 This opulent bar has now topped the poll three years running, its least intricate cocktail being a golden pineapple containing gin and sandalwood.
A new menu is devised annually, the current one being based around perfumes and smells and the next taking surrealism as a theme, "examining the functioning of cocktails in the absence of reason."
2 Dead Rabbit - New York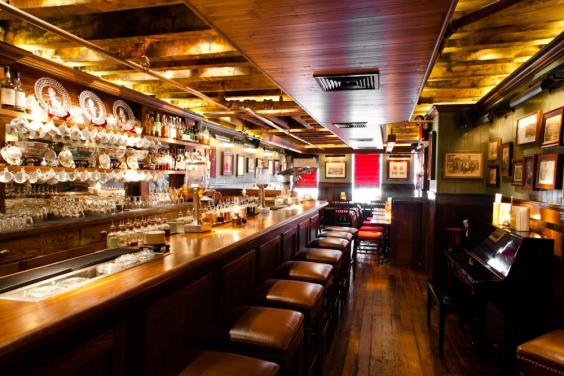 Named after an infamous Irish-American gang from the mid-19th century, the Dead Rabbit has a passion for history that is reflected in its techniques.
Also - dynamite Boilermakers.
3 Nightjar - London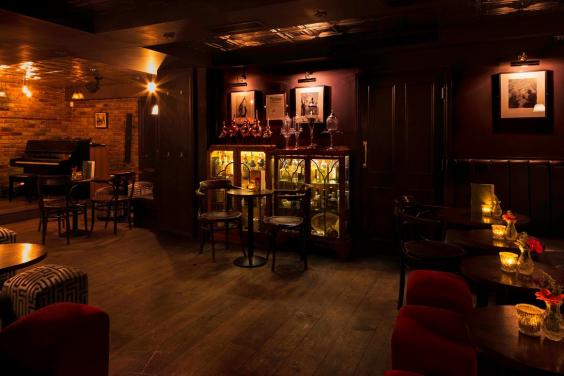 A short walk from Old Street station, Nighjar continues to thrive against a recent backdrop of speakeasy fatigue, taking Art Deco, swing and 20s glamour as its themes.
Its drinks menu is flawless and its seating only policy makes it feel intimate and old school.
4 Attaboy - New York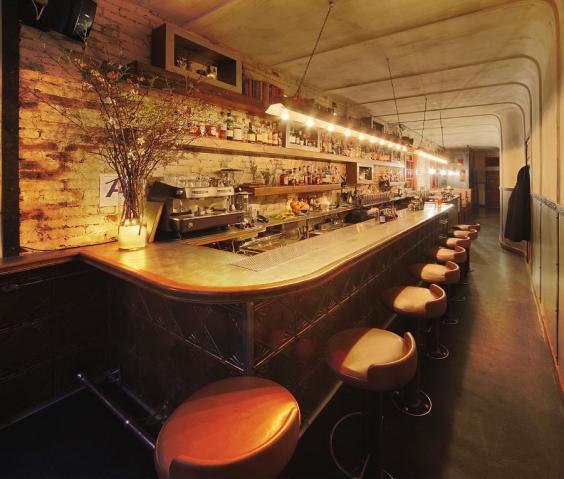 An offshoot of the infamous Milk and Honey but a good deal brighter and less pretentious.
Order the Paper Plane, a bittersweet mix of bourbon, amaro, Aperol and lemon juice.
5 Employees Only - New York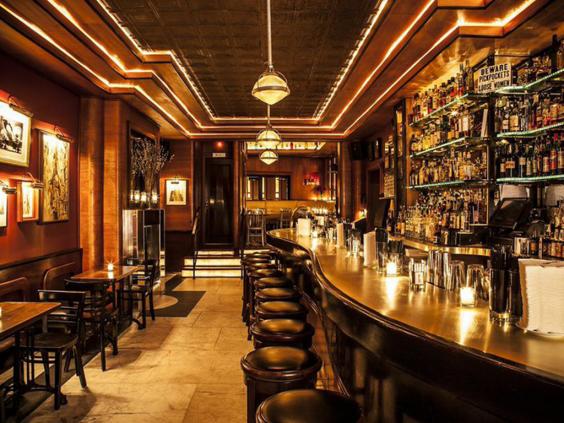 Hazy lighting bounces off a sleek bar and pressed tin ceiling - the expert drinksmithery goes some way in making up for the fact they named the bar with a joke.
6 Canon - Seattle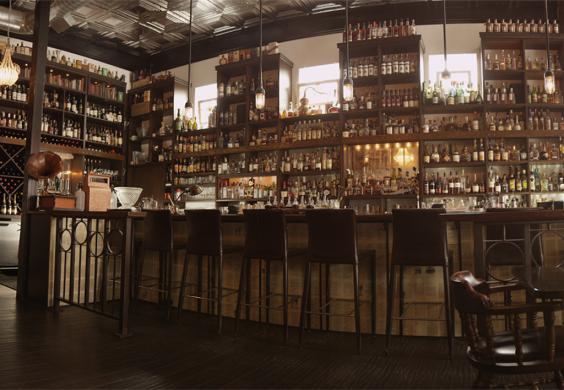 This Seattle grog emporium houses some 3,300 bottles making up perhaps the largest body of distilling heritage ever assembled, with a laidback New York-cum-New Orleans vibe.
7 Baxter Inn - Sydney
Australia's highest ranking bar, The Baxter Inn is sign-posted by a doorman and some random smokers in an otherwise abandoned alley.
The pull here is its unbelievably extensive whisky selection.
8 American Bar, Savoy - London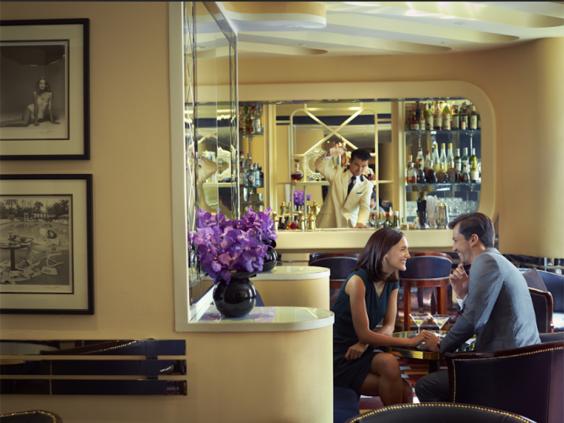 125 years old and serving drinks as the Eiffel Tower was being built, this bar nestled in the lavish Savoy is a wash of cream and a watering spot for the well-travelled and well-to do.
9 High Five - Tokyo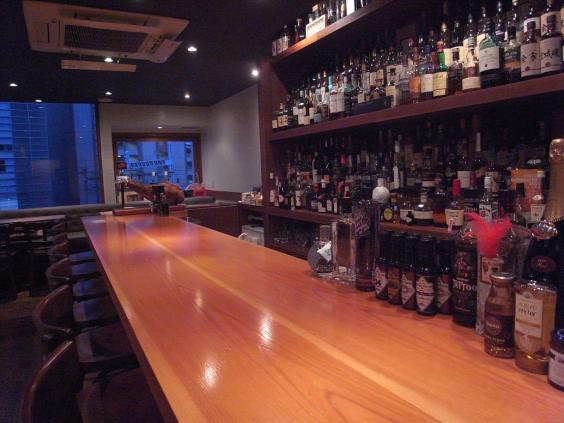 This tiny, modest hangout tucked into the nook of a much bigger, unrelated, building in Tokyo makes the list largely thanks to Hidetsugu Ueno, Japan's most celebrated bartender.
Ueno is something of an ice samurai, creating diamond-shaped ice he chips from the spotlessly clear blocks that are delivered daily.
10 28 Hong Kong Street - Singapore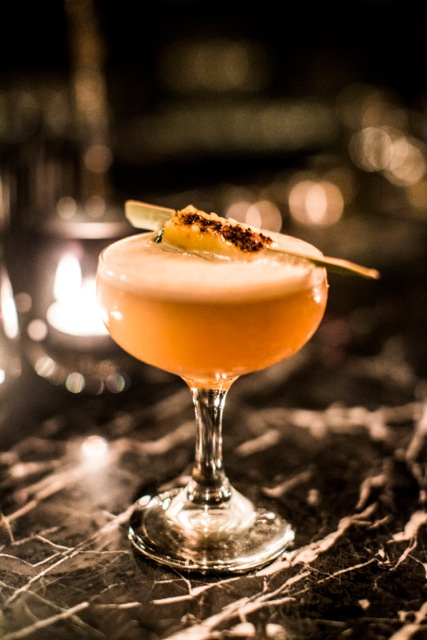 A blank facade hides a heaving bar, where fresh ingredients are so important that many are grown up on the rooftop – including pomegranates and mandarin oranges.
11 Connaught Bar - London
12 Happiness Forgets - London
13 The Aviary - Chicago
14 Nomad Bar, Nomad Hotel - New York
15 Nottingham Forrest - Milan
16 Smuggler's Cove - San Francisco
17 Candelaria - Paris
18 PDT - New York
19 Bulletin Place - Sydney
20 White Lyan - London
World's 50 best bars
World's 50 best bars
1/50 1. Artesian, London

2/50 2. Dead Rabbit, New York

3/50 3 Nightjar, London

4/50 4. Attaboy, New York

5/50 5. Employees only, New York

6/50 6. Canon, Seattle

7/50 7. The Baxter Inn, Sydney

8/50 8. American Bar, Savoy, London

9/50 9. High Five, Tokyo

10/50 10. 28 Hong Kong Street, Singapore

11/50 11. Connaught Bar, London

12/50 12. Happiness Forgets, London

13/50 13. Aviary, Chicago

14/50 14. Nomad Bar, Nomad Hotel, New York

15/50 15. Nottingham Forrest, Milan

16/50 16. Smuggler's Cove, San Francisco

17/50 17. Candelaria, Paris

18/50 18. PDT, New York

19/50 19. Bulletin Place, Sydney

20/50 20. White Lyan, London

21/50 21. Buck and Breck, Berlin

22/50 22 Broken Shaker, Miami

23/50 23. 69 Colebrooke Row, London

24/50 24. Hemingway Bar, Prague

25/50 25. Le Lion Barde Paris, Hamburg

26/50 26. Door 74, Amsterdam

27/50 27. Three Dots and a Dash, Chicago

28/50 28. Jerry Thomas Speakeasy, Rome

29/50 29. Chainaya Tea & Cocktails, Moscow

30/50 30. Everleigh, Melbourne

31/50 31. Eau de Vie, Sydney

32/50 32. Bramble, Edinburgh

33/50 33. Trick Dog, San Francisco

34/50 34. Dry Martini, Barcelona

35/50 35. Clover Club, New York

36/50 36. Drink, Boston

37/50 37. Black Pearl, Melbourne

38/50 38. Schumann's, Munich

39/50 39. Floreria Atlantico, Buenos Aires

40/50 40. Star Bar, Ginza, Tokyo

41/50 41. Delicatessen, Moscow

42/50 42. Quinary, Hong Kong

43/50 43. Cure, New Orleans

44/50 44. Tales and Spirits, Amsterdam

45/50 45. Maison Premiere, New York

46/50 46. La Capilla, Mexico

47/50 47. Limantour, Mexico

48/50 48. Shady Pines, Sydney

49/50 49. Callooh Callay, London

50/50 50. Williams and Graham, Denver
21 Buck & Breck - Berlin
22 Broken Shaker - Miami
23 69 Colebrooke Row - London
24 Hemingway Bar - Prague
25 Le Lion Bar de Paris - Hamburg
26 Door 74 - Amsterdam
27 Three Dots and a Dash - Chicago
28 The Jerry Thomas Speakeasy - Rome
29 Chainaya Tea & Cocktails - Moscow
30 Everleigh - Melbourne
31 Eau de Vie - Sydney
32 Bramble - Edinburgh
33 Trick Dog - San Francisco
34 Dry Martini - Barcelona
35 Clover Club - New York
36 Drink - Boston
37 Black Pearl - Australia
38 Schumann's - Munich
39 Floreia Atlantico - Buenos Aires
40 Star Bar, Ginza - Tokyo
41 Delicatessen - Moscow
42 Quinary - Hong Kong
43 Cure - New Orleans
44 Tales and Spirits - Amsterdam
45 Maison Premiere - New York
46 La Capilla - Mexico
47 Limantour - Mexico City
48 Shady Pines - Sydney
49 Callooh Callay - London
50 Williams and Graham - Denver
"It's a combination of things which makes a top three bar and it's getting all of them right," academy member and awards host Tom Sandham commented.
"First and foremost there's great service, and top quality drinks are just as important. There's also decor, lighting, ambience, music - lots of small things which can make a difference. It's also being able to repeat the same high standards consistently every night. That's very much the challenge for people starting up bars, it's easy to slip and lose customers on an off evening.
"Certainly the first and second bars are winners in that respect, as they always deliver the highest standards, along with the third bar which has been in the top five for a long time, pretty much from the beginning."
Reuse content