Burger King in Japan is taking bizarre fast food to new heights with black cheeseburgers complete with black buns, black cheese and black sauce.
The chain started the Premium Kuro Burger (kuro means "black") in 2012, colouring the bread with bamboo charcoal and adding squid ink to the ketchup.
Last year it evolved to the Kuro Ninja, which had all the above with a slice of bacon for a tongue, and now Burger King is on the third generation.
Apparently Japanese customers quite liked the bamboo charcoal, so it is now in the cheese slices as well, along with beef burgers made with black pepper, an onion and garlic sauce with squid ink and the black bread.
While the smaller Kuro Pearl contains the burger, cheese and sauce, the upgraded Kuro Diamond also comes with more edible-looking lettuce, tomato, onion and the usual trimmings.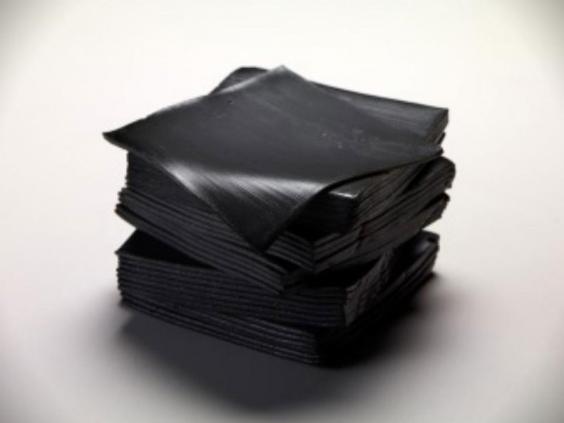 A press release from Burger King Japan said there had been a "favourable reception" to previous Kuro burgers, which have all be limited editions.
The current inventions will be available from 19 September, with the Kuro Pearl priced at 480 yen (£2.80) and the Kuro Diamond at (£4.00).
The alternative burgers
The alternative burgers
1/10 Black 'Kuro' burger

Burger King Japan took weird burger mutations to new heights/lows, announcing a Premium Kuro Burger (kuro means "black") with black buns and cheese coloured with bamboo charcoal and squid ink ketchup.

Burger King

2/10 Red burger

Burger King is now serving up red cheeseburgers in Japan. The Aka Burger ("aka" means "red") comes in two varieties - Samurai Beef and Samurai Chicken, both making use of red cheese and red buns. Tomato powder was added to give the ingredients their angry colour, with the burgers also coming with a red hot sauce made from miso and hot pepper.

3/10 'The Glamburger'

A restaurant in Chelsea has found a not-so-novel way to celebrate excess: by claiming to have created the world's most expensive burger, embellished with gold leaf, lobster and caviar. Priced at £1,100 (or £1237.50 with service), the burger took three weeks to develop and has been verified by Record Setter as the highest priced in the world.

PA/Groupon

4/10 Doughnut burger

Why use buns when you have doughnuts? You can find these calorific sweet/savoury delights in America, also known as the 'Luther Burger'.

5/10 Ramen burger

Fried ramen noodles replace the traditional bun here, which, when introduced at a Brooklyn food market, sold out in hours.

6/10 Pizza burger

Bringing two of our favourite fast foods together, this burger is cooked inside a pizza, and packs a massive 1,360 calories.

7/10 Lasagna burger

This invention from Philadelphia's PYT sees deep-fried lasagna replace the buns.

8/10 Holy cow

This special Father's Day dish from Reds True Barbecue in America contained 17 types of beef.

9/10 The Impossible Cheeseburger (Veggie burger)

Don't want to eat meat but enjoy the taste of seared carcass? The Impossible Cheeseburger might be the cheeseburger for you, using plants to make "the best meats and cheeses you'll ever eat."

Impossible Burger

10/10 The 'Zinger Double Down King' burger

KFC's new meat beast burger is a bun-less creation with fried chicken acting as buns, released only in Korea so far.

KFC
Black buns been seen before, when rivals McDonald's released "ying and yang" style burgers in China.
Chinese bloggers reasoned that the concept came from a proverb about black and white representing good and evil in society.
Reuse content