In honour of National Chocolate Week (is a thing apparently), high-end chocolatier Paul A. Young has teamed up with receptacle of powdered misery Pot Noodle to create the 'Choc Noodle'.
The new range, which takes four minutes to make using the standard boiling water method, consists of "delicious noodles" in a creamy chocolate sauce topped with chunks of all butter fudge, milk chocolate chips and maple covered pecan nuts.
Pot Noodle suggests teaming the Choc Noodle with one of its other flavours to create "a two course meal at the flick of a kettle switch" (and as a by-product, a piece of performance art on the woes of student life).
The flavour combinations (but not the actual chocolate) were dreamed up by award-winning chocolatier Paul A. Young, who promises the pot is "wonderfully indulgent" and has a "depth of flavour."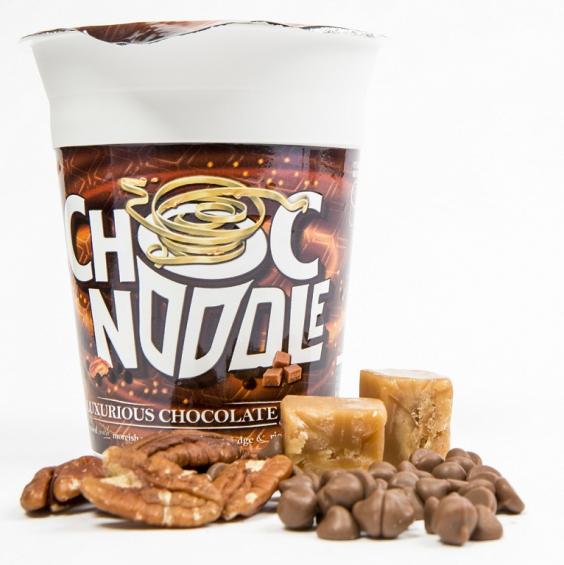 Here's sufficiently more than you're apt to want to read about low cost chocolate noodles from Pot Noodle Marketing Manager Monique Rossi:
"We know our fans love the ultimate comfort food flavours in a pot and our first chocolate dessert offers another occasion to enjoy their favourite noodles with delicious ease. Our Choc Noodle still only takes four minutes to prepare and is the perfect end to any meal. We've taken advice from Paul A. Young, the best in the chocolate business, to ensure our dessert will impress even the pickiest of critics!"
Also: Chocolate fried chicken!
Reuse content