Global warming has been blamed for its recent demise, but with a sudden cold snap sending temperatures plummeting to -12C in several top grape growing regions, German winemakers are enjoying a bumper 2014 "Eiswein" or ice wine harvest.
Eiswein, which is reputed to date back to the Roman era, is made exclusively from grapes left to freeze on the vine, creating a sweet, concentrated wine with a unique quality and flavour. But last year's winter was so mild that no Eiswein grapes could be harvested in the whole country.
However at 4am on Monday, the thermometer hit -12C at the Schliengen vineyard in the southern wine growing region of Kaiserstuhl. Equipped with head torches and wrapped in anoraks, scores of grape pickers braved freezing conditions and darkness to bring in a bumper harvest.
Philip Dahm, the vineyard's maitre de chai, said the grapes had to be harvested while still frozen. "The conditions were perfect," he told Basler Zeitung. "A light dusting of snow reflected the ground cold on to the grapes and ensured they were frozen through."
Vineyards in Kaiserstuhl, with its rich volcanic soil, were forecasting production of up to 500 litres of Eiswein per estate. "It is always good to harvest the wine in the old rather than the new year," said Mr Dahm. "The longer the grapes stay on the vine, the more they dry out."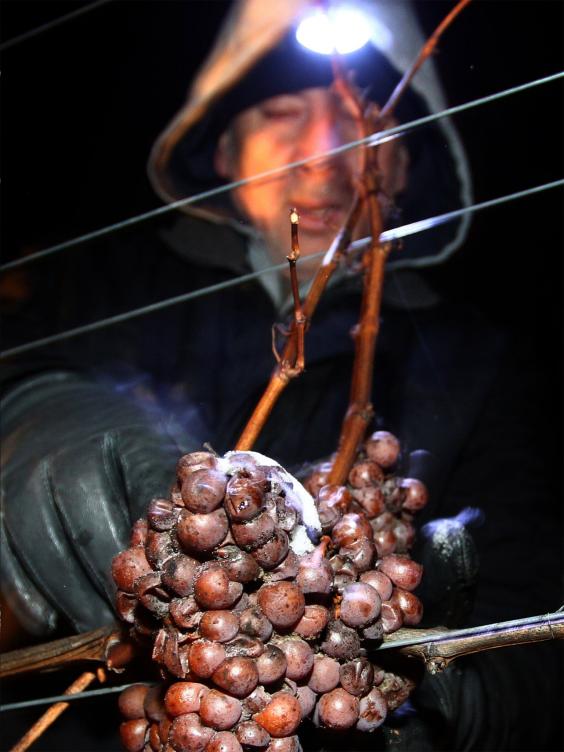 Eiswein harvests were also in full swing in other German wine growing areas such as Moselle and Franconia early on Monday, although there was no harvest in Rheingau where all of the grapes were harvested in October. 
Most German wine growers deliberately leave a portion of their grapes on the vine in the hope that temperatures will drop below the magic -7C needed for Eiswein. Harvesting can take place as late as January or even February the following year.
"For wine growers this is an all-or-nothing venture since the gamble involves risking the total loss of unpicked grapes," said Ernst Büscher of  the German Wine Institute. Warm winters in 2006 and 2011 meant there was also no Eiswein harvest in those years.
Eiswein is believed to have been first produced in the Franconia region in 1794  after a vineyard's grapes froze while the monks in charge were waiting for permission to harvest them. The first fully documented Eiswein harvest dates to 1830, when wine growers left grapes on the vine to freeze, assuming they could be used as animal fodder. They discovered instead that they produced a rich, sweet wine.
Nowadays Canada is one of the world's top producers, with Ontario the country's leading ice wine region. German Eiswein comes in half-sized 0.375 litre bottles which can cost up to €40 (£31) a bottle, depending on quality.
Critics say its high natural sugar content of well over 100 grams of unconverted sugars per litre make it taste like a soft drink. Advocates say it makes an ideal aperitif and easily rivals vintage port as a perfect complement to cheeses such as Stilton.
Reuse content