The pocket of London around The Shakespeare offers a richer survey of architectural history than most. Built in 1964, the pub lies on the western edge of the Barbican estate – widely considered a Brutalist masterpiece. Facing it, Georgian houses stand side by side with Victorian warehouses and 1980s office blocks.
However, the place post-war pubs command in Britain's built environment is now dramatically under threat. They are one of the country's most "severely threatened building types", according to Historic England.
The newly formed government body has launched a project to research this very particular architectural category and investigate what can be done to save it. It is asking the public to inform it of pubs built between 1945 and 1985. 
Sat outside The Shakespeare Geoff Murphy, 68, and Paul Bigden, 52, were enjoying a lunchtime pint in the sun. They have been drinking here since 1987 – in spite of the architecture. "Knock the place down," Mr Bigden said. "It's a throwback to the Seventies. Nobody even goes to the Barbican."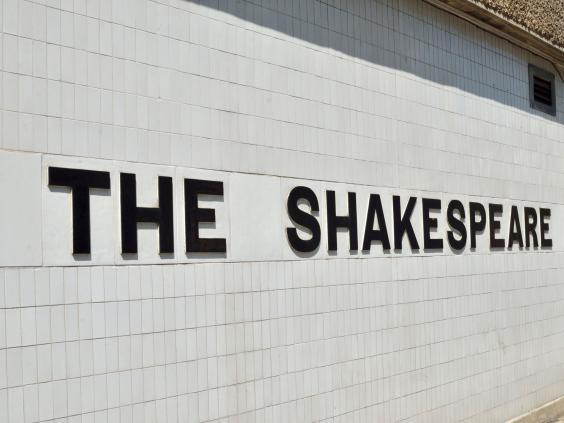 The elderly group at the next table in blazers and summer dresses – looking as if they are enjoying a pre-matinée drink – bristle.
"Post-war pubs are a severely threatened building type, with many being converted to other uses or demolished altogether," a statement from Historic England says. "Through this project we're aiming to help people understand and appreciate these buildings, and hopefully to help protect them."
If the Historic England campaign is a success, this number will rise. Inside, the walls are lined with pictures of William Shakespeare – who lived locally – and his contemporaries.
"We don't particularly like the building to be honest with you," the owner, Oscar Poma, 40, said. "It was a proper boozer when we bought it – a bit rough – designed to serve the estate behind it. We're aiming for the City workers now. We've started serving food and have put the prices up."
Catherine Croft, director of the Twentieth Century Society, said the project is part of a wider reappraisal of the aesthetics of post-war architecture. "There is increasing interest in – particularly – the listing of post-war buildings. People are getting a more sophisticated understanding of the architectural styles, such as hi-tech and post-modern but specifically Brutalism. That whole 'it's a concrete monstrosity idea' is becoming increasingly passé.
Best pubs in London
Best pubs in London
1/10 The Britannia, London SE1

A fairly unassuming looking pub from the outside, but head through the doors and you will be presented with not only a great selection of beer, but also a wealth of incredible whiskies - over 150 of them in fact. A real gem that demands investigation – and a whole evening or two. www.theonlypubcompany.co.uk

Google Street View

2/10 The Crown & Greyhound, Dulwich Village SE21

Currently under renovation, so you won't be able to visit until 2016 unfortunately, but this is one of the best places to enjoy a Sunday Roast on a chilly winter weekend. Open soon please, I'm missing you a lot.

Google Street View

3/10 The Freemason's Arms, Hampstead NW3

Another Sunday afternoon delight. A perfect destination after a walk on Hampstead Heath - there's a fine selection of Sharp's ales to explore too. The basement is also home to the Hampstead Lawn Billiard & Skittles Club, if you fancy learning a classic pub pastime. http://www.freemasonsarms.co.uk/

Google Street View

4/10 Craft, Clerkenwell, WC1

The team behind Craft (or The Craft Beer Co.) have really come up with a winning formula here: passionately curating a list of truly craft beers from all over the world. Alongside the actual list of bottled and draft ales, the pub offer three tiers of tasting flights for groups, including beers that are brewed exclusively for the pub.

Google Street View

5/10 The Dove, Hammersmith, W6

The Dove is one of those pubs where 'destination' truly fits the bill. Easy to lose a Saturday afternoon with the range of classic Fullers beers available. Oh, the views across the Thames make one proud to be a Londoner. Head there on Boat Race day and you'll find one of the most vibrant pubs in London to watch the tension unfold.

Google Street View

6/10 The Toucan, Soho, W1

The only pub in London where the Guinness actually tastes like it should, according to a few of my Irish friends. The Toucan is tiny compared to other Soho boozers, but it's perfect for a swift after work pint, followed by a visit to the basement, where they stock London's best range of Irish whiskeys.

Google Street View

7/10 The Bricklayer's Arms, Soho, W1

Sam Smith's beer at its finest. Just off the main drag of Oxford Street, so you would expect it to be perpetually full of tourists but it's surprisingly quiet for a lunchtime pint of Old Brewery bitter or Taddy Porter.

Google Street View

8/10 The Cittie Of Yorke, High Holborn, WC1

Another Sam Smith's pub, but not just worth visiting for the beer alone. Inside you'll find probably London's most perfectly preserved traditional pub décor, complete with ale huge vats. Although the pub actually dates back to 1924, there are records suggesting there has been a pub on the site since 1430.

Google Street View

9/10 The Blackfriar, Blackfriars, EC4V

Built back in 1905, The Blackfriar is actually situated on the site of a former Dominican friary and was thankfully saved from demolition by a campaign led by Sir John Betjeman. The interior is an absolute masterpiece of design; the walls are adorned with ornate carvings and the beer ranges from Nicholson brewery ales to some superb guest listings too. Be warned though, it fills up very quickly. http://www.nicholsonspubs.co.uk/theblackfriarblackfriarslondon/

Google Street View

10/10 The Dolphin, Sydenham, SE26

I had to include this in my list, as it is effectively my local. The beer selection isn't huge, but it offers a great pint of Timothy Taylor's and is one of the most child friendly pubs in South London. Does a cracking roast too… http://www.thedolphinsydenham.com

Google Street View
"The passing of time definitely helps. It's not that long ago that we thought St Pancras station was ugly."
The wider story of pub closures is a well-documented one. Rising duties, the lower price of supermarket alcohol and more varied nightlife have contributed to pubs closing at a rate of 29 a week, according to the British Pub Association.
Whether a recent resurgence in appreciation of post‑war architecture can counteract this trend and rejuvenate interest in boozers built since 1945 – time will tell. Otherwise the Bigden school of thought might just get its way.
Reuse content