I have two firm memories of home economics lessons at school – repeatedly getting detention for forgetting my ingredients and spending an entire summer term watching tenuous foodie films such as My Big Fat Greek Wedding.
Against the odds, I graduated into adulthood with an enjoyment of cooking. I would even say I'm not a bad chef, but how would my skills match up to the freshly unveiled GCSE in food preparation?
Concern has been raised that the course is too hard for 14 to 16-year-olds. As well as learning about the "scientific principles underlying the preparation and cooking of food", pupils will be expected to portion a chicken, fillet a fish and conjure up  hollandaise, velouté and béchamel sauces.
What better way for me to  test my skills than to receive a one-on-one practical lesson from one of London's top chefs? Michelin star chef Paul Hood, patron at Soho restaurant chain Social Eating House, was not a fan of school cookery classes. "I failed my home economics class so badly that I got a G, not even an F," says Mr Hood. "I really hated the lessons."
Mr Hood sets me to work preparing the ingredients for a basic pork pie. He demonstrates a speedy julienning of a shallot before offering me the knife. "Looks pretty easy!" I boldly scoff, but a few seconds later I am nursing a bleeding finger and my sad looking vegetables are all over the place. I am not trusted with the pastry.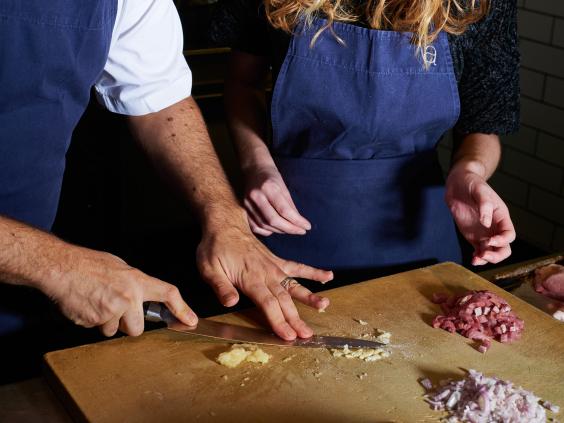 "There is certainly a lack of capable chefs coming through from school and college at the moment," says Mr Hood. "If children are taught basic skills from the beginning they will stay for life, whether at home or in the workplace. It's so important to keep lessons practical and fun."
He demonstrates how to dice pork and gently suggests I've been holding a knife incorrectly all my life. Eventually my mush is put into his lovely pastry and the pie goes in the oven.
Later, I decide to speak to Myles Bremner, director of the School Food Plan.  "The purpose of the GCSE was to provide a balanced course which not only gave good, strong cooking skills but also ensure that children understand the importance of food in all of its different contexts," he says.
"The course is challenging, but I am confident that this is a really positive way to get children interested in cooking again."
Mr Hood is also optimistic. "Yes, students might find it hard at first, but if they're not challenged they won't learn."
And did I pass the test,  if only for today? "Absolutely", he says. The proof is in the pie.
Reuse content