Working side by side, frying aubergine and chickpea flour bhajia in a shallow pan of oil, while putting the finishing touches to a delicious-looking vegetable curry, Hamida Anwah and Samira Ali (not their real names) look relaxed – laughing and joking as they chat away in Arabic.
They share a common language and love of Middle Eastern cuisine, and while Hamida is from Algeria and Samira originally from Libya, the pair are cooking in a south London kitchen attached to a Baptist community centre and church.
The two are part of an innovative cooking group of migrants and refugee women in Mitcham. Coming from all faiths and countries across the Middle East, Africa and Asia, delightfully they call themselves the Chickpea Sisters, in honour of their most commonly used ingredient.
The Sisters first came together on a weekly basis to talk about their homelands, their struggles as newcomers to Britain and, of course, to eat and swap recipes. With the help of the Klevis Kola Foundation, which promotes community engagement for refugees and asylum-seekers, what started as a home-cooking group has now become a thriving social enterprise offering Middle Eastern-inspired cuisine at a range of functions from supper clubs and charity fundraisers to corporate events. There are now plans to publish a cookbook.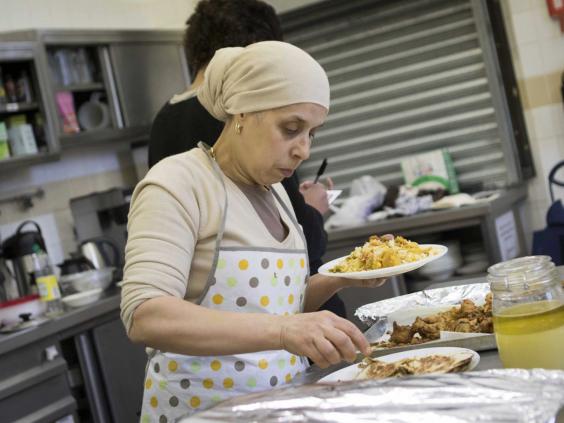 Hamida, who came to Britain in 1989 and now has a grown-up daughter, says: "Some of us are refugees, others came here to work or with our family. But for women who came here from Iraq or where there is violence, it helps to be able to talk as we cook. We are all so sad when we look at Iraq, Syria and Palestine."
The aubergine bhajia, a type of vegetable fritter found across the Middle East, made with aubergine, onions, coriander, turmeric, chilli powder and, of course, chickpea flour, will be part of a £7-a-head meal the Chickpea Sisters have prepared for 120 staff and volunteers at an Amnesty International meeting in east London. And it doesn't matter that neither Sister can agree on the nationality of the recipe they are following. Since they first met in 2012, members from Somalia, Senegal, Eritrea, Ethiopia, the Congo, Morocco, Algeria, Libya and Iraq all claim favourite recipes as their own.
At the moment, the operation is still on a small scale, and the dozen or so Sisters describe their income as "pocket money". More importantly, however, it provides them with a place to share stories and works as a form of group therapy.
"The situation is Libya is terrible," says Samira, who came to Britain from Libya when her son needed specialist medical care. "I'm British now, but with so much conflict in Libya, Iraq and Syria, this is a place for us to come together and talk. Many of us were lonely before we came."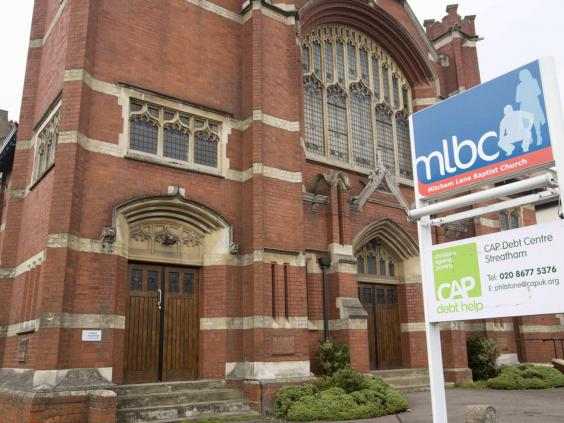 Rachel White,  a volunteer community activist who works with the group to help them book venues, find customers and deal with finances, commented: "Isolation and loneliness can be a real issue in immigrant communities, especially as English often isn't their first or even second language. The business works so well because it's taken an informal group already focused on food and shared working and turned it into a social enterprise."
The "dream" for the organisers is that they will become more independent as they gain financial and business competence. Already, there are plans to push their brand into food markets across London following the launch of the, currently untitled, cookbook later this year.
"It's a way they can integrate themselves into the community and help break down some stereotypes around migrants and refugees. After all, we see very few positive portraits of immigrants, and female migrants are often silent in the debate," Ms White added.
Chris Hands, of the Klevis Kola Foundation, said the group was doubly important because immigrant women have many talents, but often find it difficult to know how to make the best use of them. "The project is one way in which refugee women can make new connections, learn different skills, and connect with others across the language barrier, using the universal language of food," he said.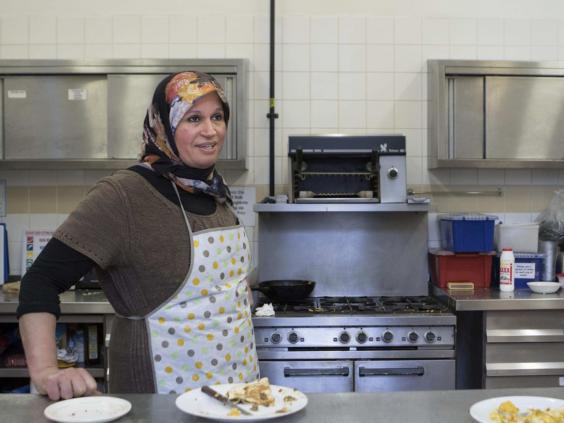 The Chickpea Sisters project is, in fact, only one of several examples of food being using to break down cultural barriers and further community cohesion. In east London, a social enterprise with a more feminist edge, called Mazi Mas, works with refugee women to give the long-term unemployed the training and confidence they need to go out and start their own businesses.
Stefan Chomka, editor of Restaurant magazine, said: "People are now more concerned about the ethical side of food, which has created an environment in which enterprises like this are flourishing.
"There also seems to be a growing feeling of supporting the small guy, whether a street food operator, supper club owner or social enterprise, in face of the growing high-street chains."
Reuse content