Almost three-quarters of fresh chickens bought in UK shops contain the bacteria named as the country's biggest cause of food poisoning, researchers have found.
The Food Standards Agency (FSA) tested for campylobacter in a year-long study, which found that 73 per cent of chickens tested positive but only 19 per cent had the highest level of contamination.
All major retailers were found to have failed to reach the industry target for reducing the bug during the period.
Asda chickens were more likely to have the highest campylobacter levels, while Tesco was the only supermarket to fall below the industry average.
Marks & Spencer, Morrisons, the Co-op and Waitrose have published their own studies on the results of recently-implemented plans to tackle it, which the FSA said showed "significant decreases" in campylobacter.
Steve Wearne, the FSA's Director of Policy, challenged their rivals to do the same and meet targets.
"I am absolutely delighted to see the really encouraging results from these four supermarkets and their suppliers," he added.
"They are making a real difference to public health, helping to cut down on the estimated 280,000 people who get ill from campylobacter each year.
"As we have always said, if you are prepared to work across the food chain to reduce the spread of this bug then you will get results."
Richard MacDonald, chairman of Acting on Campylobacter Together, said changes are starting to have a "real impact" and that campylobacter in chicken could one day be completely eradicated.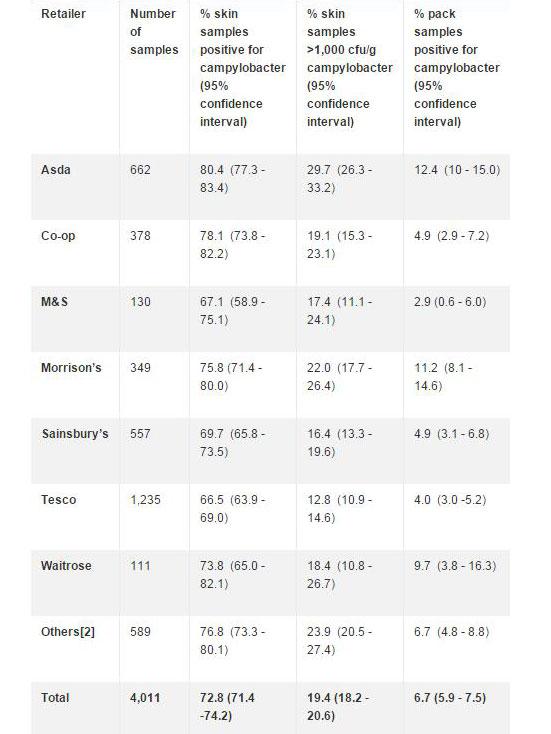 More than 4,000 whole chickens and packaging samples were tested by the FSA, from large supermarkets as well as independent shops and butchers.
The agency released the results for the first three quarters of the study in February.
A second year of testing will begin this summer to measure the impact of interventions being introduced by the industry to tackle campylobacter.
The bacteria, which is mainly found on raw poultry, can cause vomiting and diarrhoea that usually starts between two and five days after eating the contaminated food and stops within a week.
Poisoning Risk: The public perception of food safety
Poisoning Risk: The public perception of food safety
1/8 Where to put raw meat

It is hygienically correct to put raw meat on the bottom shelf

2/8 Handling chicken

It is hygienically correct to put raw meat on the bottom shelf

3/8 Campylobacter

4/8 'Use by' dates

5/8 Washing meat

It is hygienically correct not to wash raw meat

6/8 The tea towel

Maintaining a clean tea towel is important to kitchen hygiene

7/8 Separate chopping boards

8/8 Food thermometers
The FSA said that even with campylobacter, chicken is made safe by proper cooking and good practice in the kitchen.
It advises people to cover and chill raw chicken so it cannot touch other food, wash their hands and used utensils, and cook it thoroughly so it is hot all the way through with clear juices.
Reuse content