Britain may have a reputation for being tightfisted when eating out - but a new study has revealed that the vast majority of Britons always leave a tip.
The poll, conducted by online restaurant booking service OpenTable, revealed that the 87 per cent of Britons always left a gratuity with average amount given being £4.18.
However this figure is by no means uniform across the country.
Perhaps unsurprisingly, Londoners spend the most, with the average tip in the capital at £5.68.
Scots are the most generous, with the vast majority (91 per cent) saying that they always tip.
In contrast, Yorkshire was revealed as the most miserly region, with only one in five Yorkshire diners (20 per cent) likely to pay a gratuity. Diners from Yorkshire are also the most likely to ask for service charge to be removed from the bill, with over half (51 per cent) admitting that they had done so before.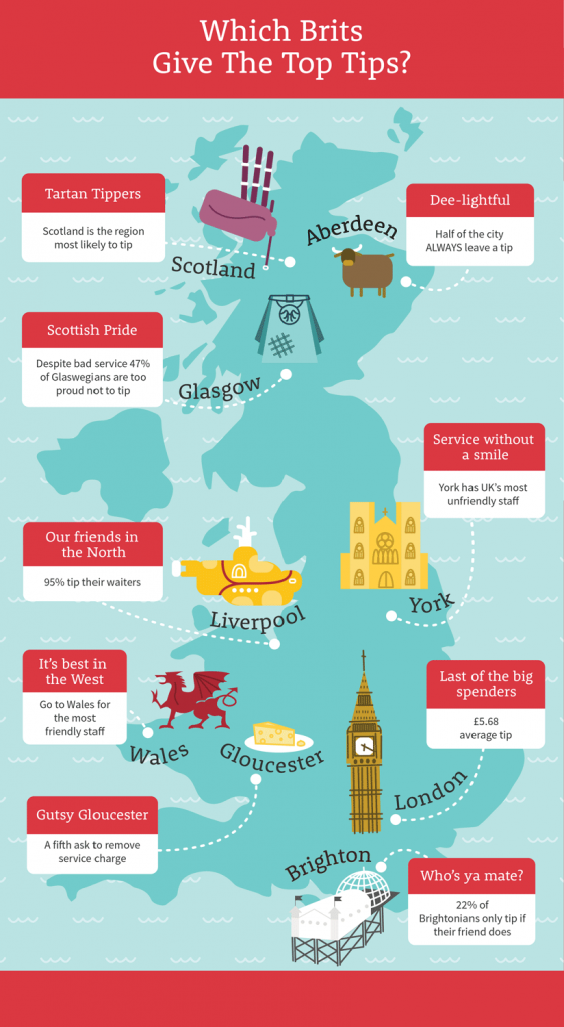 In addition, the poll found that women are more likely to tip than men, with 17 per cent of men saying they never leave a tip, in comparison to 10 per cent of women.
Rudeness was cited as the number one reason for not leaving a tip. Slow service and forgetting items were also reasons for not tipping.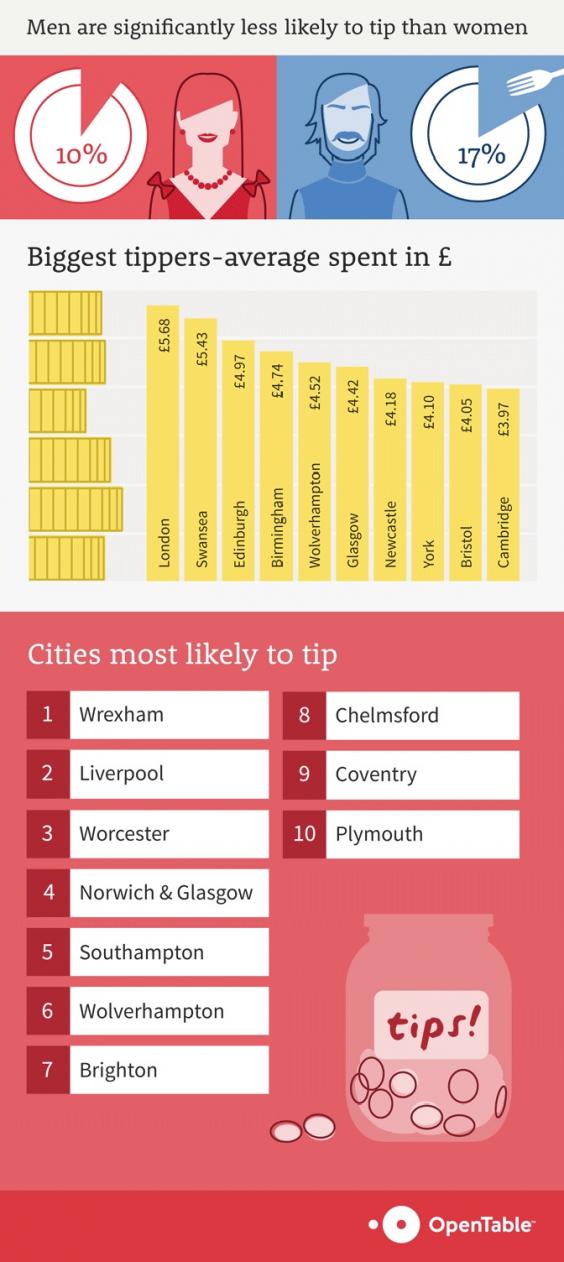 While a fair number of diners never leave a tip, one in eight of all diners polled confessed to having walked out of a restaurant quickly to avoid paying a tip.
The people of Gloucester take this even further, with one in five of them admitting that they will ask for service charge to be removed.
The issue of trust also cropped up amongst respondents.
Diners in the North East were found to be the most trusting, with 69 per cent of respondents saying that they would be fine with leaving cash on the table.
The top 20 best restaurants in UK
The top 20 best restaurants in UK
1/20 1. Gymkhana, Mayfair, London

Gymkhana has acres of space and delightfully flattering lighting

2/20 2. The Clove Club, Shoreditch, London

3/20 3. The Ledbury, Notting Hill, London

4/20 4. The Hand & Flowers, Marlow, Buckinghamshire

5/20 5. Pollen Street Social, Mayfair, London

6/20 6. The Sportsman, Seasalter, Whitstable, Kent

7/20 7. Hedone, Chiswick, London

8/20 8. L'Enclume, Cartmel, Cumbria

9/20 9. Dinner by Heston Blumenthal, Knightsbridge, London

10/20 10. The Square, Mayfair, London

11/20 11. Sat Bains, Nottingham

12/20 12. Midsummer House, Cambridge

13/20 13. Belmond Le Manoir aux Quat'Saisons, Oxford

14/20 14. The Walnut Tree, Abergavenny, Monmouthshire

15/20 15. Kitchen Table, Fitzrovia, London

16/20 16. The Waterside Inn, Bray, Berkshire

17/20 17. Chiltern Firehouse, Marylebone, London

18/20 18. The Fat Duck, Bray, Berkshire

Getty Images

19/20 19. Restaurant Nathan Outlaw, Rock, Cornwall

20/20 20. Andrew Fairlie, Auchterarder
On the flipside, the majority of diners from Northern Ireland wouldn't dream of doing so – 43 per cent of them prefer to hand the tip directly to their server.
Mike Xenakis, managing director of OpenTable, said: "Our research shows the UK is a nation of discerning diners, most of whom are happy to leave a little extra for restaurant staff so long as the service they receive is of a high level."
Reuse content