Wine has been produced in Turkey for thousands of years – Pliny the Elder lauded the sweet spiced wine from Galatia in central Anatolia, while Homer's Iliad features pramnios, which was produced on the Aegean coast.
The successors of the ancient winemakers, however, are having a difficult time. Two years ago, Turkey's Islamic-rooted government imposed a raft of new alcohol laws, including strict rules on the promotion of drink. Newer producers hoping to ride a fresh wave of interest in Turkish wine have been particularly badly hit.
Selim Ellialti began investing in vineyards on the Gallipoli peninsula in 2003. The endeavour was a retirement project for the successful IT entrepreneur and lifelong wine-lover. His first vintages were released for sale under the label Suvla Wines in 2012. The following year, the new laws came in. "It was a big shock," Mr Ellialti said. "We can't offer tastings, promotions, information or website visuals and it is forbidden to advertise any kind of an event. 
While Suvla Wines is "surviving", he is saddened and frustrated that he cannot trumpet a series of successes at international competitions in order to reach new customers. "The only way to reach the customers is to be on the shelf of a store or the menu of a restaurant," he said.
Yunus Mermerci, whose Kastro Tireli label got up-and-running in 2010, wasted huge amounts of work. "We had to close our website, change and add warning labels, bring down the sign boards we had recently made and put up in several places in Istanbul," he said. "All publicity materials – business cards, company letter heads – had to be changed, so related materials were all unusable."
"Being a young winery, we were particularly negatively affected, as we are not allowed to even talk about our wines to the consumer," he added. "The older wineries, with more established brand names, were not impacted as much."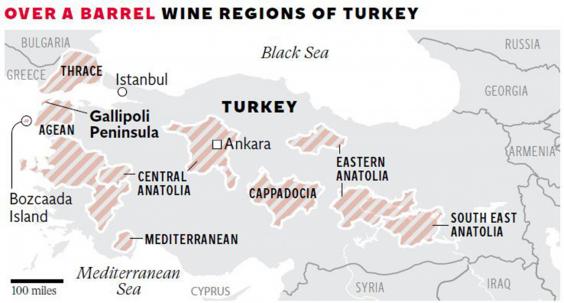 Turkey, where the vast majority of citizens are Muslim, has long had a complex relationship with alcohol. About 85 per cent of Turks do not drink, though only about two-thirds believe it is morally wrong to consume it.
The current battle is one of a series of totems in a deeper political struggle about Turkey's cultural values and outlook. When the Justice and Development Party (AKP) swept to power in 2002, it became the first party with a religious bent to take the helm in modern Turkey. Its leaders, who see themselves as pious Muslims, set about rebalancing what they saw as the long-standing social oppression of Turkey's social conservatives by the secular elite that had dominated politics for 80 years. 
The right to wear the headscarf, previously banned from public institutions, became one symbolic front. Another was alcohol, which had long been held up by those with a more secular, Western outlook as a sign of their enlightenment. In the words of the anthropologist Jenny White: "In Turkey, a sip of whisky, like a drop of blood, is a highly charged cultural marker of social class, lifestyle and political values."
The AKP began by increasing taxes on alcohol. In 2013, still flush from his third election victory, the then Prime Minster Recep Tayyip Erdogan went further, with a highly-divisive new batch of laws. They included the new marketing restrictions, a ban on new bars opening near mosques, and the introduction of labels warning consumers that "alcohol is not your friend".
Mr Erdogan, who last year assumed the post of President, said that the changes were to protect society from the ills of drink and to stop young people "wandering about in a state of inebriation". Critics, such as Mr Mermerci, say that such statements obscured his true agenda. "These changes seem to be introduced to make life difficult for producers of wine and other alcoholic beverages," he said. 
The 12 wines of Christmas
The 12 wines of Christmas
1/12 A party prosecco

Pignoletto Brut Taste the Difference

Technically vino spumante, but prosecco by any other name – and partygoers are hardly likely to quibble once they taste the delightfully fresh bubbles and vibrant apple and stone-fruit flavours. It also makes a great Bellini – just add peach juice. £9, Sainsbury's

2/12 An English sparkling

Henners Brut 2010

This sparkler from East Sussex-based Henners is as light and ethereal as a spring day, with effervescent citrus flavours. Drink while opening presents on Christmas morning, with oysters or smoked salmon. £18 (normally £28), winetrust100.co.uk; £29.99, virgin wines.co.uk

3/12 A pink champagne

Taittinger Prestige Rosé Brut NV

This classic pink is a wonderful aperitif at any time, but makes a special festive meal even more so with its uplifting strawberry and raspberry flavours, toasty overlay and tight, bright bubbles. Savour on its own or with canapés. £37.50, thechampagne company.com; £48.99, Waitrose

4/12 Typically tropical

Peter Yealands Sauvignon Blanc 2014/15

Its crisp, palate-cleansing acidity makes New Zealand Sauv Blanc almost the perfect party or aperitif glass. This bottle from one of the best Kiwi producers is packed with grass and tropical-fruit flavours – great on its own, and very good with all shellfish. £8, Sainsbury's

5/12 Zippy and zesty

Falanghina Beneventano IGT 2013

This Italian white from near Naples has all the easy drinking qualities needed for a versatile seasonal white. It's zippy and zesty for easy drinking, but some underlying vegetal, smoky notes make it a very good partner for canapés and seafood starters. £7, Marks & Spencer

6/12 Cherry red

Santa Rita 120 Cabernet Franc 2014

Fresh and aromatic, this bottle delivers crunchy cherry-fruit flavours, with enough body to make it brilliant for party spreads and a fine accompaniment for those plates of turkey sandwiches. £5.99 (each, when bought as six bottles, normally £8.99), majestic.co.uk

7/12 For fish and white meats

Château Ollieux Romanis, Corbières Cuvée Prestige 2014

A baked fish needs an equally meaty white. Here, hand-picked Roussanne and Marsanne grapes are aged in oak to give big, creamy, luscious flavours, with hints of tropical fruits, some spice and smoke. £14.50, thewine society.com

8/12 For turkey, poultry and lighter game

Domain Road Central Otago Pinot Noir 2011

Oak ageing gives a mellow complexity to this sumptuous Pinot, balancing the bright, lingering cherry and plum flavours. Underlying acidity will also counter the fatty richness of goose or duck. £17.95, slurp.co.uk; £18.40, tanners-wines.co.uk

9/12 For beef or venison

Cuvée du Vatican Châteauneuf- du-Pape 2012

This southern Rhône red balances rich, dark-fruit flavours, laced with earthy black pepper, in a wine of finesse which retains a hint of freshness from the Grenache grapes. A gorgeous counterpoint to equally full-flavoured meats. £19.99, laithwaites.co.uk

10/12 A tawny port

Taylor's 20 Year Old Tawny Port

The perfect partner to mince pies, hard and blue cheeses, preferably consumed post-prandial in front of an open fire. Intense but mellow, oaky flavours of nuts and figs with a satisfying and long aftertaste. £32.96 (£21 for 37.5cl), amazon. co.uk; £34, the winesociety.com

11/12 A sweet wine

Noble Harvest Denbies

Although made from grapes infected with the "Noble Rot" Botrytis, this is not oversweet. A hint of citrus and a little tropical, underlying honeyed notes and some toasty, yeasty flavours make it just right for lighter desserts, fruit puddings and, say, an almond and apricot tart. £19.99, Waitrose

12/12 An aged sherry

Matusalem 30 Year Old Sherry

A sweet Oloroso, aged in oak for 30 years. Unbelievably complex with layer upon layer of flavours of nuts, raisins, dates and other dried fruit. Chill just a little and savour with Blue Stilton and, of course, Christmas pudding and cake. £19, Waitrose, ocado.com; £20.81, thedrinkshop.com
Mr Ellialti blames the government's attitude on what is he says is the "less educated background" of the majority in Turkey, claiming: "They do not have any international background or awareness of different lifestyles." Supporters of the AKP would point to such language as evidence of the culturally superior attitudes of the old ruling class.
Bans on alcohol are not new to Turkey. For much of the Ottoman Empire there were tight restrictions, though there was the odd exception – the son of Suleiman the Magnificent was known as "Selim the Sot".
Champions of Turkish wine warn that the current climate is damaging the industry and exacerbating cultural rifts. Mr Ellialti, of Suvla Wines, says the government is treating wine producers "like drug dealers or terrorists" and wishes it would display more tolerance towards their craft.
Mr Mermerci was more optimistic. "I am pretty sure the Anatolian wine will rebound with the efforts of the recently emerged, diligent boutique wineries, no matter what obstacles there may be.
"Wine has been produced for thousands of years in these lands," he said, before adding a metaphor that would surely meet with Homer's approval: "This has been a hiccup in the process."
Reuse content