For Amanda Saab, the flavours of Ramadan are baked into sweet, tender bites of namoura. Her Lebanese grandmother used to make the cake, folding together frothy, aerated yogurt and semolina flour. Now Saab makes it the same way, soaking the cake in floral-scented sugar syrup while it's still warm from the oven, and cutting it into diamond-shaped pieces.
"While I'm not consuming food all day, I'm thinking about food," says Saab, a social worker who lives near Detroit. "Not about how I'm missing out, but about how to make the best thing to fulfil everyone's cravings after a long day of fasting."
Ramadan began just over a week ago, and for 30 consecutive days, many of the 1.8 billion Muslims around the world are fasting, eating each evening after the sun goes down and squeezing in a predawn meal before it rises again. "While my tummy is rumbling, it's drawing me closer to my faith," says Saab, 28.
Fasting may sound strenuous, and it is, but it's also an act of devotion during a month filled with immense joy, culminating in the feasts of Eid al-Fitr. There's an emphasis on community and charity, self-reflection and kindness. The absence of food can deepen its meaning: after pushing through long stretches of hunger and thirst, there is a heightened sense of gratitude and delight that comes with breaking the fast while surrounded by family and friends.
"When everyone's standing around, picking from the same platter, suddenly you get a surge of energy," says Malika Ameen, 42, a cookbook author and pastry chef. "Everyone is chatty and smiling with the anticipation of dinner."
Ameen's father emigrated to the United States from Pakistan in the 1960s. She grew up in Chicago, where her family hosts vibrant iftars, one of the names for the evening meal that breaks the day's fast. An iftar may be as elaborate as the truffle-laden platters on display in the dining room at the Four Seasons Resort in Dubai, in the United Arab Emirates, or as simple as chicken and rice, passed out free on paper plates at a mosque.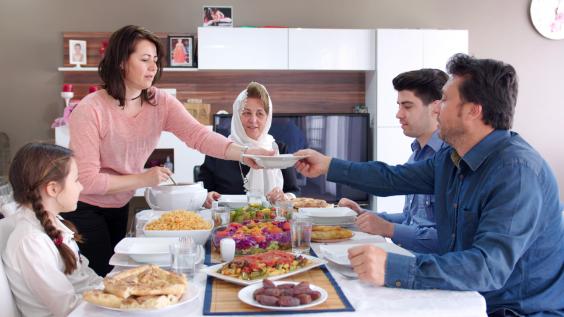 For home cooks, who often take turns hosting an iftar or carrying their homemade food to share at community centres and mosques, it's time to shine. Many will strategise for the days ahead, planning menus and cooking in bulk. Keeping a few labour-intensive dishes ready to warm through can minimise the time spent hungry, in an unreasonably fragrant kitchen, when there are hours to go before the day's first bite.
"By about 3pm, you start to hit a wall and you wish you didn't have to be around food all day," Ameen says. "Everything starts to smell so strong."
She stocks her freezer with homemade samosas to last the month, ready to crisp in hot oil or to pop into the oven in small batches. Saab fills hers with kibbeh (bulgur wheat and beef shaped by hand into tiny, plump footballs) and makes big pots of lentil soup.
Of course, not everything can be done in advance. Ameen will also put together light foods she finds ideal for a fasting stomach, like fruit chaat, a tangy, savoury fruit salad made from what's ripe that day and in season, all marinated with cumin, dried mango and chilies.
"We eat a lot of watermelon," Ameen says of one of the fruits she uses to make the chaat. "You're so dehydrated, it's a quick way to get liquid into your body."
Dahi vada also makes appearances throughout the month, the lentil fritters soaked in a cool sauce of yogurt and a second of sweet-sour tamarind. It's a dish that her family serves only at this time of year, and as it's garnished, the perfume of toasted, crushed cumin rises.
"That smell, to me, is the smell of Ramadan," Ameen says.
The diversity of Muslims is reflected in a wide range of foods that will break fasts all month long, from casseroles of macaroni and cheese to es campur, the Indonesian dessert of fruit and jellies, from the Nigerian bean fritters known as akara to asheh, a herb-packed Persian soup.
"But the fast is a reminder that food is a means, not an end goal," says Faiyaz Jaffer, a research scholar and chaplain at New York University's Islamic Centre. The centre will serve iftar to nearly 300 people each evening, with catering from local restaurants.
"It's hard to put into practice, of course," Jaffer says. "We save up to eat at expensive restaurants, we think about food and what meal is next, but the idea is that there's a time for that, but it's not the end goal of life."
Though not all Muslims choose to fast, fasting is one of the Five Pillars of Islam, and many are connected by it each year.
"It's a test of our willpower, a way to emphasise our spiritual dimension," Jaffer says.
Ramadan is the ninth month of the Islamic lunar calendar, and this year it falls at the tail end of spring and the beginning of summer in the United States. The days stretch out, long and hot.
"I will make a big salad every day, and that is not negotiable," says Saab, who likes to pace herself with light foods that will hydrate and nourish.
For her Lebanese-American family, she prepares juicy variations on fattoush: a range of crunchy vegetables, herbs and leafy greens tossed in a simple lemon-sumac dressing with pieces of warm fried flatbread.
Saab also serves fattoush at Dinner With Your Muslim Neighbour, the meals she hosts twice a month for friends of friends, colleagues and locals she has met via Facebook. She started the dinners with the idea that she could complicate and add nuance to the national understanding of Muslim Americans, one person at a time, by inviting strangers into her home and offering them seats around her table.
It's work, but Saab wants to continue these dinners during Ramadan. And she has been moved by people from outside of her faith, eager to fast by her side for a day. "I think it's so generous that they want to fully embrace and engage," she says.
Skipping food and drink for well over 12 hours can put stress on the body, which immediately struggles against dehydration and hunger.
Many people experience throbbing headaches and dizziness, caffeine withdrawal and waves of fatigue. (Saab, who is expecting a child over the summer, will not fast this year; young children, pregnant women and older adults or the unwell are not expected to do so.)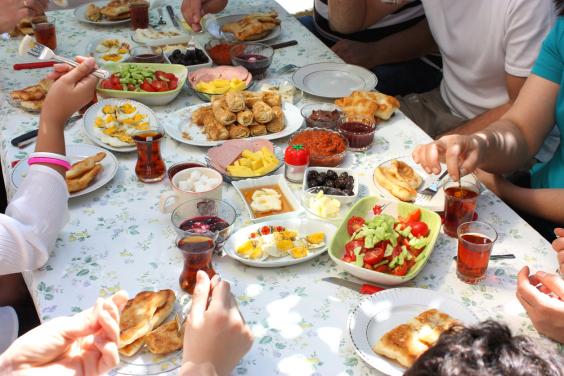 "It's a big change to go from three meals a day and snacks to fasting, and all of a sudden that energy isn't coming in," says Mark Mattson, chief of the Laboratory of Neurosciences at the National Institute on Ageing in the US, who studies the effects of fasting.
"Just like it takes a while for your cardiovascular and muscular systems to adjust to the stress of exercise, the bioenergetic challenge of intermittent fasting is the same," he says. It can take weeks, or in some cases up to a month, for the body to adapt to more restricted time windows for food.
"The first week is always rough," says Bim Adewunmi, a journalist for BuzzFeed News, who began fasting for Ramadan at boarding school in Nigeria. "But it's very rewarding, and I always feel like a champ when I'm done."
Adewunmi, 34, cooks for ease when fasting, focusing on carbohydrates and protein, often preparing a single, simple recipe on a loop all month.
"One year, I was obsessed with courgette fritters," she says. "Another crazy Ramadan, it was spinach balls."
She found the spinach recipe on a halal food blog, an adaptation of the Italian chef Antonio Carluccio's green dumplings. It was ideal for breaking the fast at home the way she liked, with comforting food she could warm up and eat in small doses throughout the evening.
"You're so worried about how hungry you're going to get, you end up eating way too much and it's uncomfortable," she says. "You learn it every Ramadan."
Last year was Adewunmi's first Ramadan living in New York. Far away from her family and friends during the month, she found herself alone between work and home at sundown. She stopped in a Punjabi-owned bodega in Manhattan and asked the shopkeeper if he had anything with which she could break her fast.
"Straight away, a big tray of dates came out," Adewunmi says. "He didn't ask me about my Muslim-ness; he didn't ask for my credentials. During Ramadan, everyone becomes everyone's sister, everyone's brother."
Adewunmi doesn't like dates, truth be told. But in the moment, and in the spirit of the month, she found that it didn't matter. The only thing that mattered was the generosity of a stranger, the small and beautiful kindness. She ate four.
Namoura (syrup-soaked semolina cake) 
Adapted from a recipe by Amanda Saab
20 to 24 pieces
For the syrup
250g sugar
1 tbsp freshly squeezed lemon juice
1¼ tsp lavender extract, vanilla extract or rose water
For the cake
170g unsalted butter, melted, plus more for coating the pan
380g semolina flour
150g sugar
245g plain yogurt
2½ tsp baking soda
35g slivered almonds
In a small saucepan over high heat, boil sugar and 1 cup of water, stirring until the sugar is dissolved. Reduce the heat to a simmer, add lemon juice and extract, and stir to combine. Simmer until thickened into a syrup, about 2 minutes. Remove from the heat and set aside to cool.
Heat oven to 200C. Coat a 9x13in baking dish with butter. Place the semolina, melted butter and sugar in a large bowl and stir until well combined; set aside.
Place the yogurt and baking soda in a medium bowl and stir to combine. Set aside until the mixture has nearly doubled in size, about 10 minutes.
Pour the yogurt mixture over the semolina mixture and mix well to combine. Transfer to the buttered baking dish and press into an even layer. Using a knife, score the surface of the namoura on the diagonal into 2in diamond-shaped pieces. Top each diamond in the centre with an almond. Bake until golden brown, 25 to 30 minutes.
Place baking dish on a wire rack and drizzle the cooled syrup over the top of the hot namoura. Let cool to room temperature before recutting along the scored lines and serving.
Watermelon chaat
Adapted from a recipe by Malika Ameen
4 to 6 servings
900g watermelon, cut into 1in cubes
¾ tsp whole cumin seeds
¼ tsp sweet paprika
¼ tsp finely ground black pepper
¼ tsp amchur powder (dried green mango)
Pinch of cayenne pepper (a generous pinch if you like heat)
¼ tspfine sea salt
1 orange, clementine or mandarin, juiced to make approximately 80ml juice
½ teaspoon finely chopped jalapeno chili
3 to 4 fresh mint leaves, thinly sliced
Place cubed watermelon in a wide platter with sides or in a large baking or serving dish and spread into a single layer.
In a small pan, toast whole cumin seeds on medium heat for 3 minutes, until fragrant. Remove and coarsely grind with a mortar and pestle. (You can also grind in a spice grinder, but be sure not to grind to a fine powder as the coarse grains of the spice add a wonderful texture.)
Transfer cumin to a small bowl and add all remaining spices and salt. Add citrus juice, jalapeno and mint and mix well. Pour dressing over cubed watermelon and mix to coat. Cover with plastic wrap and let marinate for 1 to 6 hours. Serve chilled the same day.
© New York Times
Reuse content