Baking has had a resurgence of late. For me, there is nothing so satisfying as the joy of striding into the kitchen, donning an apron, dusting the bench with flour and wielding a rolling pin. Perhaps it's the ideal of getting back to simple things, or that it's tactile, satisfying DIY without the expense and all day Saturday at the hardware store. Or simply that we are all secretly trying to channel some of Mary Berry's and Paul Hollywood's coolness…
The gentle coaxing of the flavours of fruit, and enclosing it in buttery pastry has to be one of baking's greatest triumphs, so here I have a selection of fruit bakes to take advantage of autumn's bounty. All too soon we'll be limited to only a few fruit choices, so here you should be able to move from summer to winter easily, gently and deliciously. Enjoy!
Bill's restaurant, Granger & Co, is at 175 Westbourne Grove, London W11, tel: 020 7229 9111, and 50 Sekforde Street, London EC1, tel: 020 7251 9032, grangerandco.com. Follow Bill on Instagram at bill.granger
Apple and ginger crumble pie
Not sure whether you prefer apple pies or crumbles? Well, this is my answer.
Serves 8
Ingredients
1kg eating apples, peeled, cored and cut into medium slices
Juice 1 lemon
4 tbsp golden caster sugar
2 balls stem ginger in syrup, chopped, plus 1 tbsp syrup
2 tbsp plain flour
Clotted cream or vanilla ice cream, to serve
For the pastry
140g cold unsalted butter, diced
250g plain flour
3 tbsp golden caster sugar
1 tsp ground ginger
1 egg, plus 1 egg yolk
For the crumble topping
80g plain flour
80g butter, roughly chopped
50g walnuts, finely chopped
6 ginger nut biscuits, crushed
For the pastry, pulse the butter and flour in a food processor until it resembles breadcrumbs, then add the sugar and ginger. Gradually pour in the egg until the dough comes together. Remove, wrap in cling film, flatten into a disc and chill for 15 minutes. Unwrap and roll out to ½cm thick. Line a 23cm loose-bottomed tart tin with the pastry, trim then chill for a further 15 minutes.
Toss the apple with the lemon juice, sugar, ginger and syrup then sprinkle with flour and set aside.
For the topping, rub the flour and butter together with your fingers till the mixture resembles breadcrumbs, then add the walnuts and crushed biscuits. Set aside until needed.
Preheat the oven to 180C/ 350F/Gas4. Toss the apples to coat in the juice, pile into the tart case and cook for 20 minutes, loosely covered with foil. Then remove the foil, pile on the crumble and return to the oven for a further 20 minutes, or until the topping is golden and crunchy and the apples are bubbling up around the edges. Serve warm with dollops of clotted cream or scoops of vanilla ice cream.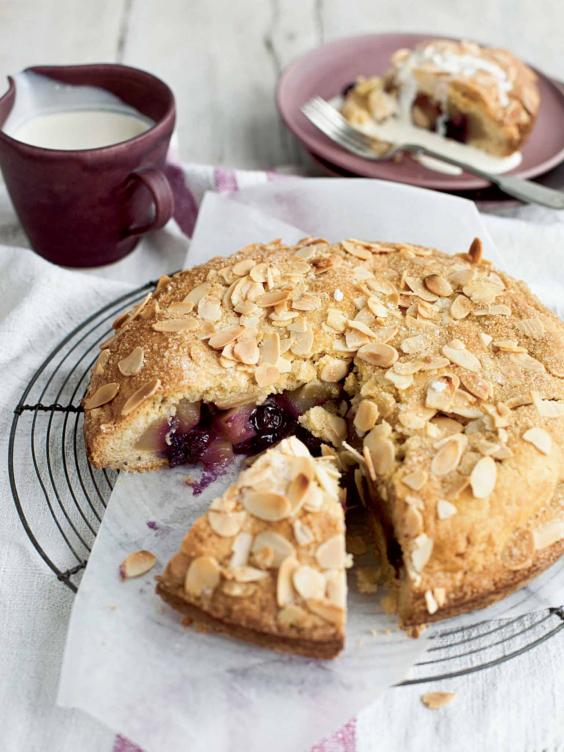 Spiced pear, blueberry and almond shortcake
This elegant closed shortcake is lifted by the colour and taste injection of juicy blueberries.
Serves 8-10
Ingredients
30g butter, softened
40g soft brown sugar
Seeds of cardamom pod, crushed
Nutmeg, grated
4 pears, peeled, cored and diced
100g blueberries
Zest and juice 1 lemon
For the shortcake
125g unsalted butter
125g caster sugar
1 egg, lightly beaten
130g plain flour
50g ground almonds
1 tsp baking powder
Milk, for glazing
2 tsp flaked almonds
2 tsp demerara sugar
Cream, to serve
Put the butter, sugar, cardamom and a good grating of nutmeg in a pan over a low heat and stir until the butter has melted and the sugar has dissolved. Toss in the pears and cook over a low heat for about 8 minutes, until the pears are soft but not mushy. Cool to room temperature then stir in the blueberries and lemon.
For the shortcake, using a wooden spoon, cream the butter and caster sugar together in a bowl until fluffy and smooth. Add the egg and mix well. Add the flour, ground almonds and baking powder and stir until combined. Turn on to a lightly floured surface and knead briefly to bring the mix together. Divide into two and refrigerate for 30 minutes.
Preheat the oven to 180C/ 350F/Gas4. On a lightly floured surface, roll each half of cake dough into a circle about 23cm across. Press one into a 24cm non-stick springform cake tin. Spread the pear mix over, leaving a small border around the edge. Place the other circle on top and press the edges together. Brush with milk and sprinkle with flaked almonds and demerara sugar.
Bake for 35 to 40 minutes, covering loosely with foil if your shortcake is turning too dark.
Allow to cool in the tin for 20 minutes before removing. Serve warm with cream.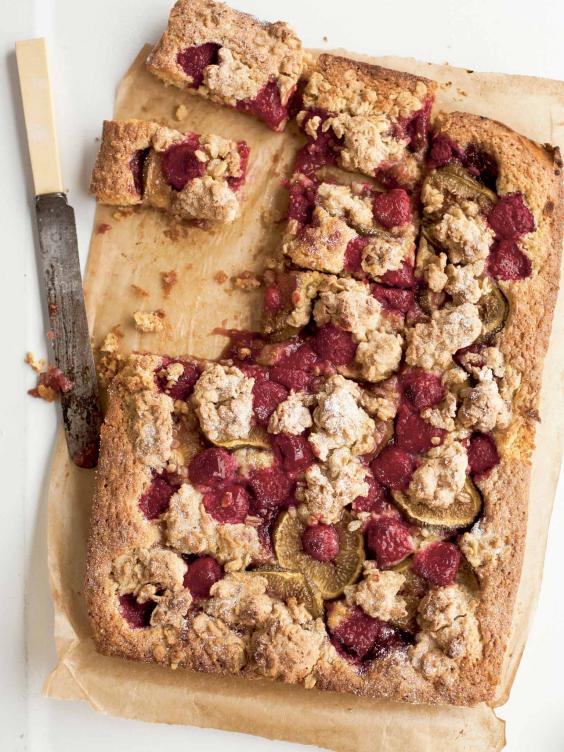 Fig and raspberry tray slice with crunchy oat topping
This streusel-topped tray slice sees sweet figs and sharp berries bleed into each other as they bake. Delicious!
Serves 8
Ingredients
225g plain flour
25g cornflour
1 tsp baking powder
100g rolled oats, plus extra 1 tbsp
225g cold unsalted butter, diced
150g golden caster sugar
2 eggs, lightly beaten
1 tsp vanilla extract
3 tbsp good-quality raspberry jam
200g raspberries
3 large figs, cut into wedges
1 tbsp demerara sugar
Preheat the oven to 180C/350F/Gas4. Grease and line a medium-sized baking tray. Tip the flours, baking powder and the 100g of oats into a mixing bowl and rub in the butter until it resembles breadcrumbs. Mix in the sugar then stir in the egg and vanilla extract to form a sticky, clumpy mix. Pour three-quarters of the mix into the tray, using damp hands to smooth over the base.
Spread the jam on top of the base then scatter generously with the raspberries and figs. Mix the remaining oaty mix with the extra oats and demerara sugar and sprinkle this over the top. Bake for 30 to 35 minutes or until golden and the topping is crunchy. Allow to cool in the tin for 10 minutes, then slice into squares.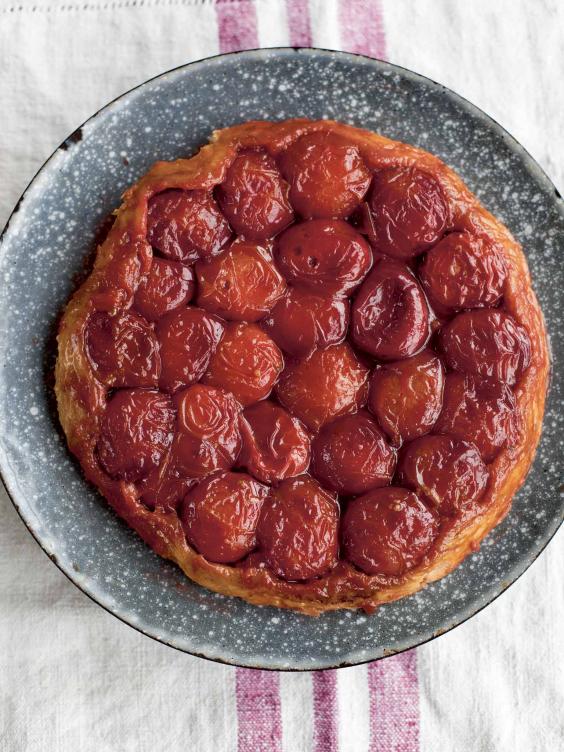 Orange-scented plum tarte tatin
These soft, tart plums with flaky butter pastry work well with the gentle tang of crème fraîche.
Serves 8
Ingredients
50g unsalted butter
50g caster sugar, plus extra 1 tsp
1kg firm plums, halved and pitted
Zest 1 orange
1 tbsp soft brown sugar
500g ready-rolled puff pastry
1 egg, lightly beaten
Crème fraîche, to serve
Put the butter and sugar in a large, ovenproof pan over a low heat. Stir until the sugar dissolves then increase the heat slightly until the caramel turns golden. Add the plums, cut-side down, filling all gaps. Finely zest the orange over then sprinkle the brown sugar. Cook for 5 minutes, without stirring. Remove from heat and let it cool to room temperature.
Preheat the oven to 200C/ 400F/Gas6. Roll out the pastry to slightly larger than the pan, lay on top, trim around the edges and tuck around the plums. Brush with egg and sprinkle with extra caster sugar. Bake for 35 to 40 minutes, or until golden. Allow to stand for 15 minutes, put a plate on top of the pan and flip to invert the tatin on to the plate, making sure you catch any juices. Serve with a dollop of crème fraîche.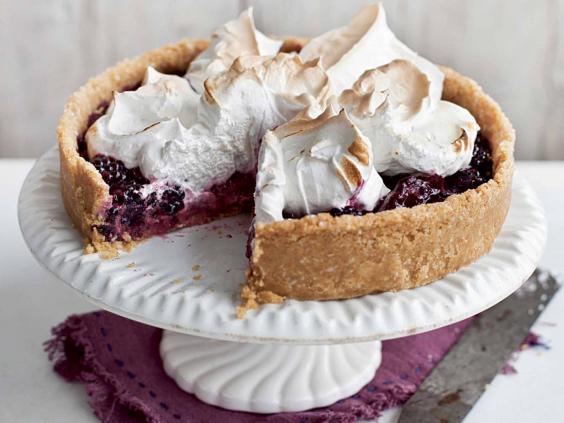 Blackberry meringue pie
This is the show-off of the group, almost regal with its rich purple fruit and snowy white meringue.
Serves 8
Ingredients
250g digestive biscuits
50g dessicated coconut
175g unsalted butter, melted
For the filling
750g blackberries
5 tbsp golden caster sugar
Zest and juice 1 lemon
2 tbsp cornflour
For the meringue
200g caster sugar
4 egg whites
To make the base, put the biscuits in a bag and bash with a rolling pin to fine crumbs. Stir in the coconut and butter until well combined. Tip into a 22cm loose-bottomed tart tin and press the crumbs over the base and up the sides, then chill for at least 30 minutes.
Put half the blackberries into a pan with the sugar, lemon juice and 2 tbsp of water, and heat gently until the blackberries start to burst. Cook for 3 minutes until really juicy, crushing with a spoon as you go. Mix the cornflour with a tbsp of cold water then pour over and cook until the sauce thickens and is shiny. Stir through the remaining blackberries, remove from the heat and allow to cool to room temperature. Strain off any extra blackberry liquor using a sieve and set aside.
To make the meringue, put the sugar in a pan with 75ml of water. Heat gently until the sugar has dissolved. Increase the heat and boil until the temperature reaches 120C on a sugar thermometer. Whisk the egg whites in a bowl to stiff peaks, making sure they don't go grainy. Slowly add the sugar syrup, pouring in a thin stream, whisking all the time. Continue to whisk until the meringue is cool.
To assemble the pie, spoon the saucy blackberries into the tart case and pile on the Italian meringue. Put the assembled pie under a hot grill for a few seconds to brown the meringue, or use a blowtorch to get some colour on the peaks. Serve wedges of the pie with the reserved liquor. 1
Perhaps baking's satisfaction is in the ideal of getting back to simple things… or a secret desire to channel some of Mary Berry's and Paul Hollywood's coolness
Reuse content