My poor ice-cream maker has been parked at the back of a cupboard for years now. What is it with kitchen appliances? It would seem that the bigger and more expensive they are, the less we end up using them.
My appetite for something sweet and refreshing at the end of a sizzling day is still as alive as ever, though. If it's an ice-cream fix I'm after, I tend to reach for a bought tub or make an instant sorbet with frozen fruit. Then there are days when I'm happy to let nature provide my cooling sugar fix – all it takes is a juicy ripe peach or half a watermelon with a spoon, and I'm smiling.
But if I have a bit of time on my hands or, as often happens, an abundance of fruit that needs eating, these are the kind of desserts I like to throw together.
Bill's restaurant, Granger & Co, is at 175 Westbourne Grove, London W11, tel: 020 7229 9111; 50 Sekforde Street, London EC1, tel: 020 7251 9032; and Stanley Building, 7 Pancras Square, London N1, tel: 020 3058 2567, grangerandco.com. Follow Bill on Instagram at bill.granger
Saffron-roasted peaches with ricotta and pistachios
Roasted fruit is great straight from the oven, but chill it and suddenly you have a refreshing dessert with all the delicious intensity of flavour that roasting gives the fruit.
Serves 4
1 pinch saffron
1 tsp vanilla paste
4 tbsp honey
Juice 2 lemons
4 peaches, halved and stoned
250g ricotta, drained and cut into wedges
50g toasted pistachios, chopped
Preheat the oven to 200C/400F/Gas6. Combine the saffron, vanilla, honey and lemon juice in a small bowl. Place the peach halves on a roasting tin where they fit snugly. Spoon over half the honey mixture. Roast for 10 minutes. Pour the remaining honey mixture over the peaches and cook for another 3 to 5 minutes, until coloured, but still holding their shape. Set aside to cool then chill in the fridge until ready to serve.
To serve, plate the peaches with wedges of ricotta. Spoon over the roasting syrup and top with pistachios.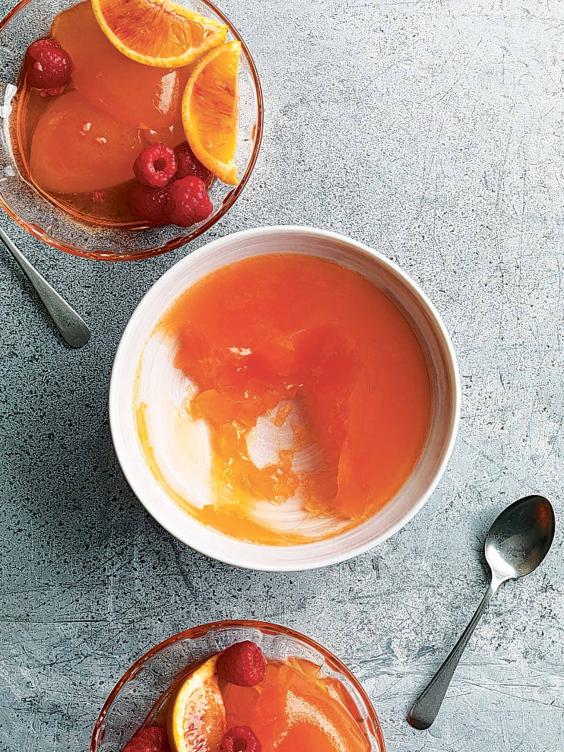 Aperol, orange and prosecco jellies
I don't think I could ever tire of Aperol. It's sunshine in a glass.
Serves 4
6 gelatine leaves
250ml prosecco
2 tbsp caster sugar, plus 1 tbsp
200ml freshly squeezed orange juice, plus 1 orange, in segments
150ml Aperol, plus 1 tbsp
200g raspberries
Soak the gelatine in cold water.
Heat 100ml of prosecco with 2 tbsp of sugar in a pan over a low heat, stirring until the sugar has dissolved. Remove from the heat.
Remove the gelatine from the water and squeeze to remove any excess. Add to the warm prosecco and stir to dissolve. Stir in the orange juice, 150ml of Aperol and remaining prosecco. Pour into a bowl, cover and chill for 4 hours, or until set. Place the orange segments, raspberries and 1 tbsp each of caster sugar and Aperol in a bowl and mix well. Cover and chill in the fridge.
To serve, scoop spoons of the jelly into glasses and top with the prepared fruit.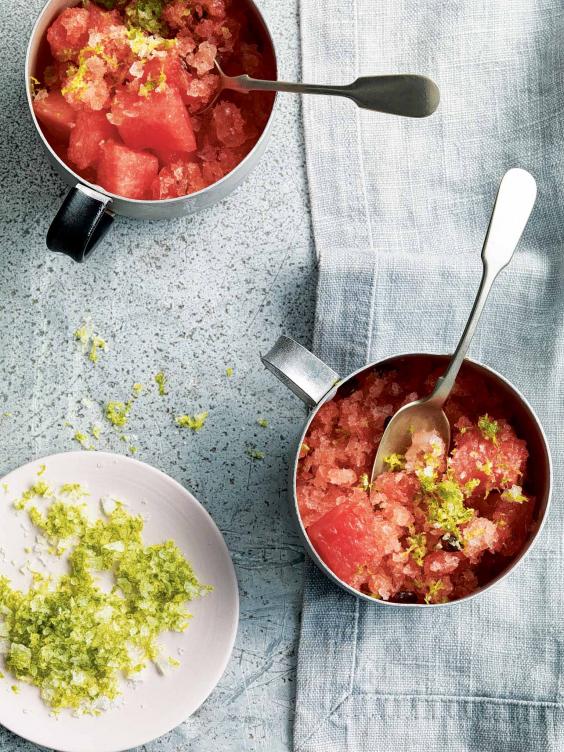 Watermelon and ginger granita with lime salt
Watermelon's clean flavour is perfect for iced desserts. I love the tang of the lime salt, but let people add their own – it can be a bit like Marmite in the way people react.
Serves 4
4 tbsp caster sugar
3 slices ginger
500g watermelon flesh, plus extra watermelon chunks to serve
Grated zest and juice 3 limes
1 tsp sea-salt flakes
Place the sugar and ginger in a jug. Pour in 125ml of boiling water from the kettle. Stir until the sugar has dissolved and set aside to cool. Remove the ginger slices and discard.
Whiz the watermelon in a food processor. Strain into a large jug and discard the seeds. Stir through the lime juice and ginger syrup. Pour into a freezer container. Freeze the mix for at least 4 hours. Rake a fork through to break the mixture into crystals.
Combine the lime zest with the sea-salt flakes.
Spoon the granita into bowls and serve with the chunks of watermelon and the lime salt on the side. 1
Food stylist: Marina Filippelli; Stylist: Rachel Jukes
Reuse content