I'm usually at my chirpiest first thing in the morning; some might argue, annoyingly so… Luckily, we're a family of morning people and on most days wide-eyed and talkative over breakfast. I'm sure it would ruin my mood for the day if our first meal was spent in a strop with only the occasional grunt to pass the butter.
Instead, we make sure to lay the table properly for breakfast every day and I always try to make a cooked breakfast so we all leave the house having had a healthy start.
I would die of boredom if we had the same breakfast every day, so I try to keep it interesting by varying it as much as possible. Although, being a lover of eggs, I inevitably find a way of cracking one or two most mornings.
The first dish I became known for was my scrambled eggs; I can't count the number of times I've demonstrated my version to new chefs in my restaurants, or on TV shows. It's probably enough scrambling to last me several lifetimes!
The recipes here are closer to my current mood and what you might find me preparing if you were popping over for breakfast or brunch. Just don't expect us to be sitting quietly as we enjoy them…
Bill's restaurant, Granger & Co, is at 175 Westbourne Grove, London W11, tel: 020 7229 9111, and 50 Sekforde Street, London EC1, tel: 020 7251 9032, grangerandco.com. Follow Bill on Instagram at bill.granger
Tenderstem broccoli omelette with ricotta and pine nuts
This is actually a great throw-together dish for any meal of the day. The ricotta adds a lightness and freshness that I absolutely love.
Serves 2
Ingredients
1½ tbsp olive oil, plus extra for drizzling
150g tenderstem broccoli, cut into 7cm pieces
2 garlic cloves, sliced
1 red chilli, cut into rounds
6 eggs
1 tbsp milk
Small knob butter
100g ricotta
2 tbsp toasted pine nuts
To make the topping, heat the oil in a large frying pan over a high heat. Add the broccoli stems and cook for a few minutes until starting to soften. Toss in the broccoli heads, garlic and chilli and season with salt. Pour in 1 tbsp of water, and cook for 2 minutes, until the broccoli is tender. Set aside.
In a bowl, beat the eggs and milk with some salt and freshly ground black pepper until smooth. Give the frying pan a wipe out and add a knob of butter. Once foaming, pour in the beaten egg and cook for 3 minutes, until the base is set. Spoon over the cooked broccoli and dot with the ricotta. Cook for 1 to 2 minutes, until the egg has just set. Scatter with pine nuts, add a drizzle of olive oil and serve immediately. k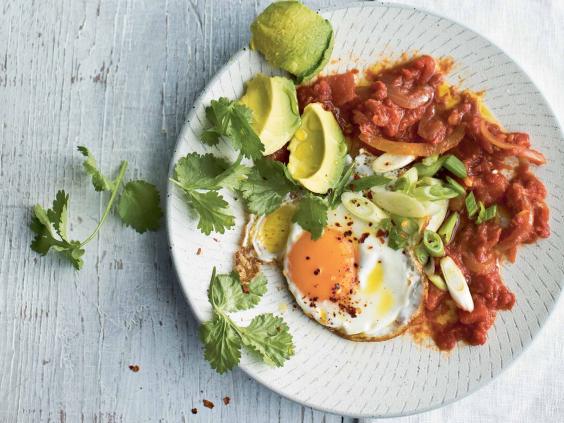 Fried eggs with Mexican- style tomato and chilli sauce, avocado and coriander
Spicy, fresh and zingy. Although I'm not a fan of repetition, I'd probably be able to eat this most days!
Serves 4
Ingredients
3 tbsp olive oil
1 large onion, sliced
1 red chilli, finely chopped
3 garlic cloves, crushed
2 tsp chipotle paste
2 x 400g tins chopped tomatoes
2 tsp soft brown sugar
4 eggs
1 avocado, flesh scooped out with a spoon
Handful coriander leaves
2 spring onions, sliced on the diagonal
Chilli flakes, optional
Heat 1 tbsp of oil in a wide saucepan over a medium heat. Add the onion and chilli and cook for 6 to 8 minutes, until soft. Stir in the garlic, cook for another minute. Add the chipotle paste, tinned tomatoes and sugar. Season with salt, bring to the boil, then simmer for 10 minutes until thickened. Remove from the heat and adjust the seasoning, if needed.
Heat the remaining oil in a large frying pan over a high heat. Break in the eggs and fry until the whites are set.
Divide the tomato sauce between 4 plates and top with the fried eggs, avocado, coriander and spring onion. Add extra chilli flakes, if you like it hot.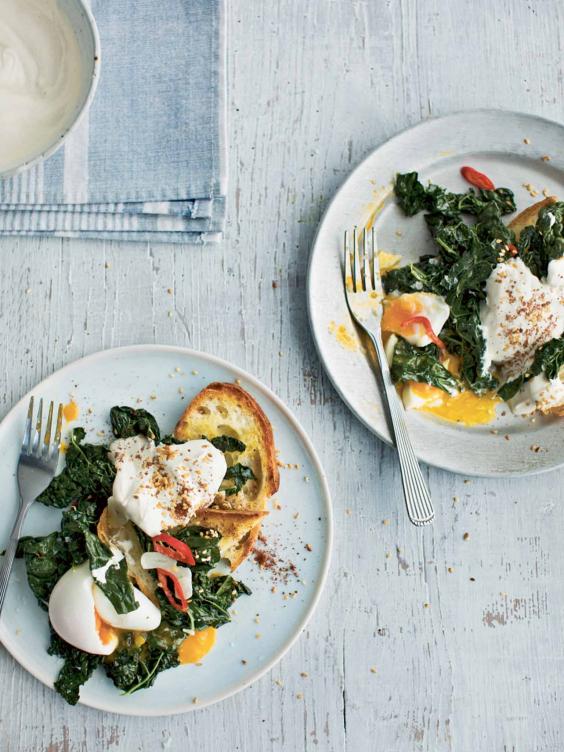 Pan-fried cavolo nero with tahini yoghurt and soft-boiled egg
Feel free to play with the ingredients, according to what's in the fridge: broccoli and sweet chilli sauce; spinach and rye bread; roast tomatoes and herbed yoghurt. The only constant has to be the perfectly oozy soft-boiled eggs.
Serves 4
Ingredients
4 eggs, at room temperature
400g cavolo nero, thicker stalks trimmed off
2 tbsp olive oil, plus extra for drizzling
3 garlic cloves, sliced
1 red chilli, sliced
Knob butter
For the tahini yoghurt
2 tbsp tahini
1 tbsp olive oil
250ml natural yoghurt
To serve
4 slices sourdough, toasted
Large pinch sumac
2 tbsp toasted sesame seeds
For the yoghurt, combine the tahini and oil in a bowl. Stir in the yoghurt and season with salt.
For the soft-boiled eggs, bring a small pan of water to the boil. Gently drop in the eggs and simmer gently for 4½ minutes. Cool slightly in cold running water and shell.
Meanwhile, prepare the cavolo nero. Tear the leaves into large chunks. Heat the oil in a large frying pan. Add the garlic and chilli and sizzle for a minute until fragrant. Add the cavolo nero, toss to coat in the oil and season with salt. Pour in a couple of tbsp of water and cook until the leaves are tender. Toss in the butter and shake the pan to coat the leaves.
Plate the toast with the cavolo, boiled egg and a generous dollop of yoghurt. Scatter with sumac and toasted sesame seeds.
Reuse content