Brunching out... 
When you fancy a leisurely brunch, going to one of central London's busiest areas might not immediately spring to mind. But going to Bronte is worth it: named not after the family of authors, but after Nelson – the man sitting atop the huge column over the road in Trafalgar Square.
Hidden behind white columns, which provide some defence against the traffic, it's easy to miss. Replacing the former Strand Dining Rooms, British designer Tom Dixon – known and loved for his pendant lights – had the pleasure of bringing it up to date. With a patio outside – albeit next to a very busy road – dusky pink bar at the front, and plenty of Dixon's signature hanging lights and fan chairs, it's modern, bright and cool.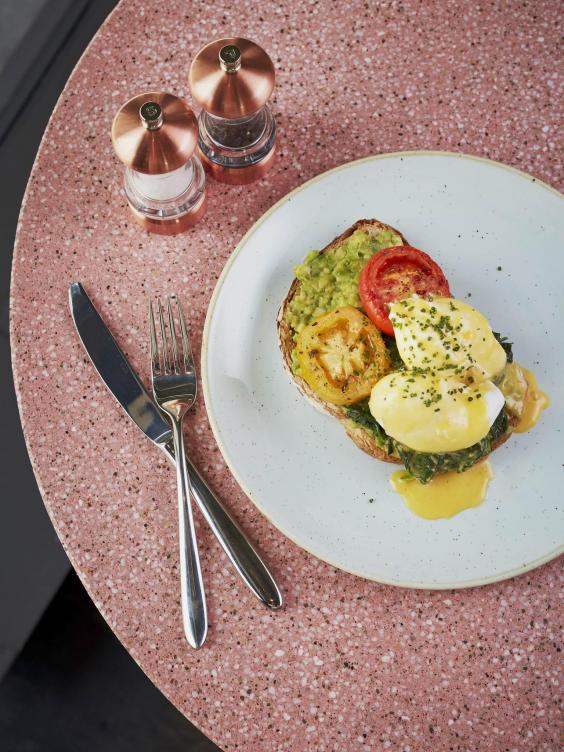 Everything in here, you'll want. From the yellow teapots, which sit beautifully next to green tea and coffee cups, to the pink club chairs, green leather booth seating and the art-deco bar in the restaurant. And that doesn't stop when it comes to the brunch menu. It is pretty vast with 26 dishes, catering to the fact you probably won't be in a rush to leave – or will at least want to come back. From the simplest of items, such as toast and jam (£3.50) and fruit salad (£6), right up to Caesar salad (£12) and even fish and chips (£16). The breakfast plates section adheres to traditional brunch, including winter berries French toast, buttermilk pancakes and the full Bronte with everything you'd expect. The truffled wild mushrooms with white miso on sourdough toast (£9) is a refreshing – and rich – option for vegetarians and even better topped with a poached egg from the extras. The standout dish is the nduja sausage hash (£11), not only for its ingenuity – and difficulty to say – but for it's combination of duck egg and sriacha sauce, with bacon and shallot crumb-covered hash. Ingenious. 
In the bigger plates section is where it goes a little off-piste, from fillet steak (£28) to a huge platter of every superfood you can imagine, from pomegranate to pumpkin seeds (£14). It's also where the more exciting and slightly odd variations come in, such as the soft shelf crab burger with avocado (£16) or the edamame and kale pancakes with harissa (£14). Matching the food are the cocktails. The honey trap (£12.5) is slightly sweet with a sugar lump left to fizz away in the middle, topped with champagne – making it easy to see why it's their best-loved concoction.
Bronte, The Grand Building, 1–3 Strand, London WC2N 5EJ; bronte.co.uk; 020 7930 8855; hello@bronte.co.uk; open daily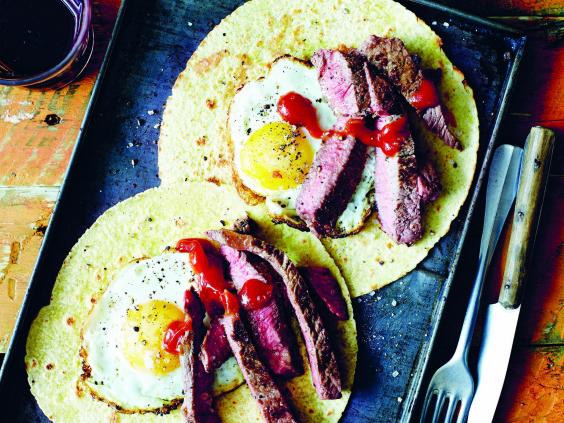 Brunching in...
Steak and Egg Breakfast Tacos
It's usually the breakfast burrito that steals the show, but these steak and egg breakfast tacos are nothing to scoff at. Fried eggs, steak and ketchup keep this dish simple and lean.
Serves 4
2 steaks
1–2 teaspoons olive oil, to season the steaks
8 eggs
8 small corn tortillas
vegetable oil, for shallow frying
tomato ketchup, for topping
salt and freshly ground black pepper
To cook the steak, preheat the oven to 200ºC(400ºF)/Gas 6 and heat a cast-iron skillet (or other heavy-bottomed and oven-safe pan) over medium heat.
Season the steaks with salt and pepper, using your fingers to rub the seasoning and about 1 teaspoon of olive oil into both sides of each steak. Add the steaks to the preheated pan and cook for 1–2 minutes on each side before sliding the pan into the preheated oven. Cook the steaks for a further 2–3 minutes for medium to medium-well done. Remove the pan from the oven and let the steaks rest for 2 minutes before slicing them into thin strips.
While the steaks rest, fry the eggs. Set a small non-stick frying pan over a medium heat and add a little vegetable oil. Break in 1 egg. Season with a little salt and fry until the white is set. Remove to a warm plate and repeat with the remaining eggs.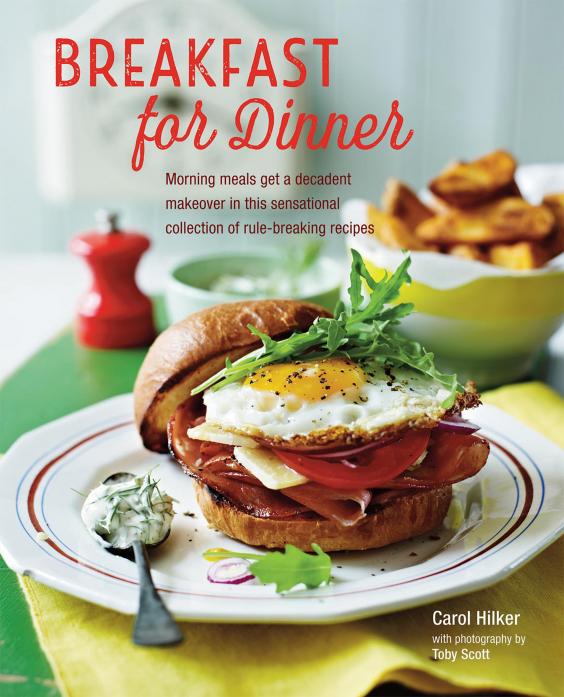 If you can double-task, heat the tortillas, either by holding them directly over a gas flame with metal tongs, or in a cast-iron frying pan set over high heat. You want them to be puffed and a little blistered.
Place an egg on top of each tortilla and spoon the sliced steak on top of the egg. Top with ketchup and serve immediately.
Breakfast for Dinner by Carol Hilker. Published by Ryland Peters & Small, £16.99. Photography by Toby Scott. The book is available for the special price of £11.99 (including P&P, rrp£16.99) by telephoning Macmillan Direct on 01256 302 699 and quoting the reference GJ7
Reuse content