It's a shame that turkey typically graces our tables only once a year. There's a glut at Christmas then – poof – it disappears for another 12 months. The exception is turkey mince, which you can find reliably all year long. The cons with turkey mince are that it dries out easily and it isn't inherently the most flavourful meat.
But, on the pro side, turkey mince is a great sponge for other flavours and the judicious addition of an egg yolk keeps it juicy and moist. These 'burgers' aren't shaped as you would if you were making a burger with steak mince. You could, but you'd have to add in a fair amount of breadcrumbs in order to shape it. But if you go too heavy on the breadcrumbs, it becomes stodgy and dry – two things you don't want.
So I add an egg yolk for moisture and to help bind the burger, and spoon dollops of the turkey mixture into a hot frying pan. The shapes are irregular but I like that. I keep them small so they cook faster, again reducing the chances of dryness, and so they fit comfortably in a tortilla or flat bread. I also add a heavy dose of chopped fresh herbs and some mustard to the mix to give it a flavour boost. 
A healthy drizzle of yoghurt spiked with harissa and you've got a winning combination, no matter what time of year it is.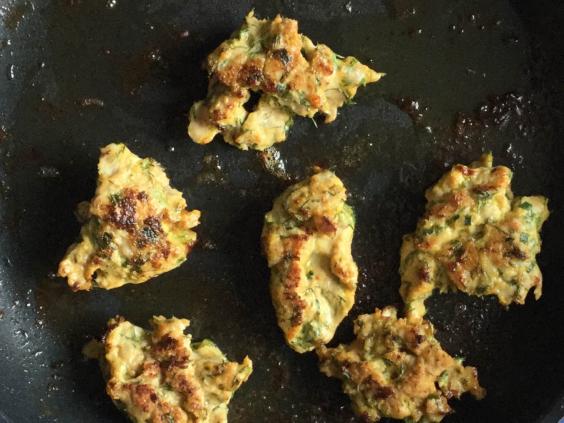 Dill and chive turkey burgers
Makes 12-14 small burgers
500g turkey mince
Small bunch of dill, about 20g
Small handful of chives, about 6g
1 tbsp Dijon mustard
1 egg yolk
Salt and pepper
Olive oil
​Harissa yoghurt
100g Greek yoghurt
2 tsp harissa
1 tbsp lemon juice
In a bowl, mix together the turkey, herbs, mustard, egg yolk and salt and pepper. Heat a frying pan and add a tablespoon or two of oil to lightly coat the pan. When the pan is hot, add a spoonful of the mince mixture. Cook and taste to see if the mixture is seasoned well. If not add a bit more salt and pepper. 
Cook the burgers in batches. While they're cooking, make the harissa yoghurt by mixing together the yoghurt, harissa and lemon juice. Season with salt and serve with the burgers. 
@juliapleonard
Reuse content