French dressing
Makes 50-60ml
1 tbsp white wine vinegar
3-4 tbsp olive or sunflower oil
Salt and freshly ground black pepper
1. Put the wine vinegar, a pinch of salt and a few grinds of pepper in a small bowl.
2. Whisk in the oil gradually to form an emulsion. Taste the dressing and adjust the seasoning as necessary.
Variations
Herb dressing: Whisk in 1 tsp finely chopped herbs, such as chives, parsley or basil.
Honey and mustard dressing: Whisk in ½ tsp clear honey and ½ tsp Dijon or wholegrain mustard.
Lemon, caper and parsley dressing: Replace the vinegar with 1½ tbsp lemon juice and the finely grated zest of ½ lemon. Add ½-1 tsp each of finely chopped capers and parsley.
Ginger and soy dressing: Substitute groundnut oil for sunflower and rice wine vinegar for white wine vinegar. Add ½ tsp toasted sesame oil, ½ tsp finely grated ginger and its juice, 1 tsp soy sauce and ½ crushed garlic clove.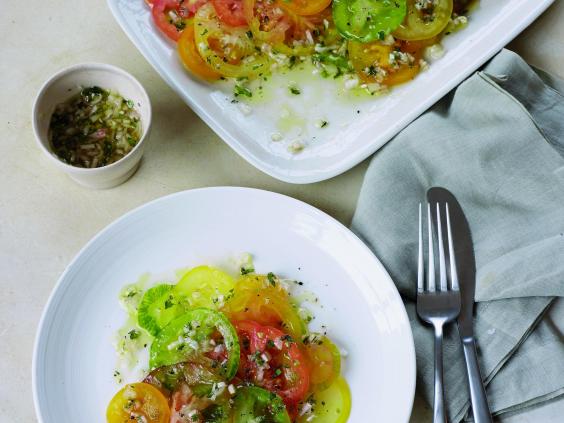 Heritage tomato salad
Serves 4
1-2 tbsp white wine vinegar
½ tsp caster sugar
6 tbsp olive oil
1 small banana shallot 
Few oregano sprigs
8-10 heritage tomatoes (ideally a mixture of colours and sizes)
Sea salt and freshly ground black pepper
1. In a small bowl, combine the wine vinegar and sugar with some salt and pepper to make a vinaigrette. Stir well to allow the sugar to dissolve before slowly whisking in the olive oil. 
2. Halve, peel and finely dice the shallot and chop enough oregano leaves to give you ½-1 tsp. Mix the shallot and oregano into the vinaigrette and set aside for 5-10 minutes to allow the flavours to blend.
3. Slice the tomatoes thinly through the equator so they still hold their shape. Pour the dressing over the tomatoes, making sure they are well-coated. Adjust the seasoning and arrange on a plate.
Leiths 
Reuse content