I know I write about beetroot every year, but it is definitely on the increase in popularity – both on restaurant menus, and in terms of what people are cooking at home. I suppose we are now more and more aware of the possibilities of beetroot and greengrocers and supermarkets have thankfully branched out from the jars of the stuff that we were all brought up on, and either loved or hated. Boiling or baking beetroot was for years never practised – although I do remember my gran occasionally boiled some up from the garden and kept them in one of those beetroot-shaped pottery containers.
Ham hock, beetroot and horseradish broth
Serves 4-6
Ingredients
1 ham hock, smoked or unsmoked, soaked in cold water overnight
1 large onion, peeled and roughly chopped
2 carrots, peeled
12 black peppercorns
2 sticks of celery
A few sprigs of thyme
500ml chicken stock (optional; see note in recipe)
To serve
1 large or 2 small heads of beetroot
A small piece of fresh horseradish (30-40g), peeled
Put the ham hock in a large saucepan with all of the other ingredients, cover well with water, bring to the boil and simmer gently for about 2 hours or until the ham is just falling off the bone.
Remove the ham and put to one side. Strain the stock through a fine-meshed sieve and skim off any fat.
Taste the stock and if it's too salty, discard half and mix the remaining with the chicken stock.
With a sharp knife, thinly slice the beetroot and then shred the slices into thin matchstick slithers.
Remove any fat from the ham hock and remove enough meat to garnish the soup. The rest you can use for a salad or sandwiches. Break the ham hock into small pieces and put to one side.
Add the shredded beetroot to the soup, bring back to the boil and simmer gently for about 10 minutes or so, or until the beetroot is tender. To serve, add the pieces of ham hock and grate in the horseradish to taste or let your guests add or grate in their own.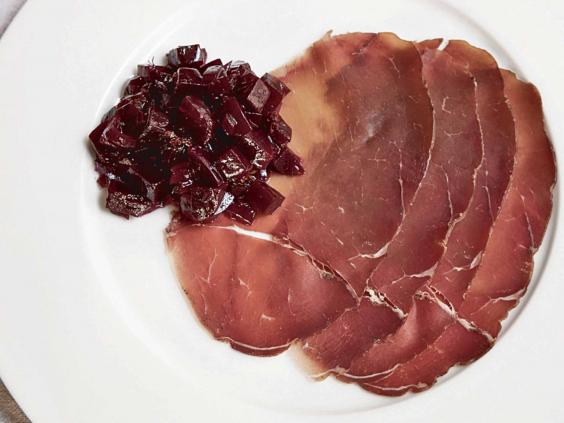 Beetroot, red onion and fennel pollen chutney
Makes about 1ltr
I never do a lot with the wild fennel pollen that grows all around my place in Charmouth. This year, apart from drying a bit to add to fish stocks and soups, I thought it would go rather well with beetroot, which it does.
You can put as much as you want really, as it's not one of those herbs you can overdo – especially not the pollen.
You can serve this with cheese, smoked fish or cured meats.
Ingredients
2 large red onions, peeled, halved and finely chopped
2tsp ground black pepper
2tbsp vegetable oil or rapeseed oil
6-8 medium beetroots, cooked, peeled and cut into rough 1cm dice
400ml cider vinegar
150g granulated sugar
3tsp salt
1tsp cornflour
2-3tbsp fennel pollen
In a medium to large saucepan, gently cook the red onions and black pepper in the oil for 3-4 minutes on a low heat > with a lid on, stirring every so often. Add the vinegar and sugar and boil rapidly for a couple of minutes, then add the beetroot and simmer for about 5 minutes.
Dilute the cornflour in a little water and stir into the beetroot and salt. The liquid should still be covering the beetroot by now, if not, add some water and continue simmering on a medium heat for about 15 minutes.
Add the fennel pollen and boil now until the beetroot is just coated in the liquid like a chutney. Transfer the hot liquid into sterilised preserving jars, seal, leave to cool and store in a cool place for up to nine months.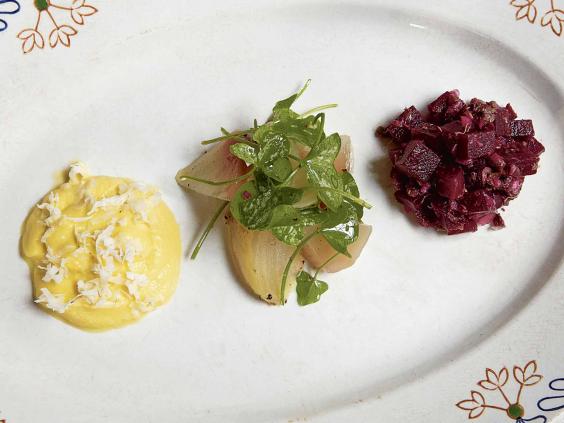 Antipasti of beetroot
Serves 4-6
This is a relatively simple but visually great dish to serve at a dinner party, especially if you have vegetarian guests. Depending on what kind of plates you have – round, square or rectangular – you can arrange the ingredients how you wish.
For the purée
2 medium yellow or candy beets, cooked, peeled and cut into small pieces
A piece of horseradish weighing about 30g, peeled
In a liquidiser or food processor, blend the beetroot to a smooth purée, using a little water if necessary to help it blend. Season and put to one side.
For the salad
2-3 mixed beets – yellow, candy, white, red – cooked and peeled
A few small salad leaves such as silver sorrel, rocket, land cress
½tbsp cider vinegar
2tbsp rapeseed oil
Salt and freshly ground black pepper
Cut the beets into a mixture of wedges and chunks and put them separately on a tray or plate. Mix the oil and vinegar together, season well and spoon over the beets.
For the tartare
200-250g cooked red beetroot
2 shallots, peeled, halved and finely chopped
2-3tbsp capers, rinsed and chopped
1tbsp Tewkesbury mustard or Dijon, mixed with some horseradish
1-2tbsp rapeseed oil
Salt and freshly ground black pepper
Peel the beetroots and finely chop them, then mix all of the ingredients together and season to taste. You can add more capers or mustard if you wish.
To serve, you can spoon the tartare into a round pastry cutter on each serving plate, or just spoon it on.
Neatly spoon the purée on next and grate the horseradish on top; finally arrange the ingredients for the salad on the plate and spoon any excess dressing on top.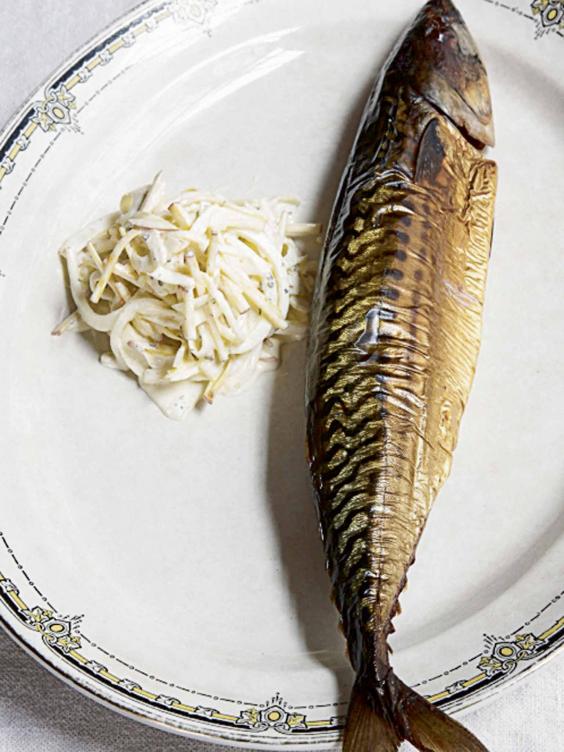 Smoked mackerel with beetroot slaw
Serves 4
There is something great about smoked fish and beetroot; it's not a classic food marriage but is fast becoming one, especially with a bit of freshly-grated horseradish added.
Try to buy the best-quality smoked mackerel you can, as a lot of the commercially-smoked ones aren't that great. Also, try to buy it whole on the bone as the flavour and texture will be far superior.
Ingredients
2 medium to large smoked mackerel on the bone
For the beetroot slaw
2 medium-sized golden or candy beets, peeled
1 small onion, peeled, halved, root removed and thinly sliced
2-3tbsp crème fraîche
Salt and freshly ground black pepper
With a sharp knife, thinly slice the beetroot, then shred the slices into matchstick-like slithers.
Mix the beetroot and onion in a bowl with enough crème fraîche to just bind; season to taste.
Remove the head and tail from the mackerel and cut into even-sized chunks. Serve on individual or one large serving dish with the beetroot slaw.
Reuse content