This week, a hymn of praise to the parsnip, an underrated vegetable, and one that is native to the British Isles. As the winter chill starts to bite, take comfort from the fact that it's frost that gives parsnips their delicious sweetness, as it converts their starch to sugar.
We're all familiar with this root vegetable roasted, and turned into a soup, but the possibilities are endless, as you'll see – I've even made a cocktail with them!
The sweetness and earthiness of parsnips rival that of their cousins, the turnip and swede. They can be served alongside each other as vegetables for a Sunday roast, but I always love people's reactions to slightly less ordinary dishes. So let's push the boundaries and make some starters, interesting side dishes and even a vegetarian main course.
Parsnip gratin with bacon
This is a good alternative to the traditional potato gratin dauphinois and could also be made with turnip, squash or even swede.
Ingredients
750g parsnips, peeled and cut into rough 2-3cm chunks
400ml double cream
400ml milk
A good pinch of freshly grated nutmeg
2 cloves of garlic, peeled and crushed
Salt and freshly ground black pepper
150g freshly grated Gruyère
2tbsp fresh white breadcrumbs
1tbsp chopped parsley
150g piece of streaky bacon, cut into 1cm cubes
1tbsp freshly grated Cheddar or Parmesan
Preheat the oven to 190C/gas mark 5. Bring the cream and milk to the boil with the nutmeg, garlic, salt and freshly ground black pepper, then leave to cool a little. Put the parsnips into an oven-proof gratin dish and mix with the Gruyère; then pour over the cream mixture.
Put the gratin dish inside a larger, deep-sided oven dish, then fill this with boiling water to halfway up the side of the dish. This makes a bain-marie and it allows the gratin to cook without > scorching. Cook in the oven for 1-1½ hours until the parsnips are cooked through. Meanwhile, fry the bacon in a little vegetable oil for 2-3 minutes. Mix the breadcrumbs with the parsley and Parmesan and scatter over the parsnips with the bacon, then brown under a preheated medium grill for a few minutes until golden.
Serve immediately, or cover with foil and leave in a low oven until required.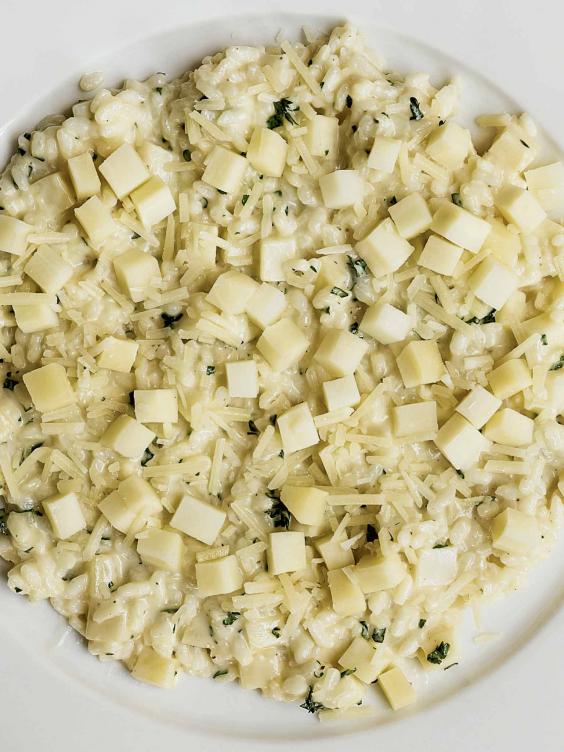 Parsnip and Berkswell risotto
Serves 4
The sweetness of parsnips makes a perfect risotto, and a good splash of sherry at the end deepens and enhances the flavour.
Ingredients
3 medium parsnips
1ltr hot vegetable stock, or a good-quality stock cube dissolved in water
4 shallots, peeled and finely chopped
60ml rapeseed oil
250g carnaroli rice
60g butter
1-2tbsp chopped parsley
2-3tbsp dry sherry
60g freshly grated Berkswell or another hard cheese
Trim the ends of the parsnips and discard. Peel them and cut them into quarters lengthways. Remove the woody core and place it in a saucepan, along > with the peelings and vegetable stock. Bring to the boil and simmer for 30 minutes, then strain through a fine-meshed sieve. Cut the parsnip into rough 1cm dice and put to one side.
Rinse and dry the pan, then melt the butter and gently cook the shallots for a couple of minutes, until soft. Add the rice, stirring it well with a wooden spoon over a low heat for a minute. Gradually add the hot stock, a little at a time, stirring constantly and ensuring that each addition has been fully absorbed by the rice before adding the next. Add the parsnips and sherry, season and continue adding the stock and cooking in the same way until the rice is soft, but still a little al dente and plump. Add the butter and parsley and stir in half of the grated Berkswell. Correct the seasoning and serve with the rest of the Berkswell scattered over.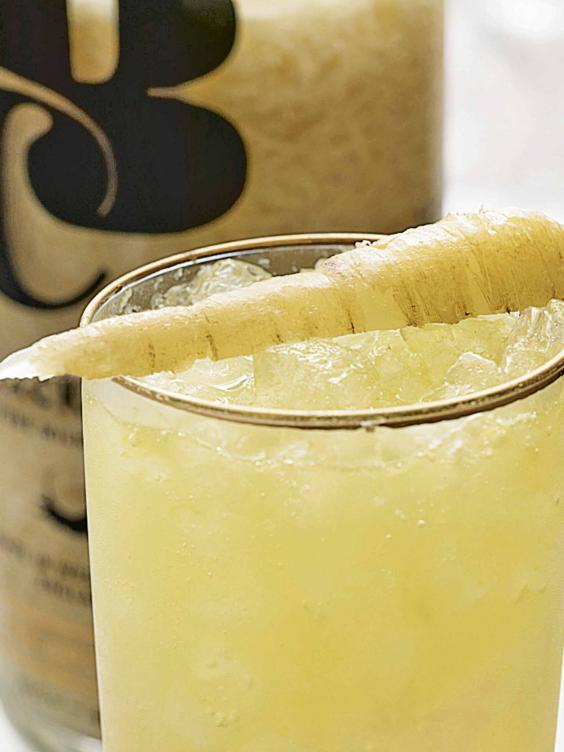 Black cow fodder
Serves 2
Doctors traditionally prescribed parsnips for kidney ailments – although that may have changed. They are probably not going to recommend this either, but I certainly will. It started as an experiment, but was so delicious I decided to pass it on.
Preparation
To begin, take a bottle of vodka, preferably Black Cow (a West Dorset vodka made using the whey from milk once the curds have gone to make cheese). Remove about four measures from the bottle. Peel and grate a couple of medium-sized parsnips and feed into the bottle (you may need to empty out a little more vodka). Leave to infuse for four to five days.
To serve
4 good measures of the parsnip-infused vodka
2 glasses one-third filled with crushed ice
200ml freshly squeezed clementine juice
Soda water to top up
2 baby parsnips (optional)
Pour the vodka and clementine juice over the crushed ice, top up with soda and garnish with the baby parsnips.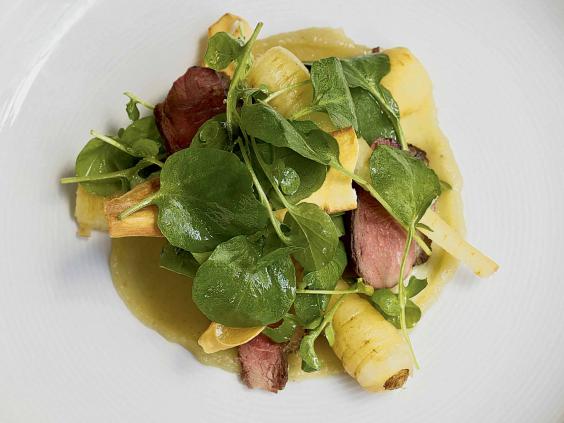 Duck, parsnip and apple salad
Serves 4
Sometimes it's very effective to use a > single ingredient cooked in two different ways within the same dish. In this case, that's what I've done with the parsnips. I've made this recipe in the past with and without the duck, and either way it makes a great starter.
Ingredients
1 wild duck
1 medium parsnip, topped and scrubbed
Vegetable or corn oil for deep frying
Salt and freshly ground black pepper
12 or so baby parsnips, topped if necessary and scrubbed or washed
A handful of small salad leaves like land cress, small rocket leaves, etc
For the dressing
1tbsp cider vinegar
2tbsp rapeseed oil
2tbsp vegetable or corn oil
1tsp Dijon or Tewkesbury mustard
For the purée
1 cooking apple, peeled, cored and roughly chopped
1tbsp granulated sugar
Heat about 8cm of vegetable or corn oil to 180C in a deep-fat fryer or heavy-based saucepan. Using a sharp mandolin or vegetable peeler, or even the side of an ordinary grater, slice the parsnips as thinly as possible lengthways, rinse well and then pat dry with a clean tea towel.
Fry the slices in the hot fat a few at a time, stirring to ensure that they don't stick together. The parsnips will take a while to colour (do not over-colour them) and they may appear soft while they are still in the fat. Once they have been drained they will dry out and crisp up. Sprinkle with salt and leave them to dry somewhere warm but not hot.
Preheat the oven to 200C/gas mark 6. Rub the duck with a little of the butter and season. Roast for 30 minutes, keeping it pink. Leave to rest.
Meanwhile, put the apple in a saucepan with the sugar and cook on a low heat with a lid on for 3-4 minutes, stirring every so often until they are soft. Give them a whisk to purée them and transfer to a plate to cool. Cook the parsnips in boiling water for a few minutes, until tender, then drain and leave to cool. Whisk all of the ingredients together for the dressing and season.
Go back to the duck, remove the legs, and shred the meat. Remove the breasts and slice them thinly.
To serve, spread a thin layer of the purée on serving plates, arrange the crisps, baby parsnips, shredded and sliced duck breast and leaves on top, and spoon over the dressing µ
Mark Hix
Food & Drink
Food & Drink
Food & Drink
Food & Drink