You can never have too many pulses and dried beans in your larder. When you are scratching your head and wondering what to serve for the next family meal or dinner party, a dried bean can provide the basis for an inspirational starter or main course when matched with the right partner. They come in a range of colours – black, green, red, yellow – that make a great backdrop for a hearty meal once the cold nights set in.
Always allow plenty of soaking time for dried beans as you never know quite how long they have been dried for.
One top tip is to put a teaspoon of bicarbonate of soda in the cooking water – it gives beans and pulses a lot of help softening up.
Spiced pheasant and lentil soup
Serves 4
This is based on a delicious Moroccan lentil soup recipe.
I often grab a bowl of this from the street-food stand in London's Golborne Road – I think it's the cumin that does it for me. Save the rest of the pheasant to use in next week's recipes. 4-6 pheasant thighs, boned, skinned and halved
Ingredients
3tbsp olive oil
150g brown or puy lentils, soaked for 1 hour
1 medium onion, peeled and finely chopped
3 cloves of garlic, peeled and crushed
3tsp ground cumin
2tsp paprika
20g root ginger, peeled and grated
1 small can of chopped tomatoes
1½ litres vegetable stock
3tbsp chopped coriander to serve
Heat the olive oil in a heavy-based saucepan and cook the pheasant thighs on a medium heat for 3-4 minutes until nicely coloured; then add the onions, garlic, cumin, paprika and ginger and continue cooking with a lid on for 2-3 minutes, stirring from time to time.
Add the tomatoes, vegetable stock and lentils, bring to the boil, season, and simmer very gently with the lid on for about 45 minutes, until the lentils are just tender and the soup has thickened.
Season to taste, stir in the coriander and serve.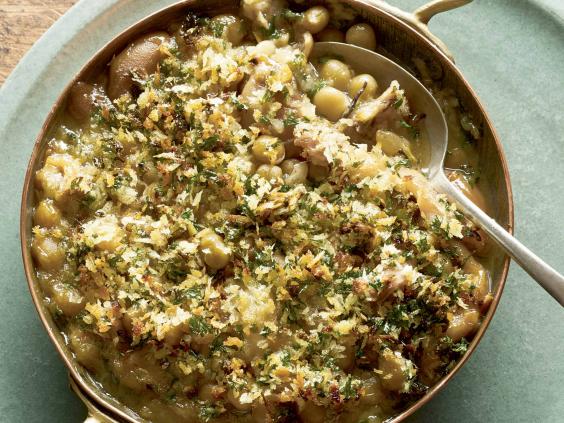 Pig's trotter and green pea stew
Serves 4-6
This is a really hearty, winter concoction that will most certainly keep out the cold. The natural gelatine in the pig's trotters gives a delicious sticky texture to the soup.
Now you may be thinking that a soup made with pig's trotters sounds a less-than-enticing eating experience but in my opinion, you'd be quite wrong.
Just take the plunge and give it a go; your local butcher will be glad to part with a few pig's trotters I'm sure, and you can ask him to saw or chop them up, too.
Ingredients
2 large onions, peeled, halved and finely chopped
4 pig's trotters, halved
3 litres of chicken stock
A few sprigs of thyme
4 cloves of garlic
500g green split peas
Salt and freshly ground black pepper
4-5tbsp fresh white breadcrumbs
4tbsp chopped parsley
Put the onions in a saucepan (or pressure cooker) with the trotters, stock, thyme and garlic. Bring to the boil, season and simmer for 1 hour. Add the peas and continue cooking for another 45 minutes to an hour, or until the trotters are tender and the peas are soft. Remove the trotters, leave to cool a little and remove all of the meat and skin and add back to the stew, broken into chunks.
The soup should be quite thick by now as some of the peas will have fallen apart and thickened it; if not, you can blend a ladle or so in a liquidiser and add back to the pan. Transfer the stew to an oven-proof dish, mix the crumbs and parsley and scatter on top. Lightly brown under a medium grill or in the oven and serve immediately.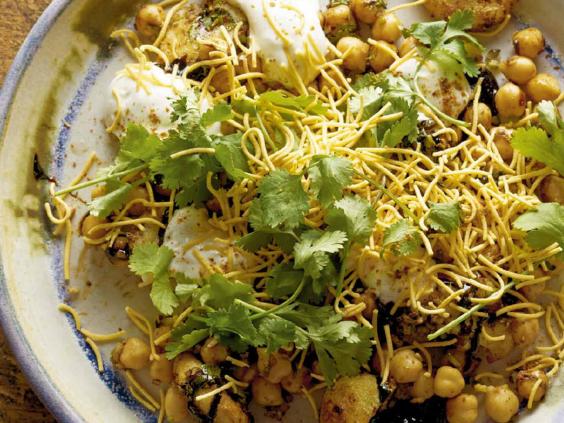 Gymkhana's potato chaat
Serves 4
My favourite Indian restaurant is Gymkhana in Albemarle Street, London, near Hix Mayfair. Whenever I go there, I order this dish without fail.
The recipe was invented at Gymkhana, not initially for the diners, but for staff – lucky staff! It is now one of their signature dishes.
Ingredients
250-300g waxy new potatoes, such as Ratte
50-60g Greek yogurt
1tbsp caster sugar
Vegetable or corn oil for deep frying
120g cooked chickpeas
20-30g root ginger, scraped and grated
1 small green chilli, finely chopped
2 small shallots, peeled, halved and finely chopped
2tbsp finely chopped coriander leaves, plus a few more leaves to garnish
50g liquid tamarind concentrate (imli sonth chutney)
2tsp chaat masala spice mix
A couple good pinches of flaky sea salt
40-50g ghee or melted butter
40-50g sev (crispy vermicelli snack)
Bring a pan of lightly salted water to a boil, add the new potatoes and cook until soft. Drain and put to one side to cool. In a bowl, whisk the yogurt and sugar.
Preheat about 8cm of oil to 160-180C in a large, thick-bottomed saucepan or electric deep-fat fryer. Flatten each potato with the palm of your hand, > then cut into halves and deep-fry until crisp and golden.
In a large bowl, mix the fried potatoes with the chickpeas, and the chopped ginger, chilli onion and coriander. Using a spatula, stir in the tamarind (save a little), the chaat masala, salt and clarified butter.
Transfer to a flat serving bowl, spoon over the rest of the tamarind, the sweetened yogurt and the sev, scatter over a few coriander leaves and serve warm or at room temperature.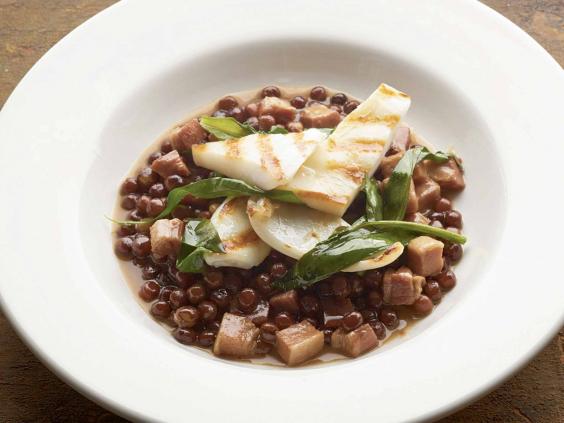 Grilled cuttlefish with bacon, black peas and hedgerow garlic
Serves 4
These dried black peas from the north of England are sometimes known as carlings or black badgers; don't confuse them with Asian or South American black beans as they are completely different. You can use cuttlefish or squid for this – it's up to you. Hedgerow garlic is abundant in the hedgerows this time of year; it's like wild garlic, but with skinnier leaves, and as with wild garlic, you won't miss the smell. Alternatively you can use garlic chives.
Ingredients
120-150g piece of smoked streaky bacon, sliced into 1cm-thick slices, then cut into 1cm chunks (or use ready-cut lardons)
1tbsp vegetable oil, plus extra for brushing
1 large onion, peeled, halved and finely chopped
4 cloves of garlic, peeled and crushed
1tsp fresh thyme leaves
75ml white wine
1 litre fish stock
100g black peas, carlings or maple peas soaked in plenty of cold water for 24 hours
Salt and freshly ground black pepper
350-400g cleaned weight of cuttlefish
A handful of hedgerow garlic leaves
1tbsp rapeseed or olive oil
Heat the vegetable oil in a thick-bottomed frying pan and gently cook the onions, bacon and garlic for 2-3 minutes, stirring every so often. Add the stock and drained peas and bring to the boil. Season lightly and simmer gently for about 45 minutes with a lid on until the peas are tender. You may need to add a little more water during cooking if the liquid reduces too much. It's always difficult to put times on dried pulses so they may need another 10 minutes or so. The pea mixture should be slightly liquid, like a risotto texture. If it's too dry, add a little water.
Heat a ribbed griddle pan or heavy frying pan, cut the cuttlefish into rough 3-4cm pieces and score in a criss-cross fashion, season and brush with a little oil. Cook the cuttlefish for a minute or so on a high heat, depending on the thickness. Transfer to a bowl and toss in the hedgerow garlic leaves and rapeseed oil.
To serve, spoon the black peas on to a warmed serving dish and arrange the cuttlefish on top
KNOW YOUR PULSES
Puy lentil: Grown in the Le Puy region of France – affording it the same prestige as Champagne from Champagne or pasties from Cornwall
Chickpeas: Chickpeas have been cultivated for millennia – remains from over 7,500 years ago have been found in the Middle East
Split peas: Green or yellow varieties of this lentil go into soups, and to make pease pudding (or pease pottage), a common dish in Medieval Europe
Mung beans: These are used to make mooncakes, a traditional dessert served for the mid-autumn harvest festival in China, Taiwan, and Vietnam
Pigeon peas: Rice with green pigeon peas are a traditional Christmas dish in the Dominican Republic
Zac Seager
Reuse content