St Patrick's Day is the feast day of St Patrick, patron saint of Ireland, and a national holiday in some parts of the world. It has become traditional to don a silly top hat, pretend to like Guinness, and have a proper knees-up.
Over in the USA, the day is also an opportunity for Americans to proudly declare their Irish heritage, no matter how tenuous. There are huge parades, and the radio seems to play nothing but the Dropkick Murphys, Boomtown Rats and the House of Pain on repeat. In fact, over 10% of the population of the USA claim Irish descent, though this doesn't account for the number of appalling impressions of Jack Nicholson in The Departed that inevitably happen on St Patrick's Day after a couple of pints.
On St Paddy's Day, over 13 million pints of the black stuff get downed all around the world – though any Irishman (or woman) will tell you that it doesn't taste the same anywhere else, as Guinness doesn't travel well. Moreover, there's something special about Dublin water, as Arthur Guinness must have known in 1759 when he signed a 9000 year lease on the St. James' Gate Brewery.
Nowadays, Guinness is brewed in 49 countries, but amazingly the Irish aren't even the heartiest consumers of the stuff. That accolade goes to Nigeria, while Cameroon slot in at 5 behind the UK, Ireland and the USA.
It takes just under two minutes to pour a proper pint of Guinness, but it's not the only way to enjoy the thick creamy stout this St Patrick's Day.
Here are three more unusual Guinness-based recipes to try:
Guinness Chocolate Brownies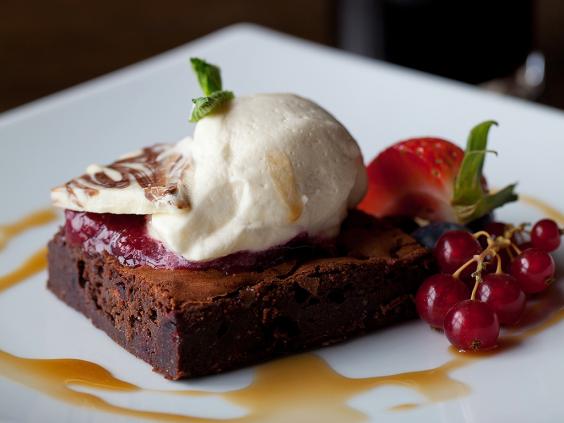 • 100ml Guinness
• 185g dark Chocolate
• 50g Milk Chocolate
• 185g Butter
• 3 Eggs
• 275g Caster Sugar
• Vanilla Essence
• 85g Plain Flour
• 20g coco powder
• 50G White Chocolate buttons
Method:
Line a baking tray with parchment paper and sprinkle white chocolate buttons in tray.
Melt the Guinness, butter, dark and milk Chocolate together, remove from heat when melted. Whip eggs sugar and vanilla essence (until figure of 8) and fold into the chocolate mix.
Sieve in flour and coco powder, folding in 3 stages.
Pour into tray and spread out bake for 20 – 22 minutes at 160'.
Serve warm with Vanilla ice cream.
Beef and Guinness Pie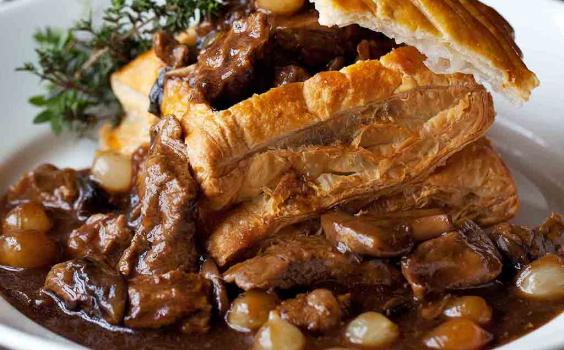 Ingredients: serves 4
200ml of Guinness Foreign Extra Stout

400g Stewing diced beef

100g Pearl onion

1 Large carrot - diced

100g Sliced button mushrooms

2 Cloves of garlic crushed

½ Litre of thick beef stock

Sprigs of fresh thyme & rosemary chopped

Small sheet of puff pastry
Method:
In a pot seal the diced beef and brown all over. The vegetables are then added and cooked out for 4-5 minutes. Add the herbs and beef stock. Now add the Guinness Foreign Extra Stout. Slow cook the beef over a stove for 1 hour. Add a little water if needed at the end.
Cut the puff pastry into 8 even pieces. Egg wash each piece of pastry.
Using one piece of pastry place it on top of another piece of pastry to form a double case. Do this with the rest of the pastry to form four double pastry cases.
Using a knife score the top of the pastry to give the effect of a vol-au-vent. Now bake at 200ºC for 14 minutes.
When cool cut the top of to form a lid. Core some of the pastry out for the center of each case. Spoon the hot beef into each case and serve.
Beef & Guinness Stew with Champ potato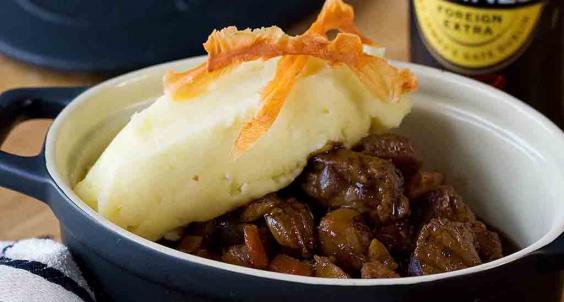 Ingredients: serves 4
200ml of Guinness Foreign Extra Stout

400g stewing diced beef

1 medium onion - diced

1 large carrot - diced

1 large celery - diced

1 large parsnip - diced

1 Litre of thick beef stock

Sprigs of fresh thyme & rosemary

Champ potato (creamed mash potato & spring onion)
Method:
Stir fry the beef, add the vegetables & cook till tender, then pour the Guinness& reduce by half.
Add the beef stock & herbs and simmer very slowly for between an hour and an hour and a half.
Serve with the champ potato & honey roast carrot & parsnip.
Tip – This stew is always better made one day in advance!
Reuse content