God damn it I love tacos. While burritos are a total belly bomb that'll leave you in desperate need of a nap, tacos hit the spot without causing you to gently moan for the rest of the afternoon, and the lack of rice and beans means the focus is entirely on the fresh, zingly flavours.
Here are some options in London...
The fancy food truck taco
Breddos
On our 2nd floor menu @streetfeastldn #HawkerHouse this weekend - fried chicken, pico, arbol mayonnaise #crunchy pic.twitter.com/imMeObEAQt

— breddos Tacos (@breddostacos) March 6, 2015
Winner of Taco Wars 2014, Breddos sling the traditional pollo, carnitas, barbacoa options out the window for more tongue-tingling starting points.
Their menu includes crunchy nut fried chicken, jerk pulled pork, twice fried cod cheeks and beef short rib, served with sauces like apricot hot sauce and raspberry chipotle.
Will upset the purists, but a damn fine taco all the same.
Find them: StreetFeast Hawker House, 260-264 Kingsland Rd.
The chain taco
Chipotle or Tortilla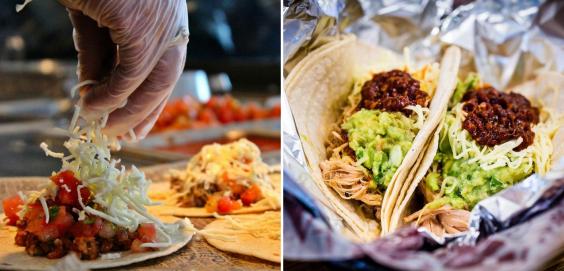 This is a tie for me. Chipotle has the edge in terms of meat (how do they make their chicken taste like steak?) but Tortilla's tacos have better garnishes and generally a more limey, piquant flavour.
Tortilla sells tacos in two while Chipotle serves them in threes, so choose the appetite-appropriate option.
Find them: Everywhere.
The BBQ taco
Howard's Meat Co
Brisket Taco, Thai Chili Aoili and Quesco Fresco. With a big burnt end on top. pic.twitter.com/MbuLaKBk6Z

— Howard's Meat Co. (@HowardsMeatCo) March 6, 2015
Barbecue and Mexican are arguably the two most mouth-watering dining options but don't have to be mutually exclusive.
Howard's Meat Co takes its 16-hour brisket and places it on a white corn tortilla with thai chili aioli, queso fresco, coriander, red onion, brisket rub and lime.
Its meats are smoked the Austin way using only oak, bringing a smokey flavour to the taco that compliments the spices.
Find them: Redchurch Brewery  in Bethnal Green this week. Camden Brewery next. Coming soon to Netil Market.
The not a chain but also not a food truck so you can easily find it taco
Chilango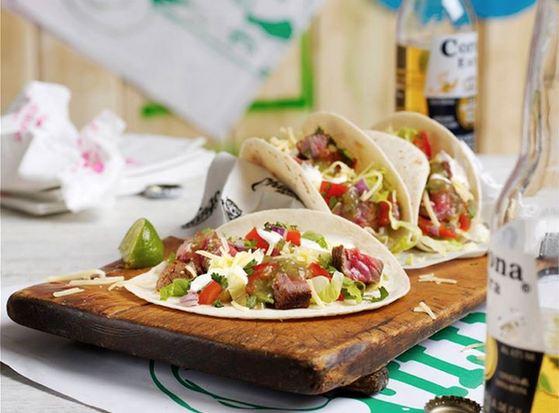 Consistently smashing it with best Mexican in London awards, Chilango's tacos are citrusy and vibrant.
Its founders went on a culinary quest around Mexico City, Zihuatenejo, Ixtapa, the Baja Peninsula, Chicago, New York, Los Angeles, and San Francisco to soak up different flavours and styles to create this consistently brilliant taco.
Find them: Locations in Angel, Shoreditch, Monument, Camden, Chancery Lane, Fleet Street and Liverpool Street.
The fish taco
Luardos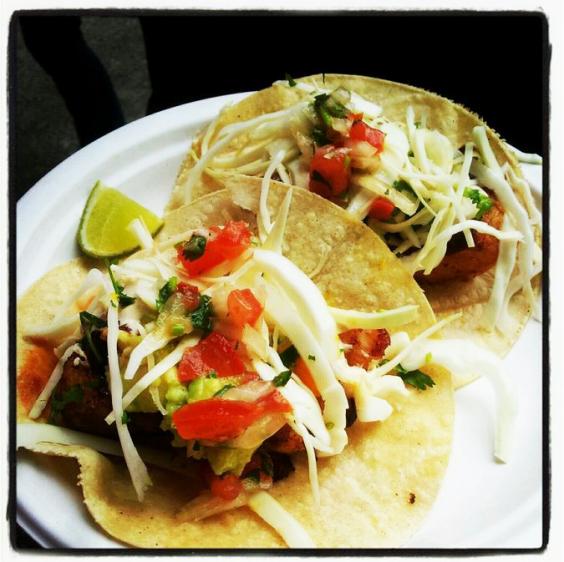 Fish tacos are weirdly hard to find in the UK, despite their inherent deliciousness.
Luardos do a zinger of one though, which comes with guac, red cabbage, sour cream, mango salsa and lime.
Find them: Kerb market @ Kings Cross.
The traditionalist's taco
El Burrito
We do much more than burritos so check our street food menu on http://t.co/OIcgIKwFI1 pic.twitter.com/jWV9E285m5

— El Burrito (@elburritolondon) January 29, 2015
Finally, if you like your tacos authentically Mexican, head to El Burrito.
There's no clashing of international flavours here, just meat slapped on corn tortillas with onion, coriander, salsa and your choice of topping.
A little gnarly for some, but how your abuelita would have made them.
Find them: 5 Charlotte Place, Fitzrovia, W1T 1SF.
Honourable mention
DF / Mexico for this ingenious taco holder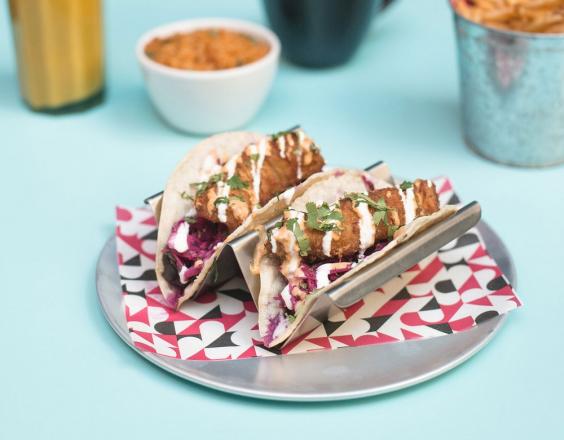 Reuse content