Dickie Fitz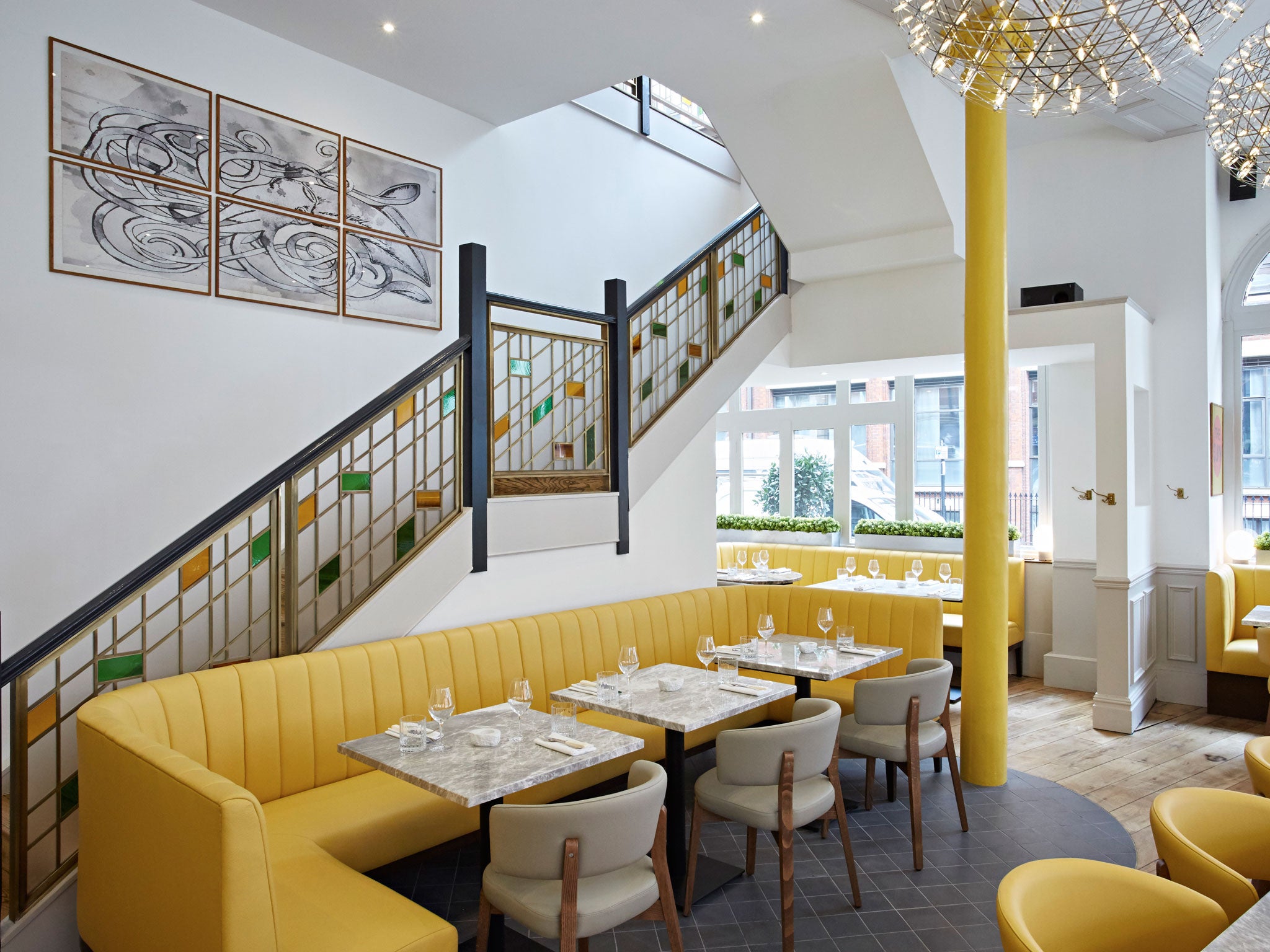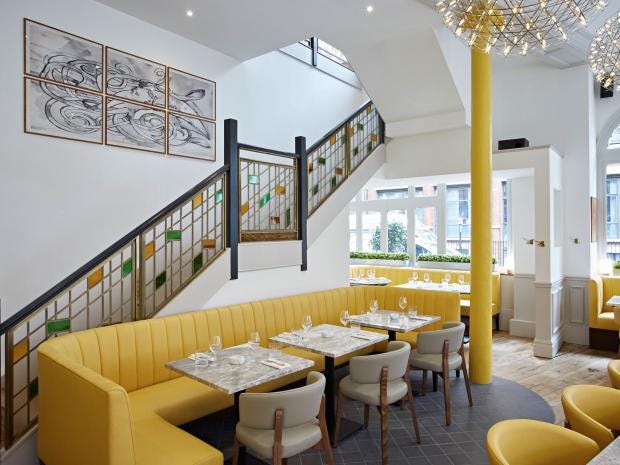 The dining room is fabulously light and airy, with white walls, table and chairs, wooden floors and banana-yellow seating
48, Newman Street, London, W1T (0203 667 1445)
Dickie Fitz is the fourth and most recent London eating house from the Affinity Group, a glumly named but consistently impressive gang of restaurateurs with a fondness for the periphery of literary culture.
They're the guys behind The Henry Root in Fulham, located a few yards from the flat where the louche writer Willie Donaldson popped his clogs; he wrote the Henry Root Letters, hilarious wind-up missives directed at the famous, the pompous and the self-important, prompting them into sending unguarded replies. A sister restaurant, The Lady Ottoline, can be found just off Russell Square in the heart of Bloomsbury, and features artwork "inspired by" the polyamorous, self-admiring mates of Virginia, Lytton and Maynard. The Affinity people also own the Princess Victoria, a splendid pub in Uxbridge Road, which has no literary connections, though it was once owned by Richard Branson when he briefly diversified into low-rent boozers near Shepherd's Bush.
Now we have Dickie Fitz, which is in Fitzrovia, just north of Oxford Street, a kind of Soho-on-Sea during the Second World War, where Dylan Thomas, George Orwell, Julian MacLaren-Ross and other chaps used to drink heroically in pubs around Fitzroy Square and Charlotte Street. Dickie Fitz, on the corner of Newman and Goodge, is a commanding presence in the area. You walk into a fabulously light and airy dining-room, with white walls, table and chairs, wooden floors and banana-yellow seating. The lighting is provided by huge, electrified dandelions and the stairs feature a beautiful art deco stained-glass staircase.
It used to be the Newman Street Tavern, a handsome gastropub. The Affinity Group have boldly arranged for their executive head chef, Sydney-born Matt Robinson, to explore his roots and create a menu "inspired by the fresh flavours and ingredients of the Pacific". A pedant might argue that the main flavour of the Pacific is salty, and the main ingredients fish, whales and plastic bags, but the Dickie Fitz breathes sophistication.
We began with cocktails: Angie's White Geisha was a very ladylike concoction of vodka, sake, lychees and a crimson rose petal; my Honey Badger pulled together chilli vodka, passionfruit and honey syrup into a hot, but not cloying, embrace.
From a smorgasbord of 13 small plates and starters, we chose Chicken Poppers: five cubes cut from chicken thighs, fried very fast and served with a house dip of sesame oil, soy, chilli and garlic – utterly delicious hot lollipops. We ordered crudités, and instead of the usual jar of raw celery, we were given a bowl of ice from which lengths of carrot, cauliflower and romanesco broccoli extruded, with a dip of smashed avocado. It was a triumphant way to serve raw vegetables. Tuna Tataki was fabulous. It had been frozen for 24 hours to remove any bacteria, and, duly thawed and lightly seared, was heaven: creamily soft on the tongue, sexed up with wasabi and daikon radish, but supple enough to survive both.
Next time, I'll try every one of this baker's dozen of small Pacific Rim treats – I long to explore Oysters Kilpatrick, and the salt-baked Kamura (New Zealand sweet potato) with blue cheese – but duty called us to the main courses, mostly Robata-grill fare: rib-eye steak, lamb chops, rib burger. Angie chose a half-lobster with wild garlic and chilli, which came with the legs thoughtfully de-shelled. It was fine, but her senses were overwhelmed by a side-order of kale, cooked in garlic butter with a touch of sesame oil, tickled with ginger.
I had to try the steamed barramundi, the Fitz signature dish. It's a big sea bass, popular in Thai, Goan and Bengali cuisines, but adopted by Aussies as a classic dinner fish. My tranche was hefty, soft and very pale, served with a single seared endive and a mini-tower of mooli. It all looked a bit hospital food – and the fish, bland at best, was served in a dashi broth, which left it waterlogged. A side dish of wet mash (potato over-mashed with butter and milk) didn't help. Basically, my main course simply drowned.
Our enthusiastic Hungarian waitress Eniko recommended so many puddings, we had three: kaffir lime panna cotta was fine, but an accompanying eucalyptus and green-apple sorbet made everything reek of Toilet Duck; perfect chocolate fondant was lifted to paradise by salted peanut puree and creamy burnt marshmallow, while the lemon tart was both lemony and, er, tart. My discovery of a viognier/pinot gris blend called The Rude Mechanicals was another occasion to praise Aussie food and grog.
I liked Dickie Fitz immensely. It has an airy, confident feel, and if Mr Robinson's main courses lacked outstanding features, the starters and finishers made up for it. Another bonzer do from the stylish Affinity Group.
Food ***
Ambience ***
Service ****
Dickie Fitz, 48, Newman Street, London, W1T (0203 667 1445). About £32 for three courses, before wine and service
Reuse content
Comments