A couple of weeks back, I visited Mexico with Stuart Ekins from Cask Liquids, one of our spirit importers, and a group of colleagues, to check out mescal production up in the hills outside Oaxaca.
One of our travelling group, Melanie Symonds, has her Quiquiriqui Mescal (translated as cock-a-doodle-doo) made by the small-time producer, El Cortijo, while one of my favourite tequilas, Ocho, is produced by Thomas Estes, who was with us for most of the trip. On the second day, I was given the task of creating some alternative tortillas and salsas from a tortilla truck at the La Altena distillery, where they also make Ocho. A morning visit to the market always inspires new recipes.
Black bean soup
Serves 4-6
This is traditionally made from the stock left over from boiled meats, but I had a couple of versions in Oaxaca, and this one had pieces of local cheese in it which you can find in Mexican and South American shops – or a good substitute would be thin slices of halloumi.
2tbsp vegetable or corn oil
2 onions, peeled, halved and very finely chopped
3-4 cloves of garlic, peeled and crushed
1 small green or red chilli, finely chopped
1.5ltrs of chicken or vegetable stock
200g passata, or coarsely-blended canned tomatoes
150g cooked weight of dried black beans, or canned and rinsed
Salt and freshly ground black pepper
A piece of Mexican cheese, or halloumi, thinly sliced
Heat the oil in a heavy-based saucepan and gently cook the onion, garlic and chilli for 2-3 minutes, without colouring, until soft. Add the stock and tomato, bring to the boil, season lightly and simmer gently for 30 minutes; add the beans and continue simmering for 15 minutes.
To serve, rub a preferably non-stick pan with a little oil, heat it until it's almost smoking, and fry the slices of cheese briefly, for 10 seconds or so on each side, lightly colouring them. Put the cheese into warmed soup bowls and spoon the soup on top.
Avocado and cucumber salsa
Serves 6-8
This is a good salsa for fish or meats – slightly under-ripe avocados work well for this, so the salsa doesn't turn into a mush.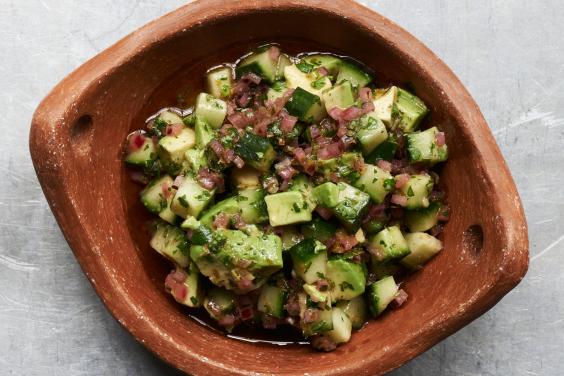 2 avocados, peeled, stone removed and the flesh cut into rough 1cm dice
½ a cucumber, halved lengthways, seeds scooped out and the flesh cut into rough 1cm dice
1 small red onion, peeled, halved and finely chopped
2tbsp chopped coriander
The juice and grated zest of 2 limes
1tbsp olive oil
Salt and freshly ground black pepper
Mix all of the ingredients together and season to taste.
Guacamole with crispy pork and chorizo
Serves 4-6
You can serve this with tortillas on the side, or use a warmed or crisp tortilla as a base. Good-quality pork scratchings, such as Mr Trotter's, are ideal for this as they are ready-seasoned. You can also serve the chorizo mixture as a tortilla filling.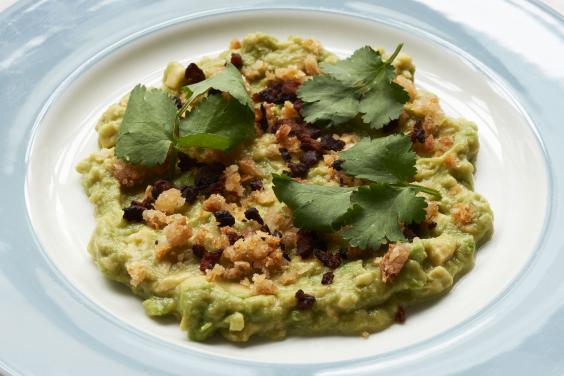 150-180g cooking chorizo with the skins removed
50-60g pork scratchings, broken into small pieces
A small handful of coriander leaves, washed
For the guacamole
4-5 ripe avocados, peeled and the stone removed
The juice of 2 limes
Salt and a good pinch of chilli powder to season
Break the chorizo into small pieces, heat a heavy frying pan and cook the chorizo on a medium heat for 6-7 minutes, breaking it down as it's cooking with the back of a wooden spoon; drain off any excess oil and transfer to a bowl. Leave to cool a little, then stir in the pork scratchings. You can add a little of the released cooking oils back in to moisten it, if you wish.
Meanwhile, make the guacamole by crushing up the avocado in a bowl with a fork, as smooth or as coarse as you wish, then mix in the lime juice, salt and chilli to taste.
To serve, either spread the guacamole on to serving plates, or on to warmed or crisp tortillas, scatter the chorizo mixture over and, finally, scatter over the coriander leaves.
Tomatillo and guava salsa
Serves 6-8
You can find fresh tomatillos in some specialist greengrocers or Mexican or South American shops. Tomatillo is a member of the physalis or Cape gooseberry family, and is firm and slightly sour – which is why it's perfect for salsas.
Green or under-ripe tomatoes also work, if you can't get tomatillo. Asian supermarkets or specialist greengrocers often sell guava; if not, a pear would give a similar sweet and savoury flavour.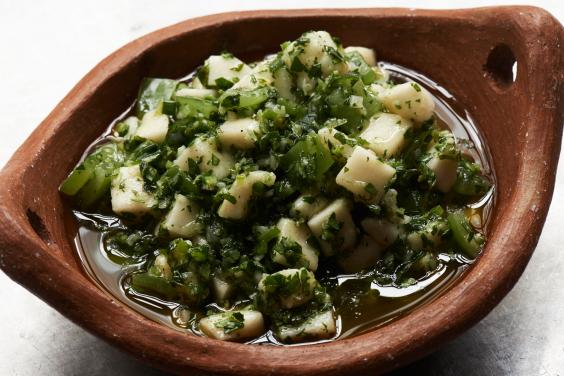 4-5 tomatillos, or 2-3 large green tomatoes, cut into 1cm dice
3-4 guavas, cut into 1cm dice, or a couple of pears, peeled, cored and diced
3 spring onions, cut in half lengthways and finely chopped
2 medium green chillies, finely chopped
2tbsp chopped coriander, stalks and all
1tbsp chopped mint
2tbsp olive oil
Salt and freshly ground black pepper
Mix all of the ingredients together and season to taste.
Liver tortilla
Serves 6-8, or more
Liver isn't the usual filling for a tortilla – and cooking it nice and pink isn't at all how the locals would do it, but we did and delicious it was too, especially with the tomatillo and guava salsa.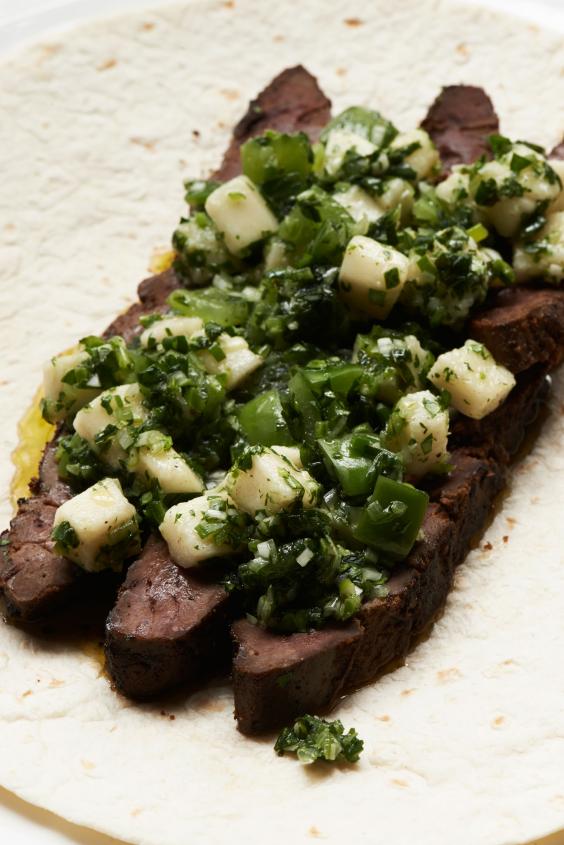 2 x 2-3cm slices of young ox liver or a lamb's liver, trimmed of veins or sinew
The grated zest of 2 limes
2tsp chilli powder
3tsp ground cumin
2tbsp olive oil
1tbsp flaky sea salt
Tortillas and salsa to serve
Score the liver about ½cm deep and 2cm apart on both sides. Rub the spices, oil and salt in on both sides; leave to marinade for 30 minutes. Preheat a ribbed griddle pan, or barbecue, and cook the liver for about 5 minutes on each side, keeping it nice and pink.
Remove from the pan and leave to rest for 4-5 minutes. Carve the liver into ½cm slices; warm your tortillas, put slices of the liver in the middle and spoon on the salsa.