Momo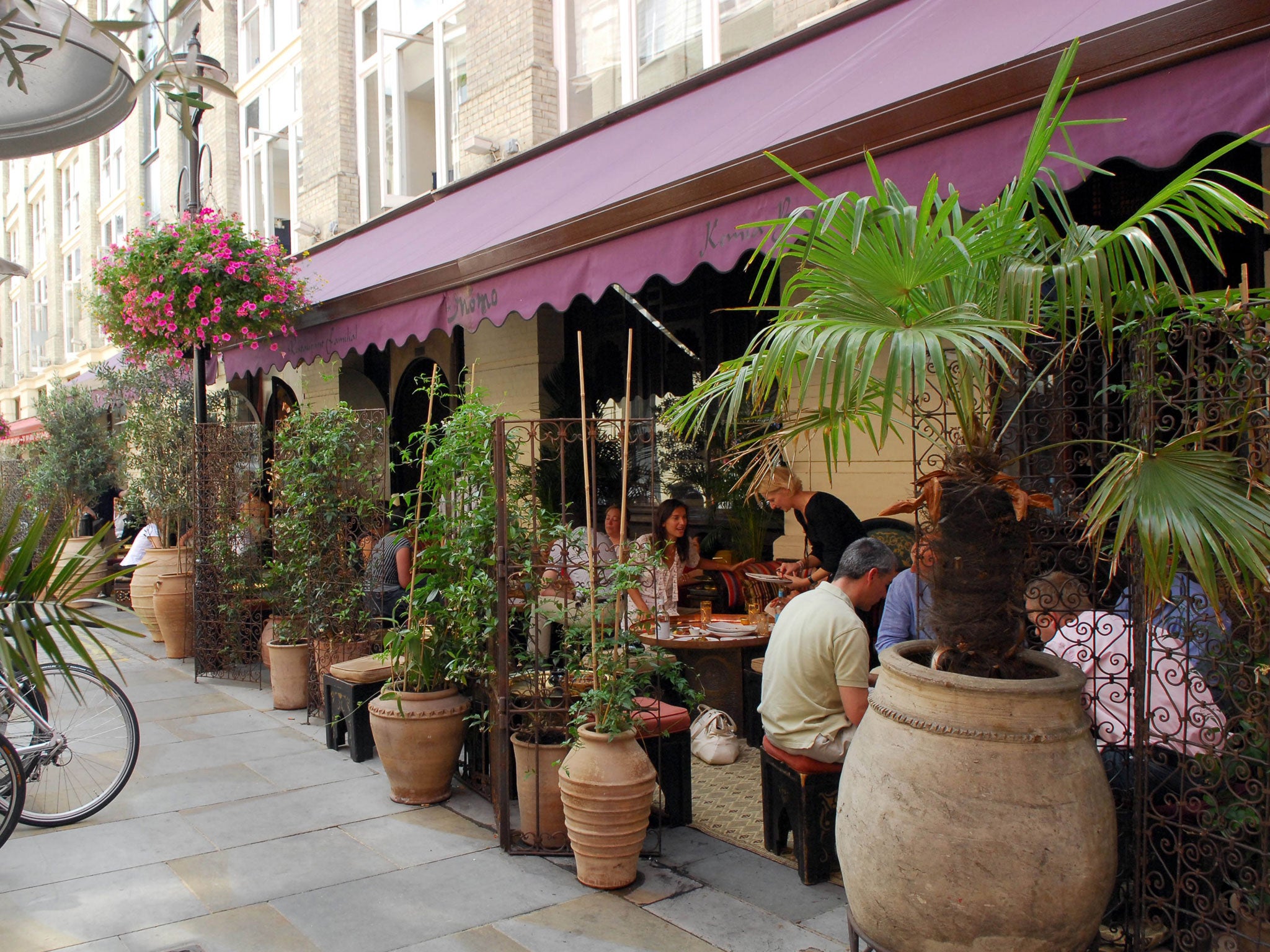 Momo is a fashionable new spot tucked away in a cul-de-sac off Regent Street near Piccadilly Circus / Rex Features
Momo, 15 Heddon St, London W1 (0171-434 4040)
The food of the Maghreb - Morocco, Tunisia and Algeria - is something of an unknown quantity in Britain, though it's all the rage in France, where couscous is fast overtaking steak-frites and blanquette de veau as the nation's most popular dish. So the time seems right for Momo, a fashionable new spot tucked away in a cul-de-sac off Regent Street near Piccadilly Circus. We visited on Momo's second day of business, and arrived to find that they hadn't had yet a chance to put a handle on the front door, leaving us to scrabble frantically like the first Mrs Rochester until we were admitted by an apologetic member of staff.
So many new restaurants now resemble operating theatres that walking into Momo was like a sensory explosion. The dining room is large and moodily lit, with delicate wooden screens covering the huge windows, a kelim-strewn flagstone floor, and low, cushion-covered benches lining the walls - all very English Patient, we agreed, and ethnic in a sophisticated way, as you'd expect from a place which is supervised by the former manager of the Groucho Club. We were seated on tiny chairs around a low, dinky table - luckily the two companions I had brought were similarly miniature in scale, and, therefore, felt quite comfortable - and plied with garlicky olives and bread by the waiting staff, whose theme-restaurant-style logoed T-shirts struck the only false note in the tasteful, decorative scheme.
Maghreb dishes are characterised by complex combinations of spices, dried fruit, nuts and meat, and Momo offers many of the region's specialities, including couscous, pastia - Moroccan pigeon pie - and tagine - a Tunisian stew of meat and vegetables, slow-cooked in a clay pot. This being only the second day of operation, the waiting staff seemed to know as little about the food as we did, but they made up for their inexperience with enthusiasm and friendliness - in fact, so informal were they, that at one point, I waved at a waiter to attract his attention, and he happily waved back and continued on his way.
For starters, Sharon ordered paper-thin pastries filled with goat's cheese, mint and potato, which arrived on a plate garnished with chunky handfuls of mint. I went for taboule, made with semolina rather than the usual bulgar wheat, which was both finer and more intensely-flavoured than the waterlogged granola usually served up in Greek restaurants. Clare's Salade Mechouia - grilled peppers, tomatoes, coriander and cumin - looked like sludgy ratatouille and an over-enthusiastic use of cumin gave it a sour taste - "like cigarette butts", she moaned.
She perked up after a trip to the bathroom, from which she returned raving about the beauty of the copper urinal she had glimpsed through the open door of the men's room - "It's like a Richard Serra sculpture - you've got to go and see". Equally beautiful was the souk-like bar downstairs, fragrant with incense, where it's possible to pop in just for meze or a drink, and, perhaps, to thumb through your well-worn volume of Herodotus.
The arrival of our main courses prompted Sharon to squeal in excitement over the tagine, a funnel-shaped clay dish resembling a mini kiln. Just as striking was Clare's Chtit'ha de Calamar, a huge horn of flesh-coloured squid which resembled a discarded body part. The English Patient theme was almost taken a little too far when our waitress whisked off the lid of Sharon's tagine with the bowl still attached, causing it to crash down onto the table in a shower of boiling liquid. "That isn't supposed to happen," she gasped somewhat redundantly, as Sharon examined her lower body for third-degree burns. Despite the near disaster with its unruly container, Sharon pronounced her duck, apple and cinnamon tagine a hit - rich and comforting, "like a spicy Lancashire hot pot".
I, too, had ordered a tagine, of chicken, marinated lemons and olives. I'd read about the preserved lemons which are a staple of Moroccan cooking in Claudia Roden's wonderful Book of Middle Eastern Food, and was looking forward to trying them. Disappointingly, I found they tasted like lemon Opal Fruits, but their sharpness nicely cut through the richness of the other ingredients. Clare, once again, got the booby prize. Her squid, while delicate and almost buttery in texture, was just too big, stuffed with over-spiced rice and another huge mound of rice on the side. "At the end of the day, there's just too much rice," she concluded gloomily, like Trevor Brooking.
As we ate, we wondered what kind of jungle telegraph operated to ensure that a restaurant which had only opened the day before should be almost full with a fashionable crowd, all looking like they'd been going there for years. We knew we were at the heart of swinging London when we spotted the conceptual artist Sarah Lucas, best known for nailing two melons and a kipper to a table and calling it Bitch. Luckily she didn't see Clare's priapus of squid. Strangely, George Lucas of Star Wars fame was also sitting nearby, a weird conjunction of similarly-named but very different celebrities which could justifiably cause the restaurant to be renamed PoMo.
By now, the background music, which had begun as a kind of mosquito whine, had got louder and louder, taking on the insistent droning quality of the bagpipes. Just as we were agreeing that it was rather upsetting, Momo himself, a lithe young Frenchman, dropped by to explain enthusiastically that it was a kind of Algerian musical style called chaabi, and we all said how much we were enjoying it. Momo went on to expound his mission to convert British diners to the pleasures of authentic Maghrebi cooking, and also to loosen them up a bit. "I want to make it rock 'n' roll, have people dancing on the tables." Given the Lilliputian height of the tables, this didn't seem unfeasible.
We ended with a delicious selection of pastries, some scented with orange, others stuffed with nuts or dried fruit. Sharon was a little harsh on them, saying that one fragrant morsel tasted like air freshener. She preferred her lacy pancake, topped with butter, honey, and almonds.
With our sweets, we drank mint tea, a dense infusion of real mint and sugar, which the showy-offy waiter unwisely poured from a great height into tiny glasses, causing Sharon, after her earlier near-scalding, to cringe back in fright. Just before we left, we got to experience a taste of Momo's loosening-up mission at close quarters. Someone on the George Lucas table was having a birthday and suddenly the lights blazed, the music soared, and Momo himself emerged from the kitchen, carrying a cake and doing a knee-bending, finger-clicking dance. Despite his exhortations, no one got on the table to dance. "He really wants it to work," sighed Sharon, admiring Momo's sinuous hip work. We agreed that with his good looks, enthusiasm, and the slightly outre nature of his food, someone should sign him up for TV - he could do for semolina what Delia did for the cranberry, and Habitat's shelves would soon be groaning under the weight of couscousieres and tagines.
We emerged feeling that here was a restaurant that, like The English Patient, had it all - intimate and epic, delicate and yet crowd-pleasing. And with the bill a not unreasonable pounds 89 for three, including two glasses of wine, coming in nicely on budget
Momo, 15 Heddon St, London W1 (0171-434 4040) Open lunch and dinner. Last orders: restaurant 11pm, bar 1am (Sunday 11.30pm). All cards accepted. Wheelchair access
Reuse content
Comments