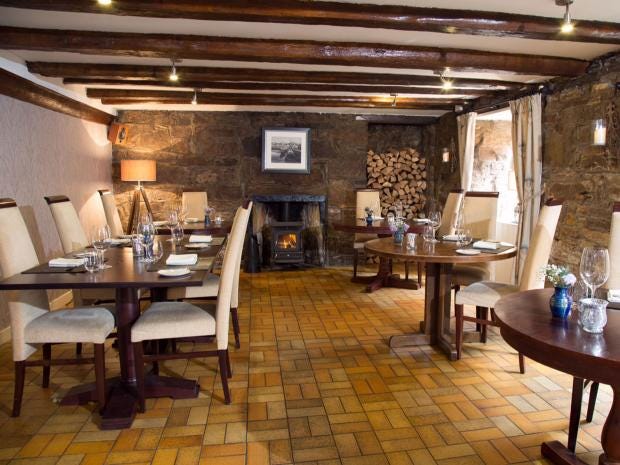 The crepuscular dining room, holding just seven tables, is as snug as a smugglers' den
24 East Green, Anstruther, Fife (01333 310378)
The Michelin machine just came slaloming through town, outraging spectators and performing spectacular handbrake turns (two stars for a new £300-a-head, nine-cover Japanese restaurant– who saw that coming?). The omissions, the inclusions, the whole premise of the Guide itself, are the subject of fervid debate, this year more than ever, as the gussied-up style favoured by Michelin increasingly feels like a throwback to some Jurassic era of fine dining.
But the Guide has its uses. Just ask Billy Boyter. The chef-proprietor of The Cellar in Anstruther has been toiling away on an if-you-build-it-they-will-come basis for 18 months. His tiny restaurant, a former smokehouse and cooperage tucked away behind the harbour in a Fife fishing village, is run as the tightest of ships, crewed by just four – two in the kitchen, two front of house. Boyter works every service, constantly changing the menu, foraging for ingredients and pouring as much creativity and care into every dish as he did when he was head chef at Edinburgh's swankiest restaurant, Number One at the Balmoral Hotel.
Out of the blue – he learned via a tweet – Boyter is now the recipient of a shiny new Michelin star. Thanks to the Guide's relentless chef-tracking system, which followed him from the capital back to his home town in the East Neuk, Boyter's hidden gem has gained rapid promotion to the Scottish premier league.
The Cellar isn't a new name on the map. For 30 years, it was run as a standard-bearing fish restaurant by the late Peter Jukes, a huge figure on the Scottish food scene. Boyter's revival has halved the number of covers and given the place a subtly luxe makeover. From a stone courtyard behind the Fishing Museum, you step into a quietly tasteful lounge area, and a reassuring feeling of being in safe hands. The crepuscular dining room, holding just seven tables, is as snug as a smugglers' den, with its low, beamed roof, ancient smoke-blackened walls and guttering candles.
Beef shoulder, as tender as fillet, comes with leaves of blackened confit onions
Boyter's food, by contrast, is light, modern and polished to an astonishing standard, given the two-man brigade. The lunch menu offers just three choices per course; but the technique and time that goes into each artfully composed dish is staggering. This is modern Scottish cooking, with no concessions made to the setting. Tweezers and pipettes have been deployed. There are soils and jellies. There's foraged herbs and sea vegetables, and things have been smoked which would have sent the old smokery workers into conniptions.
Raspberries, for example: dabs of smoked raspberry jelly add a complicated sweetness to a starter of baby beets and Gouda custard, a textural evolution from the beetroot-goat's cheese cliché. A snowfall of delicate white crab is napped by a vivid green pepper emulsion and hunks of charred cucumber, galvanised by black olive oil and a dust of dehydrated tapenade. Boyter's ability to deliver blasts of clear, distinct flavour makes these delicate dishes wonderfully satisfying
The Cellar's heritage is more than honoured in a magnificent fish dish: pearly stone bass, its skin blackened and crisp, on black quinoa muddled with tiny shrimp, golden raisins and samphire, with lemongrass butter lending a citric shiver. Beef shoulder, as tender as fillet, comes with leaves of blackened confit onions and an autumnal mushroom barley risotto carrying a ghost of truffle oil. "That barley was spectacular," is not a sentence I ever expected to hear from my co-luncher Harry.
Desserts are equally inventive. A riff on cheesecake is an Alexander Calder mobile on a plate; balls of Crowdie cream cheese mousse rolled in honeyed oats, strawberry ice-cream and jelly, dots of olive oil puree. Chocolate cremeux comes with an unsettlingly green basil sponge, black cardamom ice cream and something we struggled to identify. "Oh, that's your chai milk puree," manageress Patricia Kirk tells us breezily.
She's come to Anstruther with Boyter from Number One, but despite their background, there's no Michelin-pleasing folderol. Music ranges from Ed Sheeran to a fiddle band, and the atmosphere is of quiet enjoyment rather than reverence. The wine list starts at £16 and offers pages of Scottish beers and gins, as well as bigging up the many local suppliers.
One caveat: this isn't a place to bring the weans. The food is rarefied, and there's barely a carb, apart from some cake-like corn bread. The Cellar may come with Michelin approval but it isn't going to leave anyone with a spare tyre.
As if the Michelin excitement wasn't enough, Boyter and his wife had a new baby girl last month. A star, a baby and a pilgrimage back to the place of his birth. Now that's a parable to restore your faith in the little red bible.
Food ****
Ambience ***
Service ***
The Cellar, 24 East Green, Anstruther, Fife (01333 310378). Lunch, £25 /Dinner £43 – three courses before wine and service
Reuse content
Comments