Roasted peppers are like the perfect dinner party guest – they get along with everybody. You can pair peppers with crumbled feta, preserved lemons, loads of chopped herbs for a Middle Eastern vibe.
Top them with raisins and a splash of Sherry vinegar and you're feeling more Spanish. A dash of chilli powder and some black beans, then all you need are some corn tortillas and you're heading to the American southwest. 
Roasting is easy too. Of course you can roast them whole and peel off the skin afterwards but I use longer Italian peppers that have very thin skins so I don't bother. I slice them in half, take the seeds out, toss them with some olive oil and sea salt and them roast them in a hot oven. 
For this recipe, I went for an Italian feel with toasted breadcrumbs, anchovy fillets, lemon, parsley and garlic. When the anchovies hit the heat they start to melt into the breadcrumb mixture, creating a marriage made in heaven. If you're not a fan, skip the anchovies but definitely add a bit of salt to compensate. 
Pass your platter of Middle Eastern/Spanish/American/Italian peppers around the table and wonder wistfully why everything in life can't be this easy-going.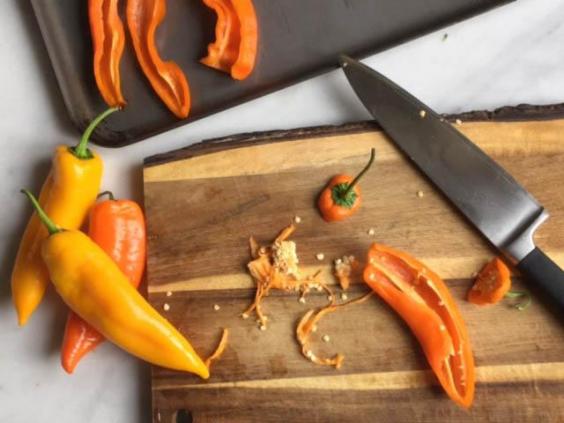 Roasted peppers with anchovy & lemon breadcrumbs
Serves 2-3 as a side dish
5 long peppers, approximately 300g
2tbsp olive oil; 1 for the peppers and 1 for the breadcrumb mixture 
1 clove of garlic, finely chopped
2 anchovy fillets, roughly chopped (optional) 
3tbsp bread crumbs, approximately 25g
10g parsley, chopped (yielding about 2 Tbsp parsley)
Finely grated zest of half a lemon
Red pepper flakes
Sea salt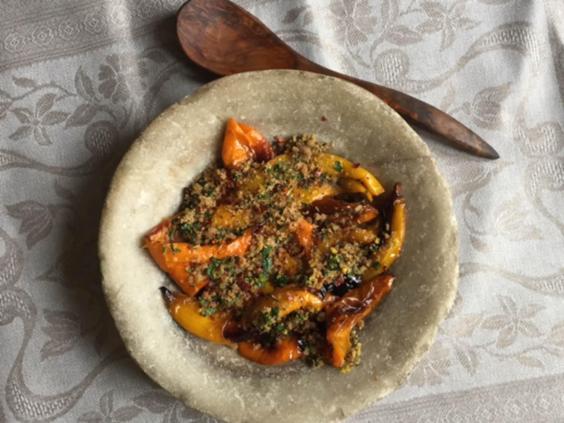 Preheat oven to 225°C (Gas Mark 7). Slice the peppers in half and remove the seeds and membrane. Place them on a baking sheet and toss with 1 tablespoon of the olive oil and a generous sprinkle of sea salt. Roast in the oven for about 12 minutes, turning once, until cooked and nicely charred. 
While the peppers are cooking, sauté the garlic in the remaining tablespoon of olive oil. Add the chopped anchovies and stir, breaking up the anchovies.
Add the breadcrumbs and stir to coat. Cook until the breadcrumbs are nicely toasted. Add the parsley and lemon zest and give a stir. Taste and adjust the seasonings (as the anchovies are quite salty you probably won't need additional salt).
Take the peppers out of the oven and place them on a serving platter. Top with the toasted breadcrumbs. You may have more than you need – if so, serve on the side or save for later. They're great for sprinkling on top of a piece of fish or tossed into pasta. Sprinkle some red pepper flakes, if using. Serve hot or at room temperature. 
Reuse content