I've been known to barbecue in the dark (pocket torch in one hand and tongs in the other), in the cold, and in a light to medium drizzle. But even I draw the line when the skies open up and it starts bucketing. So as the days grow longer, the temperatures warmer (perhaps) and you're thinking of a barbecue, best to bow down to the altar of 'Plan B'.
These spicy lamb burgers are the perfect plan b dish. They're ideal on a barbecue, kissed by flame with perfect sear marks and pinky inside. But they'll happily cook to your heart's content in a pan on the stove top as well. Either way they're fuss-free and tasty which is ideal for entertaining or when you long for a minimum effort meal.
I roast a pan of peppers – I like the long Italian ones – with a dash of olive oil, some sea salt and pepper to accompany. If the weather is cooperating by all means throw these on the barbecue pre-lamb. Some homemade hummus – or store bought if you can't be bothered – a generous handful of rocket, and tortillas or flat bread and you're in business.
Make the burger mixture early in the day if you like and keep them in the refrigerator as you watch the skies and check weather.com to see which path your cooking will take.
Spicy Lamb Burgers
Serves 3-4
The great thing about these burgers – aside from tasting great – is that they're incredibly easy to make. You can prepare them early in the day then pop them in the refrigerator until you're ready to cook. They also freeze nicely. And they're equally delicious grilled on a barbecue or in a pan.
500g ground lamb
2 spring onions, finely chopped
Zest of 1 lemon
1 tsp cumin seed
1 tsp coriander seed
1 tsp chilli powder
½ tsp cayenne powder
½ tsp cinnamon
Salt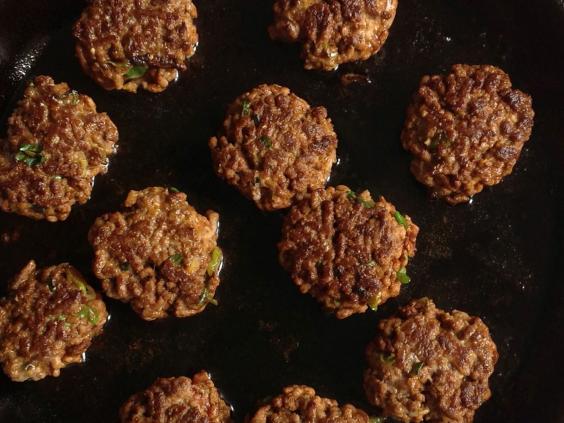 To accompany:
Rocket
Roasted red peppers
Hummus
Corn tortillas or flat bread
Grind the spices in a coffee grinder or with a mortar and pestle. Add to the lamb along with the scallions and lemon zest.
Mix thoroughly to ensure the spices are distributed evenly throughout the lamb mixture. If you have time, make a mini burger and cook it to test for seasoning.
Adjust the seasoning if necessary and shape the rest of the mixture into small patties – about 6cm each. Cook the patties in a frying pan over medium heat for a few minutes on each side for medium rare and serve hot with accompaniments.