The warning signs were there at breakfast. We asked for fresh orange juice but were told that they didn't have any. 
There were, however, plenty of fresh oranges. We were told that there was a problem with the fresh orange juice supplier. 
We asked for smashed avocado on toast. The avocado was so brown that, had the toast not been burnt, it wouldn't have been clear where it ended and the toast began.
We returned for dinner all the same. It was free, after all. 
Many readers will be aware that new restaurants and hotels routinely invite journalists to 'test'. The top critics eschew this kind of thing, but the proprietors clearly find that they can build agreeable groundswell by inviting editors, bloggers, Instagrammers and other 'influencers' to sample the wares. 
I wouldn't give a positive review of a freebie, because the bribery's so blatant. And it seems rude to make a special effort to demolish some out-of-the-way little café.
The Tamburlaine is different. The Tamburlaine is a multi-million pound hotel slap in front of Cambridge railway station, in the middle of a multi-million pound redevelopment of the area. You can't, as they say, miss it, even if you might want to. 
To make doubly certain, they did the press ringaround, with the aim of showing them a good time. I know this because as we walked into the restaurant in the evening, I saw 'VIP' next to our names.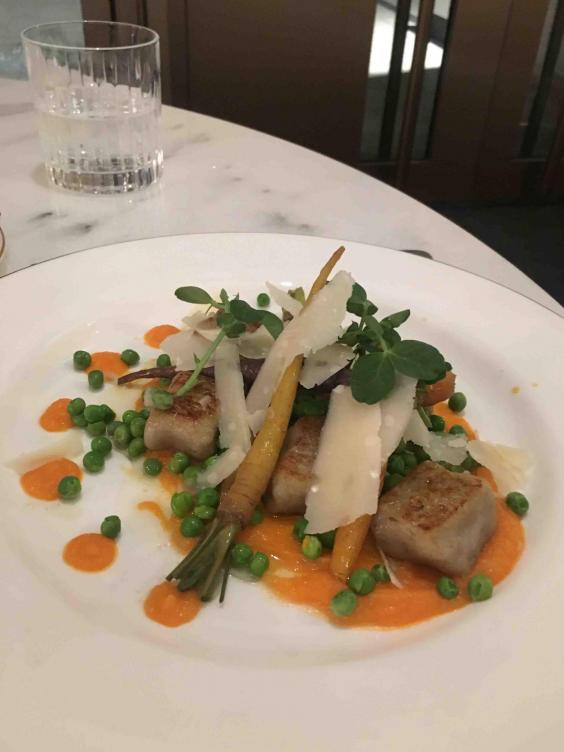 We were shown to a table by the window, looking out over a building side. The Tamburlaine is flanked on two sides by building sites, an overlooking we were encouraged to overlook. 
Our waiter asked about water. We said sparkling and were brought still. We asked for sparkling rose and were brought still rose. From another waiter we ordered a tomato and beetroot salad, and crab and cucumber cannelloni to start, and tuna and gnocchi for main course.
An hour and ten minutes later, the starters arrived. 
During this longeur, in which most of a rugby match could have been completed - admittedly without a break at half time, we were offered precisely one slice of bread. This was served from a tray with tongs, in the style of a smart restaurant, but the different breads all had the same flavour, with more than a whiff of the supermarket bloomer about them. 
Fifty minutes into the ordeal a waiter - a different waiter - came to apologise.
"Yours is the next one out," he said, before we watched as he served at least another ten tables before coming to us. "I can only apologise, he said at last. "The kitchen suddenly had too many orders at once."
The most outrageously expensive food on the planet
The most outrageously expensive food on the planet
1/8

The £15 cappuccino

Emirates Palace Hotel

2/8

The $2000 pizza

Industry Kitchen

3/8

The £1500 cronut

Dum Dum Donutterie

4/8

One false move and it's £1500 down the drain

Dum Dum Donutterie

5/8

The $1000 ice cream

Serendipity 3

6/8

The $169 hot dog

Tokyo Dog

7/8

The $777 burger

Burger Brasserie

8/8

The $25k taco

Grand Velas Los Cabos Resort
The food was appalling. Of course it was. The salad comprised rock-hard, fridge-chilled quarters of unripe tomato lined up apologetically in a row, like naughty students queuing for the headmaster, with little pellets of beetroot rolling between them. 
It came with a shot glass of a mysterious clear liquid. I had a sip and assumed it was the water the tomatoes had been washed in, before a waiter - a different waiter yet again - explained that it was 'essence of tomato'. 
The menu could have been clearer that in the crab and cucumber cannelloni, cucumber took the place of pasta, so what was served were little roundels of green containing a kind of beige-grey fish paste. 
The aroma was unmistakably that of crab that had been left out, probably in a warm, moist place, for some time. It was collected in much the same state it had been delivered.
We opened a book on how long the main courses would be. It was a shock that they came out a mere half an hour after the starters. Still another waiter, female this time, came to apologise. 
"One of the machines that does the cooking has broken down so the chefs are having to do everything by hand," she explained.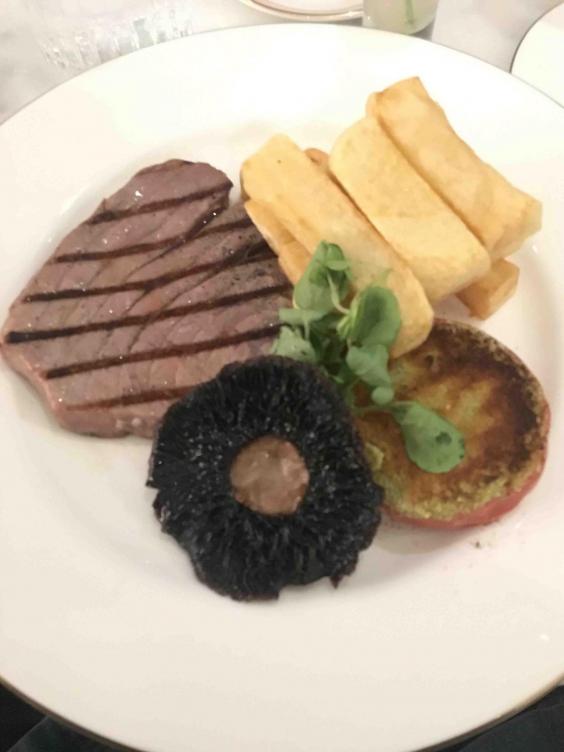 By hand! The poor dears. She should have said. Sadly she wasn't able to shed any more light on which machine this was. We envisaged the cooking robot, C-3PO in whites, nursing a shattered chrome arm at Addenbroke's.
When the mains arrived they were equally bad. My tuna steak was over-salted. "Tripe-cooked" chips were anything but, an utterly unironic Jenga tower of semi-raw starch. Perhaps the thousands of uneaten specimens are sent over to one of the building sites after service. 
In putting down a bowl of salad our waiter put his thumb in it by mistake. Mindful that my library books might be overdue by the time he returned, I didn't insist on a replacement. 
A plate of gnocchi, over-crisp on the outside and dumpling-stodgy in the middle, came served on orange smears of pureed veg. They, too, returned to the kitchen without much loss. We skipped pudding.
To give it is due, this is an attractive room, done up in that kind of luxe neo-brasserie vernacular that has sprung up all over Europe. The hotel itself is perfectly comfortably in a business kind of way. Cambridge needs more hotels, and it certainly needs more restaurants in a sea of Byron and Strada and tourist-trap cafes.
Still, this was bad. During the wait for the starter we had time to cover a wide range of conversation. In particular we wondered why the hotel would have chosen such an odd name. 
Then I remembered Marlowe's play. Having been imprisoned and humiliated by Tamburlaine, Bazajeth kills himself by banging his head repeatedly against the iron bars of his cell. We sympathised.
Reuse content