The day where it's acceptable to eat pancakes until your trousers lose their elasticity is almost here. But if you're not a fan of standing behind the stove, DesignMyNight have a round-up of the best places across the country to stuff your face with stacks of the good stuff. From Leeds to Cardiff, get ready to get up close and personal with sweet potato alternatives to Nutella masterpieces and tasty crepe creations.
Slim's Kitchen - Belfast  
On Shrove Tuesday you're allowed to eat as many pancakes as you see fit; no questions asked. But Slim's Healthy Kitchen in Belfast helps kill some of that next day guilt as their dishes (including their pancakes) are all about balance and nutrition. Instead of combining the usual eggs, milk and flour, you'll find that sweet potato is the main ingredient in their stacks. Tonnes healthier and equally as delicious, the toppings include everything from dairy-free cashew and blueberry cream to coconut.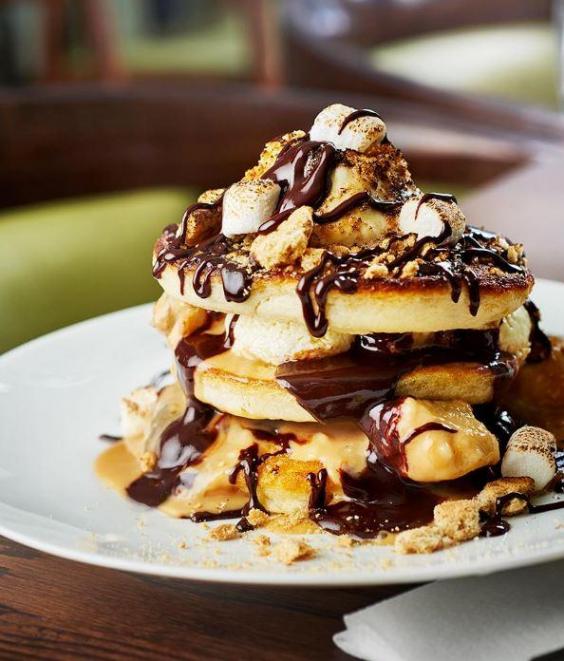 All Star Lanes - Manchester 
Ditch the spatula this year; All Star Lanes in Manchester are serving two scrumptious towering delights to celebrate Pancake Day and you simply can't miss out. If you have a soft spot for dessert, go for their banoffee baller; it includes dark chocolate, caramelised bananas and whipped cream. The sweet, salt and pop stack is just as good, and comes lathered in homemade caramel sauce, sea salt, whipped cream and a small handful of popcorn. These fluffy stacks are only available for four days, the last day being Tuesday the 28th.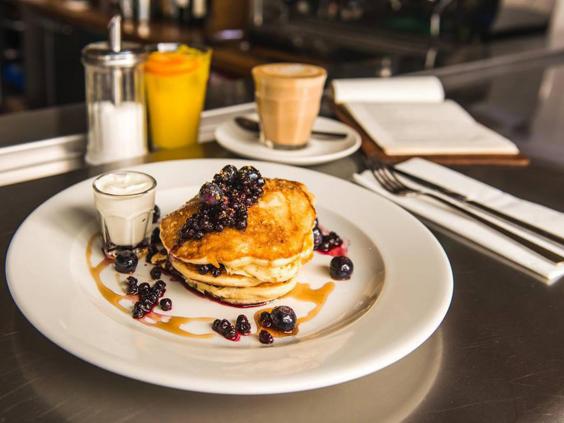 The New Club - Brighton
The New Club is a suave restaurant in Brighton that oozes trendy New York vibes. They're big on 'ordinary' yet top quality NYC cuisine, but we'd argue that there's nothing ordinary about their mouth-watering cinnamon buttermilk pancakes. These bad boys are topped with blueberries, mascarpone chantilly and lashings of maple syrup. Hands down, they're some of the best pancakes in town.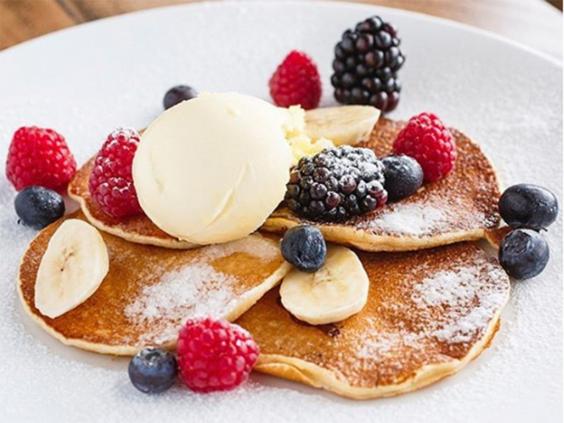 Gas Street Social - Birmingham 
Think mountains of moreish buttermilk pancakes at Gas Street Social in Birmingham this Shrove Tuesday. Settle down in their urban space and pucker your lips at the streaky bacon and maple syrup option, or alternatively, get in one of your five a day with their fresh banana, berries and clotted cream pancakes.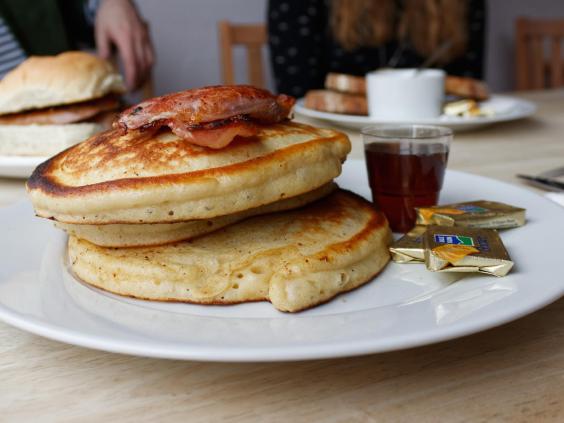 The Greedy Pig - Leeds
Be proud of your gluttonous side and parade it at The Greedy Pig in Leeds on the 28th. This traditional and cosy cafe is lauded for its incredibly delicious breakfasts, so you know you can count on a perfect plate of pancakes. Homemade and as fresh as they come, their fluffy mounds include mouth-watering thick cut bacon and maple syrup, as well as a sweet and savoury buttermilk fried chicken option too..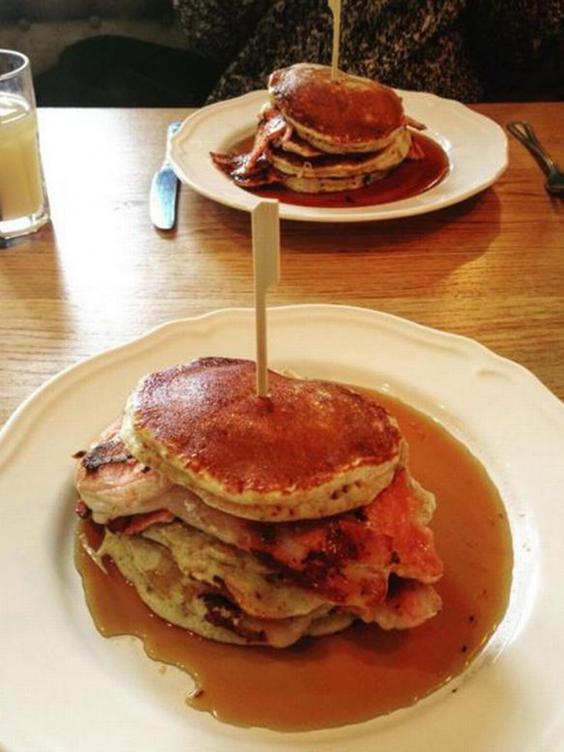 Pitch Bar and Eatery - Cardiff
Pitch Bar and Eatery serve everything from brunches to sharing roasts, but you need to turn your eyes to their gluten-free pancake stacks on the 28th. They have all the usual suspects on the menu, but if you're feeling adventurous go for the halloumi option with syrup. We know what you're thinking, but honestly, don't knock it until you try it.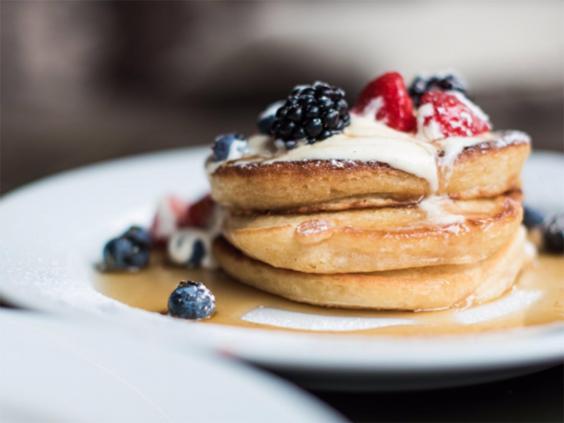 Brunch Club - Liverpool
On the lookout for a wallet-friendly way to spend Shrove Tuesday? Bust it down to The Brunch Club in Liverpool. You'll get a pancake dish and drink for £6. Choose from sweet and savoury toppings like blueberries, streaky bacon and maple syrup, or crème fraiche with fresh fruit.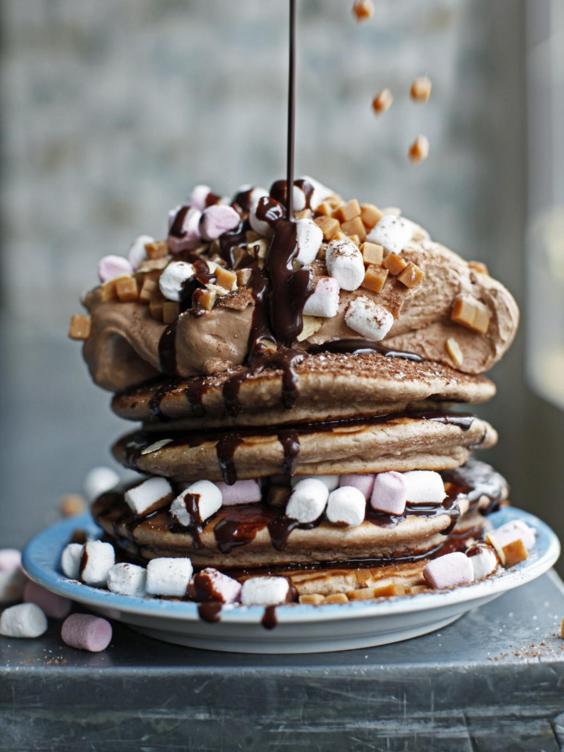 1Rebel Challenge - Pancake Special with The Breakfast Club 
We don't care what they say; on Pancake Day you're allowed to be as gluttonous as you like. But if you want to balance things out, head to The Breakfast Club in Spitalfields; they've teamed up with 1Rebel fitness for the ultimate pre-Pancake Day challenge. You'll be taking on two gruelling fitness classes before heading to the after party for stacks of pancakes (we recommend ordering their limited edition Lemon Meringue Pie option) and a drink. The classes will take place at the swanky St Mary's Axe fitness studio, and the ticket deal is pretty dreamy, costing £40 for everything.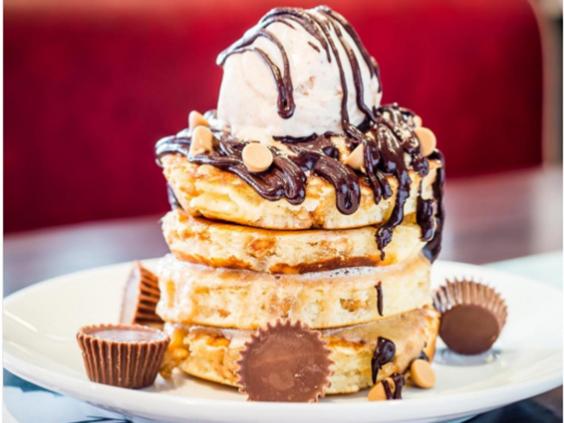 The Diner Soho's Pancake Day
The guys down at The Diner in Soho take Pancake Day very seriously; so much so, that they have curated a special menu to celebrate. Don't get too excited, but red velvet, Reese's pieces and chocolate chips will be just some of the stacks on offer this Shrove Tuesday. Their regular menu pancakes will be up for grabs too, alongside a mouth-watering selection of shakes and cocktails. It's one of their busiest days, so make sure you book a booth at this 1950's American style diner to make all of your pancake dreams come true.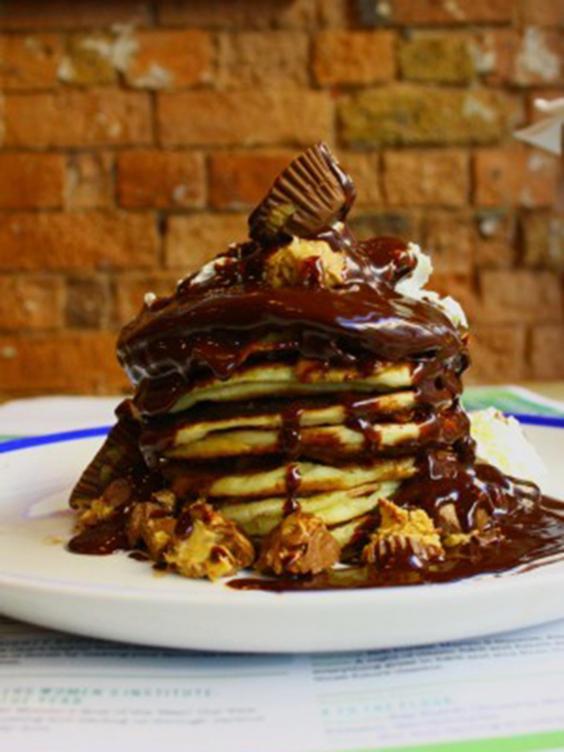 Queen of Hoxton
One of east London's coolest rooftop hangouts are throwing a pancake party on the 28th, and entry is completely free. Themed around a Viking stronghold, you can marvel at your quirky surroundings while tucking into the venue's pancake specials. Ditching traditional toppings, they've gone for pulled pork pancakes drenched in whisky maple syrup, and buttermilk beauties with caramelised banana. They will be flipping and tossing from 4pm - 10pm, so make sure you get down there early.  
For more info on what's on in London and across the UK, visit DesignMyNight.com and follow them on Twitter and Instagram; @DesignMyNight.
Reuse content