Budding cooks keen to banish bumps and lumps from stock, purees, soups, or even custard, should look no further than the conical chinois. These fine-mesh strainers are a bit on the pricey side, however, so in our road test of the best we throw in a sieve for good measure – no ordinary one, though. Then you can take the strainer of your choice to this month's kitchen masterclass.
Lakeland chinois lakeland.com £26
The 20cm-diameter Lakeland, pictured top, is professional grade – we used it to make veloute, one of the the five "mother" sauces of French cuisine, which with a bit of prodding with a wooden spatula turned out nice and silky. It can rest on top of bowls and pots and is a perfect tool for pureed fruits and vegetables.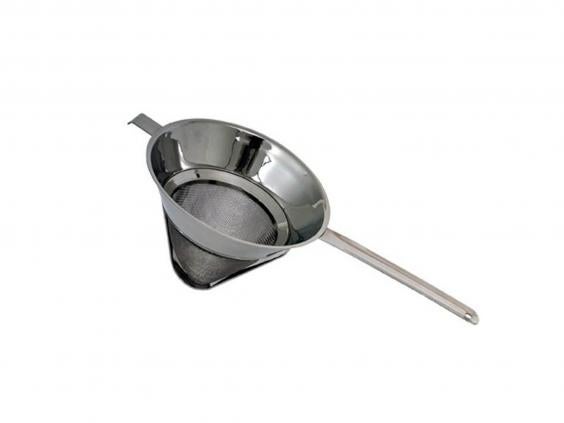 Genware stainless steel fine mesh chinois nobleeexpress.co.uk £34
This is the George Clooney of strainers – it's that smooth. At 22cm in diameter, there's ample straining surface area on the Genware. The mesh is protected by a steel strip – it's a sturdy piece of equipment, built to last. It's billed as good for purees and sauces, and soups too, although I prefer a hand blender for those. This chinois does take up room and would not look out of place in a professional kitchen – and it delivers very smooth results.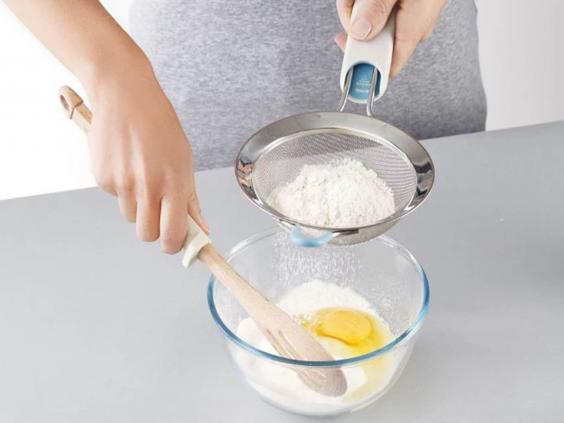 ​Joseph Joseph Shake-It self-tapping sieve josephjoseph.com £15
The mesh here is not as fine as the chinois'. What this Joseph Joseph sieve does is free up a hand – locked into a casing with wiggle room, its handle slides side-to side and extends to emulate the control of shaking using two hands.
Designed mainly for flour, it's also a perfectly good option for soups and sauces even if the resulting texture won't be quite as flawless.
Conclusion: If you're short on space, a chinois probably isn't top of your kitchen wish list but they're great if you're going to make a lot of stocks, sauces and soups from scratch. For practical and cheap, the Joseph Joseph is, erm, fine. 
Reuse content