Fera
British designer Guy Oliver has merged the original Art Deco elements of the space with natural influences inspired by Simon Rogan's own style, which features a colour palate of muted grey and green (stone and moss), a dramatic and sculptural "tree" in the centre of the room and a raised area of tables alongside the windows looks onto a "meadow" created by garden designer Tom Stuart-Smith. The farm-to-table menu at Michelin-starred Fera ("wild" in Latin), at Claridge's hotel in Mayfair, is all about the best of seasonal and local produce, which is then combined subtly and intricately to create the most delicate dishes.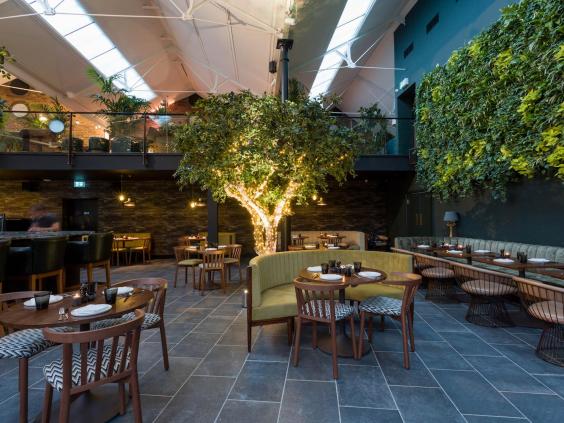 Restaurant Ours
Situated on Brompton Road is Restaurant Ours, which houses a central bar, mezzanine lounge and three full-sized live trees in the dramatic yet stylish "open interior" dining hall. As culinary director of the project, Michelin-starred chef Tom Sellers (of the acclaimed Restaurant Story) has developed a Modern European menu that reflects his dedication to seasonal produce. 
Sketch
The Glade at Sketch, Mayfair, has been transformed into an enchanted fairytale forest. Inspired by a single image from early 20th century stationery, artists Carolyn Quartermaine and Didier Mahieu have created a decoupage forest in a room where everything has been hand-made and tailored to the space. In this forest, delicate 1950s rattan furniture and impressive peacock chairs (sourced from locations such as Portofino, Sardina and the south of France) create a unqiue outdoor atmosphere and a startlingly modern fairytale feel. The magic surrounding of this woodland-inspired bar provides an ideal setting for afternoon tea, comfort food and evening cocktails.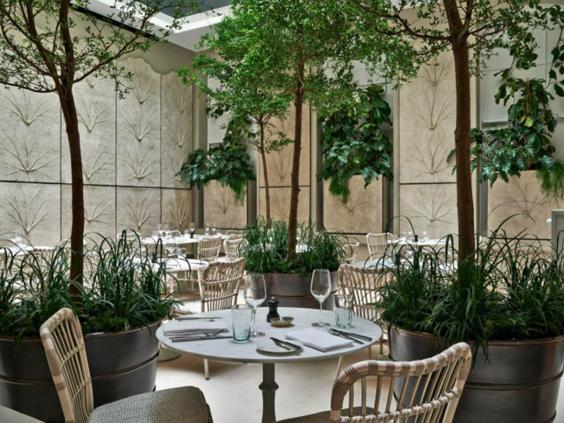 The Salon at Spring
Fully embracing the outdoors is The Salon at Spring, Somerset House, with tree-lined tables at the front of the intimate restaurant, a dining bar and an attractive atrium garden, which offer laid-back dining in very pretty surroundings. The space was created by owner Skye Gyngell's sister Briony Fitzgerald, Australian interior designer, and landscape designer Jinny Blom who together have brought the outside in with plenty of foliage. The menu is all about small sharing plates; cheeses, seasonal dishes and wines by the glass. 
Clos Maggiore
Clos Maggiore is a charming oasis of calm in the heart of Covent Garden. It has consistently been voted the world's most romantic restaurant, and Maggiore's crowning glory is its petite and delightful conservatory – complete with fairy lights, white blossoms and open fire – undoubtedly one of the city's most enchanting and intimate spots. Influenced by the country inns of Provence and Tuscany the unique interiors of the cherry blossom-adorned conservatory (with fully retractable glass roof) offers a dreamy dining space to enjoy chef Marcellin Marc's well considered Provencal cuisine.  
Bluebird
The quintessential Chelsea restaurant, Bluebird has undergone a sensational head-to-toe refurbishment by Sagrada, known as the designers behind new look Sartoria and also behind the refurbishment of The Arts Club. The new style is based on a bold up-styling of the original steel framing in the atrium and a homely dining room design, complete with trees, climbing plants, wild flowers, grasses and herbs. It is a perfect setting to appreciate chef Liam Smith-Laing's new (sharing) menu; a collection of simple, fresh and stylish dishes inspired by the best of modern European cooking.
For more urban news, visit urbanologie.com
Reuse content