This week a café in Bristol claimed to have launched Britain's biggest ever breakfast – containing a whopping 59 items and 8,000 calories.
The 'Monster Mega Breakfast', served up at Corner Café in Portishead, near Bristol, consists of two three-egg omelettes, six eggs, six rashers of bacon and six sausages. It's accompanied by four portions of fried potatoes, four portions of mushrooms, six slices of black pudding, six hash browns, a bowl of chips, four onion rings, four slices of toast, two fried bread, two portions each of beans and tomatoes and an energy drink or milkshake. Challengers have one hour to complete the £15 meal. Unsurprisingly, no one has been successful yet.
Inspired by the gut-busting Monster Mega Breakfast, we've scoured the country for the biggest and best food challenges. Have a go, if you think you're hungry enough...
Sink the Titanic – Go Burrito, Lancaster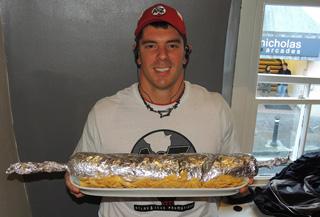 This belly-busting burrito is a wrap of epic proportions.
The 61b, 3 foot-long burrito is packed with all the burrito staples – pork, beef, rice, beans, cheese, salsa – and served with a side of nacho chips.
Challengers have a mere 30 minutes to eat the massive Mexican meal. No help is allowed, and toilet and vomit breaks are forbidden.
Over 200 challengers have tried to conquer the Titanic, but only four have been successful. Losers must pay the £19.95 cost.
Call 01524 874 775 to sign up for this mammoth challenge
2 Fat Fellows Ultimate Challenge – The Dog and Partridge Inn, Tean, Stoke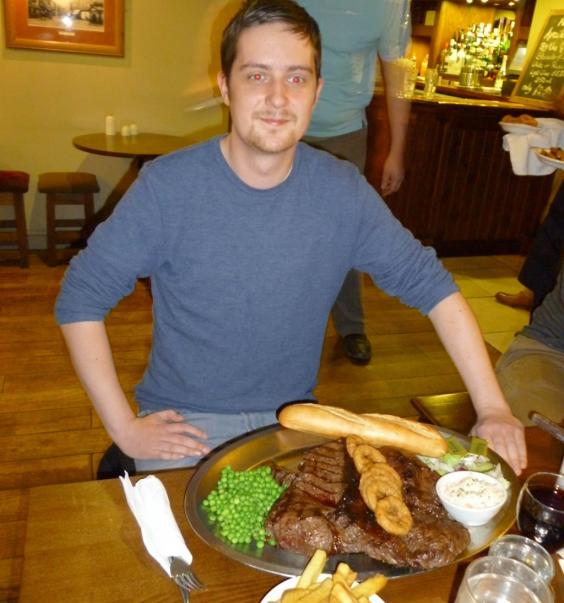 This challenge is one for the meat-lovers.
Contestants have to tackle a whopping 80oz steak, along with chips, peas and a baguette in under an hour. Finish it, and your meal's absolutely free. If you fail you must pay £39.95.
Fifteen people have tried to conquer this meaty feast but none have been successful.
The challenge must be booked in advance and is not available on Saturday nights. Call 01538 723 649 for more information
The Devastator and The Hot Wings Challenge – Red Dog Saloon, Hoxton, London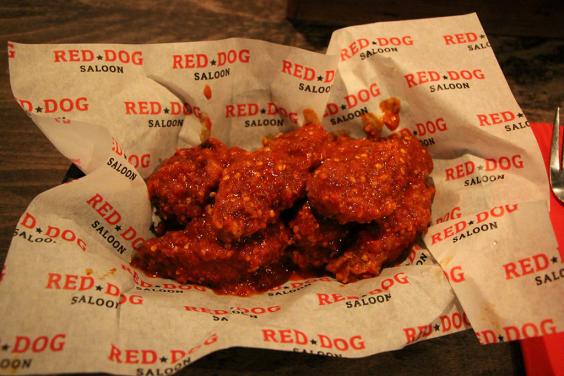 The Red Dog Saloon in Hoxton offers not one but two challenges – and both require contestants to complete them in record speed.
The Devastator is an 18oz burger topped with six rashers of bacon and six slices of cheese, accompanied by a side of fries and a milkshake. Challengers have a mere 10 minutes to complete it, and must pay the £27.50 cost whether they finish or not.
The Hot Wings Challenge is another ten minute-wonder. Contestants must eat six super-hot wings, without sipping any water or eating anything else. They also have to allow for 5 minutes 'burning time' after the challenge where they can't drink any liquids. This fiery challenge will cost you £12.50.
Only seven per cent of people who've tried The Devastator and five per cent of those who've attempted The Hot Wings Challenge have been successful. The time to beat for The Devastator is three minutes 13 seconds, while spice-lovers will need to eat their wings in under 25 seconds to top The Hot Wings Challenge's leader-board.
Contact The Red Dog Saloon on 0203 551 8014
Lumberjack's Double Knuckle Challenge, Octoberfest Pub, Fulham Road, London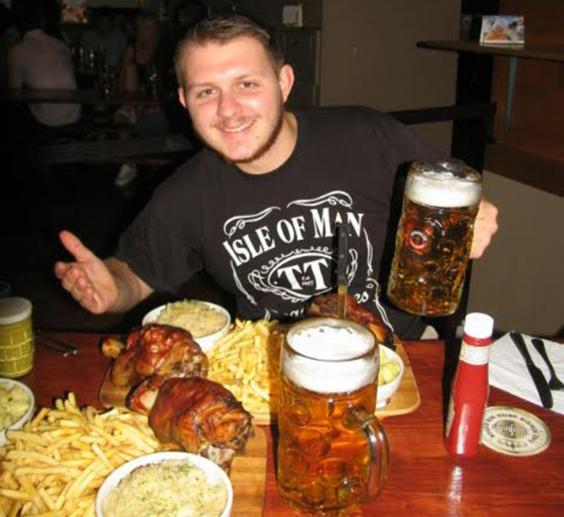 This hefty German-inspired challenge packs all the punches.
Contestants have to eat two pork knuckles (shanks) weighing a kilo each, plus a side of sauerkraut and German potato salad – all washed down with a 1l glass of beer.
Challengers have only 45 minutes to clear their plates. One-thousand-two-hundred hopefuls have put up their best fight against the Double Knuckle, but only five have beaten it.
The challenge costs £35, and successful challengers receive an engraved 1l beer stein.
Call 0207 736 5293 for more info
Totem Burger Challenge – Custom House, Barnstaple, Devon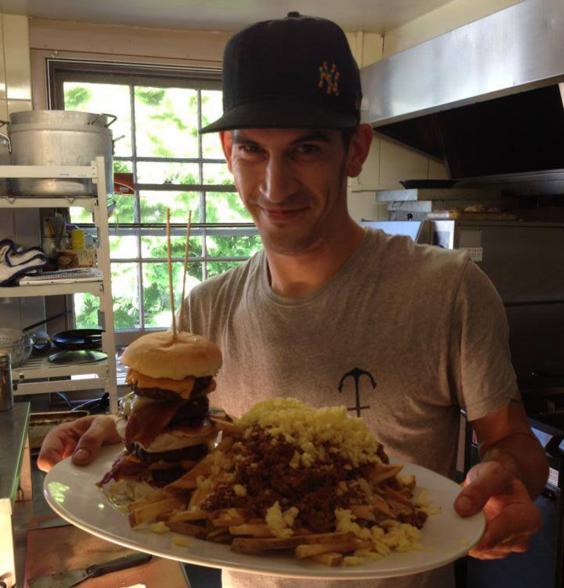 Think you know burgers? Think again.
The Totem Burger consists of 4 beef patties and buns, topped with bacon and cheese, with a cheese toastie (yes, a cheese toastie) in the middle for structural support. Alongside this toppling tower, diners must consume a basket of chips topped with 1lb of chilli and 1lb of cheese. The Totem tips the scales at 7lb, and is a whopping 8,200 calories.
About 250 to 300 people have tried the challenge so far and only 20 have finished. 10 people managed to wolf it down in half an hour and win a t-shirt.
If you fail the challenge, the burger will set you back £26.95.
Call 0127 132 2143 to book
Pancake Problem – Huckleberry's Diner, Flaxton, York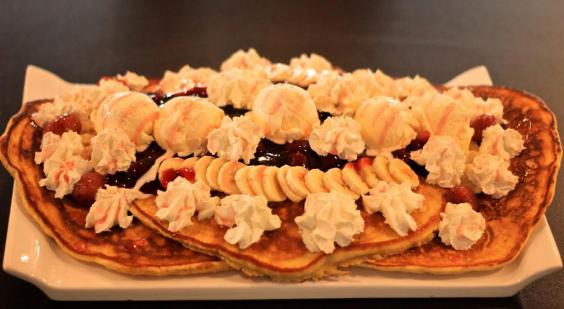 Huckleberry's Diner is one of the first restaurants in the UK to specialise in 'Man vs Food' style food challenges. Its menu features the Slidergeddon (12 slider burgers with 1lb of fries and a 1lb milkshake) and Macho Nacho Sombrero Challenge – 4lb of nachos topped with pulled pork, chilli, salsa, sour cream and cheese.
For the sweet-toothed, there's Pancake Problem: 4lb of thick, buttermilk pancakes topped with an array of fruits, syrups, ice-cream and cream.
You have a generous 90 minutes to solve this sweet conundrum. Over 2,000 people have tried it since 2012, and only 4 have been successful. It costs £20 to have a go.
For more information and to see a full list of challenges visit www.huckleberrysdiner.co.uk
Metre Pizza Challenge – Rustico Pizza, Swindon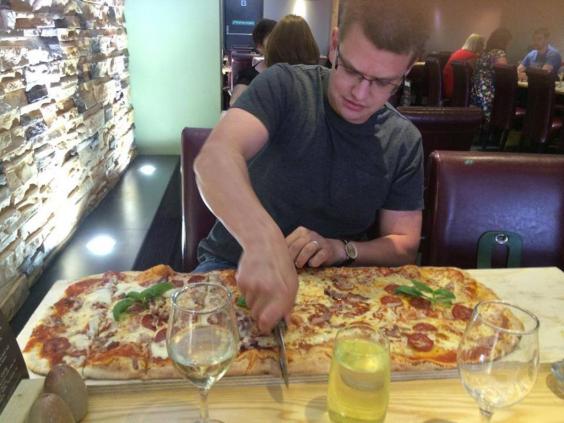 Love pizza? You might not love it so much after eating a metre of it.
At Rustico Pizza, you can chow down on a 1m by 30cm stone-baked pizza topped with either two meats or five veggies. Nobody can help cut the pizza, and contestants are limited to one napkin each.
Competitors have 45 minutes to eat the whole pizza, and have to pay £25 if they fail. Forty pizza-fans have tried the challenge so far but only three have been successful.
To book your pizza showdown contact info@rusticopizza.co.uk
The Beast - Blacks Burgers, Purley, Croydon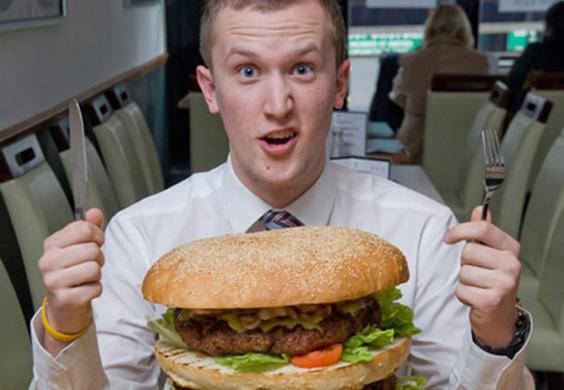 The name is a bit of a giveaway – this is one terrifying burger-eating challenge.
The Beast is a 7lb Prime Black Angus beef burger, topped with half lb cheddar cheese, seven rashers of streaky smoky bacon, a whole lettuce and seven whole tomatoes. The mammoth burger is served with 1lb skinny fries and a full-size milkshake containing two scoops of 100 per cent dairy ice-cream. 
Challengers have one hour to conquer The Beast. Hundreds of people have tried the challenge, but none have been successful. The most an individual challenger has managed to eat is one third of the burger.
If you fail to tackle The Beast, you have to pay the full price of the meal – a whopping £60.
If you don't feel up to the task alone, you can try the Cheats Challenge. For £90 up to four people can take on The Beast. Successful teams don't get their money back.
Payment must be made 48 hours before the challenge. To book call 0208 645 9942
The Two-Foot Sausage Roll Challenge – The County Arms, Wandsworth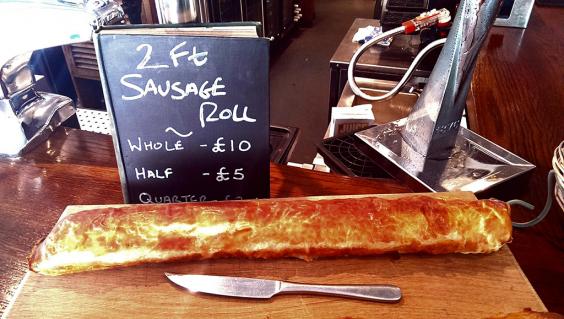 We Brits love our baked goods, but you won't find this sausage roll in your local Greggs.
At The County Arms, competitors have a mere five minutes to polish off a two-foot long sausage roll.
Over 200 people have attempted the challenge so far, and over half have been successful. Losers must pay the £10 fee, but if you finish the sausage roll it's free.
For more information visit www.countyarms.co.uk.
Wicked Waffle Challenge – Wicked Waffle, Portsmouth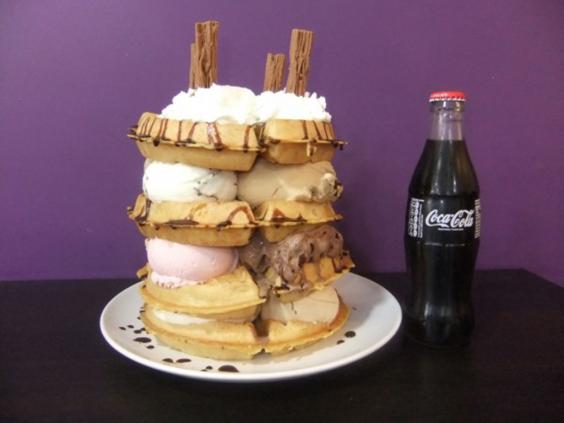 This icy challenge really is wicked, and could leave you with brain-freeze as well as tummy ache.
Competitors have to tuck into 12 scoops of ice-cream, layered between four fresh waffles and topped with cream, chocolate sauce and chocolate flakes. You can choose your ice-cream flavours, but you're limited to two scoops of each flavour. The whole thing weighs around 2kg.
Challengers must eat the waffle tower within 45 minutes or pay £25. A dozen have given it a go, and only one has succeeded.
To book call 023 9269 1146
Reuse content