Valletta is one of Europe's most diminutive cities. Bang in the middle of the Mediterranean, ravaged by extremes of weather and world war, Malta's small jewel of a capital is also the furthest south – a historical comeback kid that continues to punch above its weight, as it has done for centuries.
Despite all the grand titles it has clocked over the years – the most recent being European Capital of Culture 2018 – one thing is clear: Valletta today is thriving and alive with cosmopolitan voices even more than when it was a major port.
But there's a palpable sense of anticipation as old palaces and neglected streets are repurposed for 21st-century living. Valletta's relatively small but vital population of 400,000 is fighting the fast pace of change it is facing and taking on corporate developers critics claim are laying "siege" to the city.
For visitors, my advice is to hit the back streets once you've seen Valletta's glittering facades. Away from the shoppers and sightseers, you'll begin to decipher this isolated but worldly-wise city that's dead set on reinventing itself for the next 450 years, titles or not.
A tale of two streets
Valletta's narrow back streets may be getting a chic facelift for its European Capital of Culture status but they still echo the voices of its past. Leave the main pedestrian thoroughfare Republic Street to the throng – head off instead for an hour or two on a quieter but captivating walk of two side streets full of clues about the lives of the servicemen, sailors, traders and patricians who gave Valletta its character, and at times its notoriety.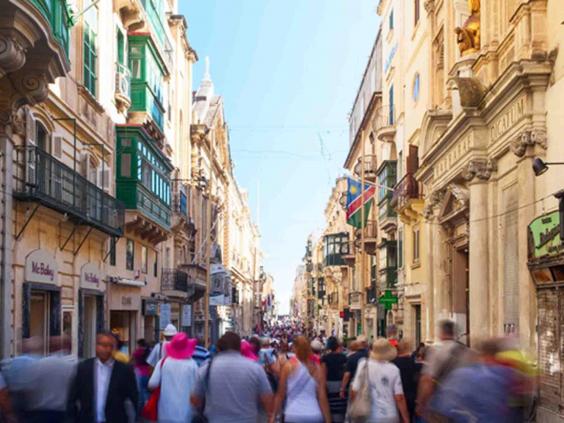 Discover the bohemian sights of Strait Street
Start off down Strait Street (Triq il-Dejqa or Strada Stretta), known with a knowing wink as "The Gut" to ex-servicemen and merchant sailors of old.
Play "I spy" as you walk, looking out for faded music hall signs and other hints of the city's past notorious nightlife. You'll be rewarded with signs for old nightspots like The Old Vic and The Cambridge Dance Hall. The Egyptian Queen is now a Karen Millen boutique and Carmen Bar and The Silver Horse are long shut, but Strait Street still has a Bohemian feel. Here even the public toilets have been renovated in the style of a bijou theatre.
Make a pit stop at former burlesque bar Tico Tico for a coffee or aperitif lounging outside on plush red and pink velvet sofas. Peer in to admire the bar interior's burlesque-era memorabilia complete with mini stage and risqué photos of its wilder past.
Meet a marquis at Casa Rocca Piccola
Leave Strait Street at the crossroads with St Dominic Street (Triq San Duminku) and take time to stop at Casa Rocca Piccola, the unusual private home museum of the Marquis de Piro, whose family has lived in this palazzo for more than three centuries.
The museum tells a personal story of Valletta but beyond the lockets of hair and Papal Bulls it houses another curiosity – Valletta's first private war shelters dug deep below the house in 1935. The current marquis' grandfather had a premonition Malta would be bombed.
The marquis himself and his family are your guides and if you're a small group, you can book in advance for a wine or prosecco-tasting and traditional Maltese platter in the garden or library.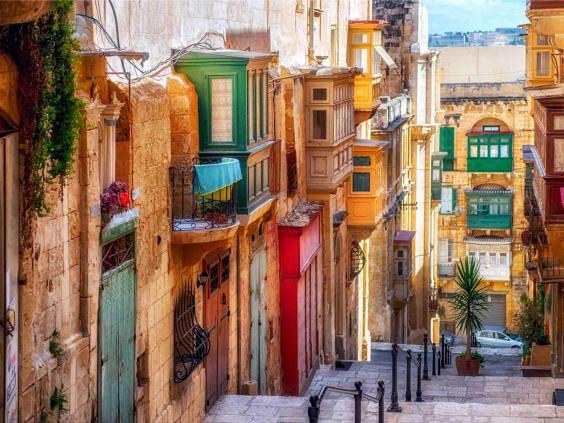 Visit the hidden St Paul's Shipwreck Church
Continue your tour at the bottom of St Paul's Street to discover Valletta's industriousness and religiosity. En route you'll pass traditional shops, grand merchants' houses and old churches; one with bizarre relics.
St Paul's Street lies just up from the quays of Grand Harbour and would have seen trade in the latest fashions from Paris, silks and spices from the Levant and grain from Sicily. The old shop signs hint at trades which were once the lifeblood of Valletta. A hole-in-the-wall spice shop and a religious artefacts shop are still busy with locals but the family firms of Maltese clock-makers, gilders, frame makers and upholsterers, while still here, are fewer in number these days.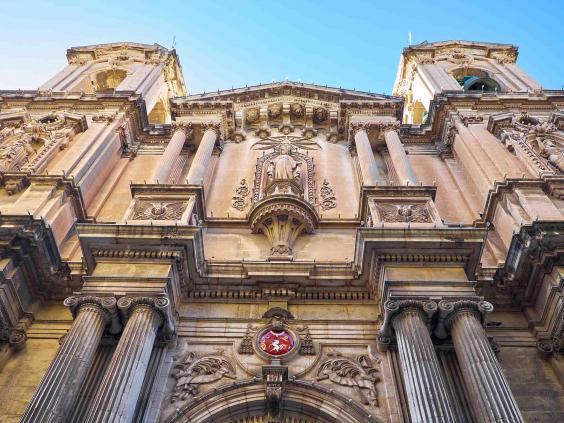 Check the opening times of St Paul's Shipwreck Church so you don't miss this often deserted masterpiece of a 16th-century church. Its lavish decoration is overshadowed by a golden reliquary housing a wrist bone of St Paul and a portion of the column on which the saint is said to have been beheaded.
Eat among bands, bastions and Britishness
Malta's eclectic fare owes much to its multi-cultural history as a port and former colony, so expect to find a rich mix of Maltese, Sicilian and British items on the menus. Here are some unusual venues to dine in that throw in a slice of city history too.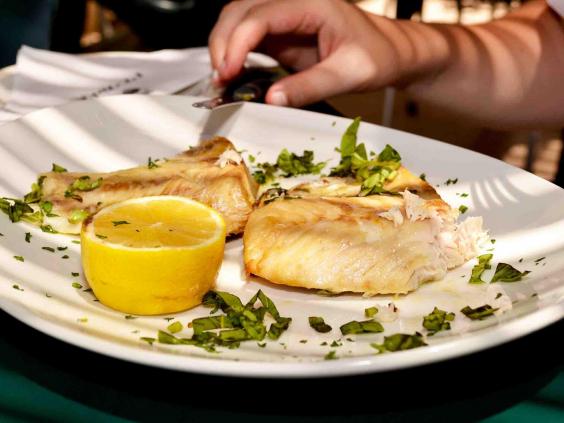 Get a taste for Maltese cuisine at The King's Own
Civic, parochial and political pride meet in Malta's brass band clubs which come into their own at parish feasts. Few are as revered as Valletta's King's Own which was founded in 1874, and the restaurant in the club building at the top of Republic Street is known for its unfussy, hearty dishes that blur Maltese, Italian and British cuisine. You'll find swordfish and tuna when in season, timpana (a type of lasagne but topped with pastry), traditional Maltese rabbit stew, octopus, braised lamb shanks, steaks and other cuts. The restaurant is in the vast, lofty ground hall, where you dine surveyed by fading photos of great bandsmen honoured for eternity.Sna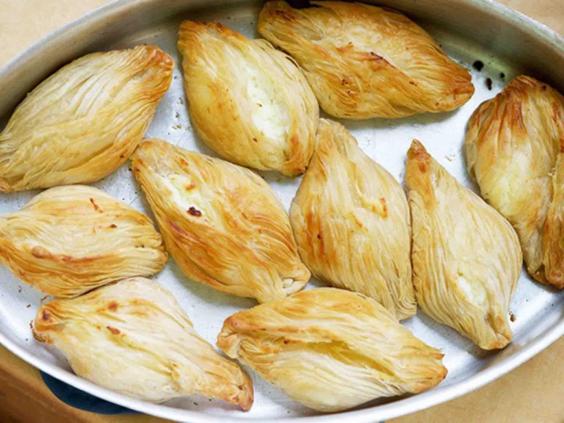 Experience Malta's Sicilian heritage at the Civil Service Sports Club
Just off Republic Street, near the Grandmaster's Palace is the former Civil Service Sports Club, now an elegant, airy restaurant run by acclaimed father-and-son chef team Michael and Daniel Cauchi. The building dates to the time of the Knights but had a revival last century as a club for public servants of rank.
The restaurant serves a Mediterranean menu focusing on fish with a contemporary twist. Chef Michael is introducing traditional Maltese recipes from the 1800s, but brought bang up to date for modern tastes. The antipasti misti are a treat and there's a wide choice of fish of the day. Leave room for dessert as Michael's serves tempting Sicilian sweets.
Enjoy a picnic along Valletta's battlements
Lower Barrakka Gardens perched on the bastions (the city's famous fortifications) is less busy with tourists than its counterpart at the top of town. It offers the footweary a welcome, shady retreat before the ascent back up the peninsula.
Plan ahead before you rest with a detour to discover Submarine, a small Italian-run sandwich bar that's making its mark. Submarine offers made-to-order breads of choice stuffed full with a create-your-own combo. Try their Emilia-Romagna speciality called Piadigella, which makes an excellent wrap, then find your bench in Lower Barrakka for a perfect picnic under the olives, ficus and pines with a bird's-eye view of the tip of Grand Harbour.
Food and drink news
Food and drink news
1/31 Gluten-free diets 'not recommended' for people without coeliac disease

Avoiding wheat, barley and rye in the belief that a gluten-free diet brings health benefits may do more harm than good, according to a team of US nutrition and medicine experts

Getty Images/iStockphoto

2/31 Starbucks launches two new coffee-based drinks

Starbucks is launching two new coffee-based drinks in the UK, as it strives to tap into consumers' growing appetite for healthy beverages. The Cold Brew Vanilla sweet cream and the Cappuccino Freddo, will both be available in stores throughout the UK from the start of May

Twitter/@SbuxCountyHall

3/31 Cadbury's Dairy Milk Tiffin is making a permanent comeback after 80 years

The Cadbury Dairy Milk Tiffin, first produced in 1937, is making a permanent comeback to the UK. The raisin and biscuit-filled chocolate bar is being launched after a successful trial last summer saw 3 million chocolate treats – at the cost of £1.49 for each 95g bar- purchased by nostalgic customers

Cadburys

4/31 Pizza restaurant makes 'world's cheesiest'

'Scottie's Pizza Parlor' in Portland Oregon has created the world's cheesiest pizza using a total of 101 different cheese varieties.

Facebook/Scottie's Pizza Parlor

5/31 A pizza joint in Portland Oregon has created the world's cheesiest pizza using a total of 101 different cheese varieties. Why not eating before a workout could be better for your health

A study published in the American Journal of Physiology by researchers at the University of Bath found you might be likely to burn more fat if you have not eaten first

Getty Images/iStockphoto

6/31 New York restaurant named best in the world

A New York restaurant where an average meal for two will cost $700 has been named the best in the world. Eleven Madison Park won the accolade for the first time after debuting on the list at number 50 in 2010. The restaurant was praised for a fun sense of fine-dining, "blurring the line between the kitchen and the dining room"

Getty Images

7/31 Why you crave bad food when you're tired

Researchers at Feinberg School of Medicine, Northwestern University in Chicago recently presented their results of a study looking into the effects of sleep deprivation upon high-calorific food consumption. Researchers found that those who were sleep-deprived had "specifically enhanced" brain activity to the food smells compared to when they had a good night's sleep

Shutterstock

8/31 Drinking wine engages more of your brain than solving maths problems

Drinking wine is the ideal workout for your brain, engaging more parts of our grey matter than any other human behaviour, according to a leading neuroscientist. Dr Gordon Shepherd, from the Yale School of Medicine, said sniffing and analysing a wine before drinking it requires "exquisite control of one of the biggest muscles in the body"

Getty Images/iStockphoto

9/31 British dessert eating surges after people ditch healthy eating in February

: In heartening news for anyone feeling guilty about quitting their New Year diet, it seems lots of us have given in to our sweet tooths once again. New data from nationwide food-delivery service Deliveroo reveals there was a surge in Brits ordering desserts in February compared to the first month of 2017

Getty Images/iStockphoto

10/31 US congress debates definition of milk alternatives

A new bill has been created that seeks to ban dairy alternatives from using the term 'milk'. Titled the DAIRY PRIDE Act, the name is a tenuous acronym for 'defending against imitations and replacements of yogurt, milk, and cheese to promote regular intake of dairy every day'. It argues that the dairy industry is struggling as a result of all the dairy-free alternatives on the market and the public are being duped too

Getty Images

11/31 Cadbury's launches two new chocolate bars

UK confectionary giant Cadbury has launched two new chocolate bars, hoping to lure those with a sweet tooth and perhaps help combat some of the challenges it faces from rising commodity prices and a post-Brexit slump in the value of the pound.The company's new products will be peanut butter and mint flavoured. They will be available in most major super markets as 120g bars, priced at £1.49, according to the company

Cadburys

12/31 You can now get a job as a professional chocolate eater

The company responsible for some of your favourite chocolate brands – think Cadbury, Milks, Prince and Oreo – have officially announced an opening to join their team as a professional chocolate taster. The successful candidate will help them to test, perfect and launch new products all over the world.

Getty Images/iStockphoto

13/31 MSG additive used in Chinese food is actually good for you, scientist claims

For years, we've been told MSG (the sodium salt of glutamic acid) - often associated with cheap Chinese takeaways - is awful for our health and to be avoided at all costs. But one scientist argues it should be used as a "supersalt" and encourages adding it to food.

Getty Images/iStockphoto

14/31 Lettuce prices are rising

Not only are lettuces becoming an increasingly rare commodity in supermarkets, but prices for the leafy vegetables seem to be rising too. According to the weekly report from the Government's Department for Environment, Food and Rural Affairs, a pair of Little Gem lettuces had an average market price of £0.86 in the week that ended on Friday, up from an average of £0.56 in the previous week – that's an almost 54 per cent increase.

Getty Images

15/31 Food School

Kids celebrate Food School graduation with James Martin – a campaign launched by Asda to educate young people on where food comes from. New research has revealed that children across the UK just aren't stepping up to the plate when it comes to simple facts about the food they eat – with almost half of children under eight not knowing that eggs come from chickens

RichardCrease/BNPS

16/31 'Do-It-Yourself' restaurant

To encourage more people to cook and eat together, IKEA has launched The Dining Club in Shoreditch – a fully immersive 'Do-It-Yourself' restaurant . Members of the public can book to host a brunch, lunch or dinner party for up to 20 friends and family. Supported by their very own sous chef and maître de, the host and their guests will orchestrate an intimate dining experience where cooking together is celebrated and eating together is inspirational

Mikael Buck / IKEA

17/31 Ping Pong menu with a twist

Gatwick Airport has teamed up with London dim sum restaurant Ping Pong to create a limited edition menu with a distinctly British twist; including a Full English Bao and Beef Wellington Puff, to celebrate the launch of the airport's new route to Hong Kong

18/31 Zizzi unveil the Ma'amgharita

Unique pizza art has been created by Zizzi in celebration of the Queen's 90th birthday. The pizza features the queen in an iconic pose illustrated with fresh and tasty Italian ingredients on a backdrop of the Union Jack

19/31 Blue potatoes make a comeback

Blue potatoes, once a staple part of British potato crops, are back on the menu thanks to a Cambridge scientist turned-organic farmer and Farmdrop, an online marketplace that lets people buy direct from local farms. Cambridge PhD graduate-turned farmer, Adrian Izzard has used traditional growing techniques at Wild Country Organics to produce the colourful spuds, packed with healthy cell-protecting anthocyanin, which had previously disappeared from UK plates when post-war farmers were pushed towards higher-yielding varieties

20/31 France plans to usurp Scotland as the home of the world's best whisky

France is planning to usurp Scotland's reputation as the home of the world's best whisky, fired by a growing national obsession with the drink. According to a study by retail consultants Bonial, the French drink more whisky than any other country – an average of 2.15 litres a year, compared to 1.8 litres in second-placed Uruguay and the US in third on 1.4 litres

Bloomberg via Getty Images

21/31 The price of an avocado is set to rise

Britain's avocado lovers are facing a significant increase in the cost of their favourite salad food because the so-called superfood is becoming too popular. High demand from health-conscious consumers has led Peru to triple its avocado exports since 2010, with exports to the UK up 58% over the past year

22/31 Eating cereal may not be the healthiest way to start the day

The old saying goes that breakfast is the most important meal of the day, so many of us do as we are told and grab a bowl of cereal before we head out the door. But an expert has warned that while many cereals boxes claim their contents are the perfect start to the day, many are packed full of sugar and carbohydrates with little nutritional value. Even some seemingly-health muesli cereals have a lot of added sugar in the form of honey, malt, molasses, dried fruit or "even fruit juice"

Getty Images

23/31 Crisps made with real ingredients

Michelin starred chef, Simon Rogan in action cooking a menu inspired by the provenance ingredients in the new Chef's Signature range from Kettle Chips. Kettle Chips, the nation's favourite premium crisp brand, has launched the new range of crisps with exciting new seasonings, made with the highest quality food ingredients rather than chemicals or artificial flavours

24/31 Japanese whisky crisis

Suntory's chief blender Mr. Fukuyo San blends component whiskies to create Suntory Yamazaki Distiller's Reserve, a blend of young and old single malts. Japan's warm climate and varied seasons makes it perfect environment to age and blend whiskies, creating subtle, refined and complex expressions.The recent trend for Japanese whisky has put the spirit on the verge of a global shortage

25/31 Non-alcoholic cocktails are seriously chic

We are living through a new era of creative, non-alcoholic drinks that go way beyond a coke or sweet mocktail. The world is becoming more health conscious. There's the war on sugar, and teetotalism is on the rise, with more than one in five not drinking at all (especially young adults), according to The National Statistics for Adult Drinking Habits. This abstinence is even more pronounced in London, with almost one in three turning away from alcohol. An increasing number of mixologists are applying their talents to the creation of non-alcoholic drinks that taste as good as their boozy alternatives

26/31 'Heat map' shows which areas of Britain enjoy the spiciest curries

After Bradford was named the Curry Capital of Britain for the fifth year running, a map has been released showing which regions of Britain enjoy a spicy curry and which prefer the milder variants. According to the map developed by Hari Ghotra, Kent, Essex, West Yorkshire and Lancashire are the heat-handling kings of Britain, while Scotland, Northern Ireland and Wales all prefer milder curries. The data was collected by monitoring the location of social media posts that mentioned names of curries. These were then given a spice rating and were then collated to give each area a score out of 1000

27/31 Guinness to become vegan-friendly

Guinness is set to become vegan friendly for the first time in its 256-year history, as the company announced its plan to stop using fish bladders in its filters

28/31 Why the salmon on your plate might not actually be salmon

Salmon that ends up on the dinner table may not be salmon at all, a study has suggested. The problem of salmon mislabelling has become an increasing issue in the US in the winter months, according to American research published by Oceana. The findings show that 43 per cent of the salmon tested was mislabelled – the most common instance of this being when farmed Atlantic salmon was sold as wild salmon

29/31 How dangerous is a bacon sandwich

A recent WHO report warning that processed and red meats can cause cancer may have left you thinking a little harder about whether to pick up that bacon butty for breakfast or ditch a beef-filled Bolognese for dinner - but how worried should we be? The review of 800 studies for the International Agency for Research on Cancer (IARC) prompted global health experts to cast processed meats - including bacon, ham and sausages - into the ominous-sounding list of group 1 carcinogens, where they joined formaldehyde, gamma radiation and cigarettes. Eating just a 50g portion of processed meat – or two rashers of bacon - a day increases the risk of bowel cancer by 18 per cent, the experts concluded

30/31 New Zealanders are behind a lot of the interesting food and drink stuff happening in the UK

Dark beers are more suited to cold months, so the thinking goes, but in one part of the world they're always popular. "Lots of breweries in New Zealand have got stouts and porters among their best sellers," says Stu McKinlay, one half of the duo behind Wellington brewing company Yeastie Boys. McKinlay recently swapped Wellington for west Kent in order to launch Yeastie Boys in the UK, and he's joined forces with four other breweries (8 Wired, Renaissance, Three Boys, Tuatara) as part of the New Zealand Craft Beer Collective, to promote his country's finest over here

31/31 Additives in popular chicken nuggets

Ingredients, a new book co-created by photographer Dwight Eschliman and food writer Steve Ettlinger distils 25 products, including popcorn, Red Bull and chicken soup, focusing on 75 of the most common food additives and revealing what each one looks like, where it comes from and why it is used. McDonald's chicken nuggets were found to contain 40 different ingredients. These included dextrose, a sugar also used by shoe makers to make leather more pliable, and corn starch, used for thickening food as well as also being a substitute for petrol
Take your tipple
With drinks and refreshments from granita and Famous Grouse whisky to Aperol and prosecco, Valletta is the perfect place to find a seat, sip and savour the world as it goes by. As always in Malta, the venues and choice of drinks are a cultural mix drawn from the tastes of the city's cosmopolitan residents, past and present.
Sip cocktails surrounded by Valletta's historical past
Escape the hustle and bustle of Republic Street at Charles Grech, purveyor of fine spirits and tobacco since the 19th century and now a classy bar. Founded in 1881, the company originally sold fine tobacco and Dunhill pipes and housed an exclusive sampling bar whose patrons were senior armed forces officers and local gentry. The premises reopened its doors as a bar and cocktail lounge a few years ago and is once again a top-of-the-town venue. Professional waiters and a refined interior make for a haven of calm away from it all.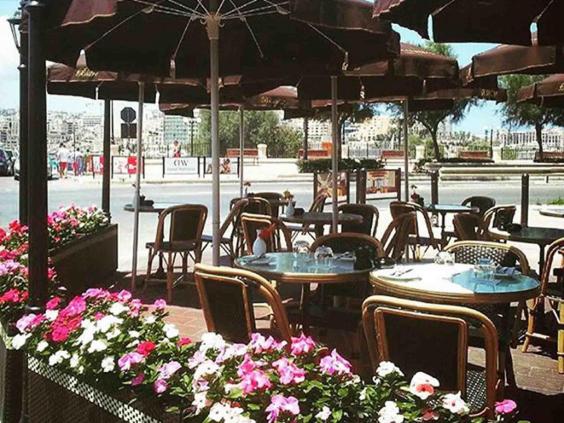 Experience espresso from the experts
Café Prego, tucked down South Street, is a good place to start the day with a coffee and snack. Opened in 1947 and handed down from father to sons Georgio and Sunny, assisted by a long-serving barista, Prego lives in a time warp. Step inside and back to the 1960s replete with Rexene-covered chairs and original ceiling lamps that collectors of mid-century modern would covet.
Prego has a steady flow of regulars, from public servants to lawyers and the occasional shopper. The cafe is wonderfully reliable in serving up a decent espresso and cappuccino, along with its eponymous egg mayo sandwiches and fresh Maltese pastizzi (savoury pea- or ricotta-filled pasties). Stop by late afternoon for a glass of house red.
Chill out with a drink at HMS Maori
Only metres from the water HMS Maori is complete with hammocks, mismatched furniture, books, art, a guitar and cats. Named after a destroyer bombed by the Germans in 1942 and whose wreck, a popular dive site, lies just offshore, this bar's building is covered in giant murals.
The eccentricity of HMS Maori is its very allure; the shack is often used for poetry readings and yoga sessions and is the haunt of a more alternative crowd. It has spectacular views out to sea and of Fort St Elmo but it takes a little finding. Head out of the old Sally Port tunnel in the bastions at the very tip of the Valletta peninsula and bear right to the water's edge.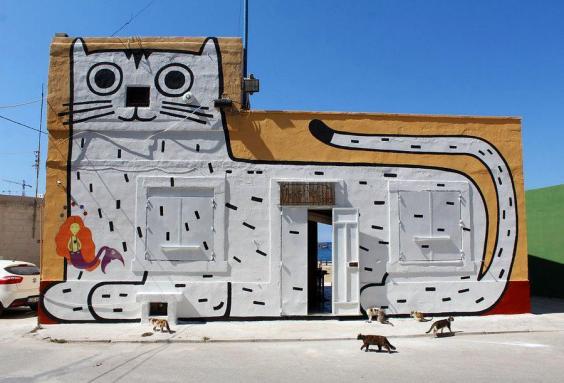 Still have time to spare?
Free and refreshingly cool inside, the Fortifications Interpretation Centre is worth popping into for a break from the streets on summer days. The centre, itself within a part of the bastions and underground tunnels of Valletta, gives you a sense of the gargantuan works undertaken to hew out and then build the city's fortifications in just 15 years.
If sightseeing up and down the steep Valletta peninsula on two feet sounds tiring, then try two wheels instead. Malta Segway Tours offers tours that last from 90 minutes to three hours. This easy-to-ride, two-wheeled electric vehicle is a great and convenient way to make the most of your visit and experience everything the city has to offer.
Discover the critical role the Maltese Islands played in the Second World War with a visit to the Lascaris War Rooms, the Allies' operations headquarters in the Mediterranean. From here, famous generals planned the invasion of Sicily in 1943. The underground rooms are much as they were the day the war ended, complete with maps and bomber schedules intact.
Reuse content