Red Velvet Waffles
Ingredients (Serves 6)
2 cups all-purpose flour

1 teaspoon baking soda

1 teaspoon baking powder

1⁄2 teaspoon table salt

4 tablespoons (1⁄2 stick) unsalted butter, melted
1⁄4 cup packed brown sugar

3 large eggs, separated

2 cups buttermilk

1 1⁄2 tablespoons natural unsweetened cocoa powder

1 tablespoon red liquid food coloring
Method
Preheat the oven to 200° F and preheat a waffle iron. Whisk the flour, baking soda, baking powder, and salt in a large bowl to combine.
Combine the melted butter and brown sugar in a separate large bowl. Whisk in the egg
yolks and buttermilk. Mix the cocoa powder and red food coloring in a small bowl to make a smooth paste, then whisk the paste into the butter mixture. Stir the wet ingredients into the dry ingredients just until moistened (the batter should be slightly lumpy).
Beat the egg whites in a medium bowl with an electric mixer until stiff peaks form. Stir one-quarter of the egg whites into the batter to lighten it. Then fold in the remaining egg whites gently but thoroughly.
Spray a waffle iron with nonstick cooking spray or brush with melted butter. Cook the waffles according to the manufacturer's instructions. As they're done, put them on a baking sheet and slide them into the oven to keep them warm while you cook the remaining waffles.
For the Cream Cheese Drizzle
Ingredients
4 ounces cream cheese, softened
¾ cup confectioners' sugar
½ teaspoon vanilla extract
A pinch of table salt
3 to 4 tablespoons milk
Method
To make the cream cheese drizzle: Beat the cream cheese, confectioners' sugar, vanilla, and salt in a bowl. Beat in enough milk to make a pourable mixture.
Deborah Harroun is the author of Red Velvet Lover's Cookbook
Waffles with hot chocolate sauce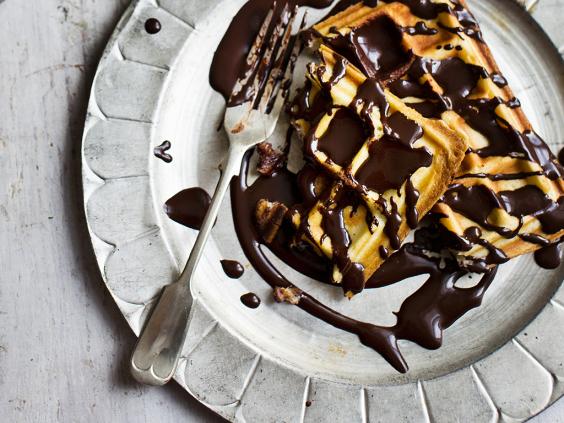 Ingredients (Makes 12)
For the batter
325g plain flour
2 teaspoons baking powder
pinch of salt
60g caster sugar
2 large eggs, separated
450ml whole milk
1 teaspoon vanilla extract
100g unsalted butter, melted and cooled
For the hot chocolate sauce
75g cocoa powder
75g caster sugar
50g dark chocolate (60–70 per cent cocoa solids), finely chopped
Method
To make the batter, put the flour, baking powder, salt and half the caster sugar in a large bowl and whisk together. In a large jug, whisk together the egg yolks, milk, vanilla and melted butter, then pour it into the flour mixture, whisking until you have a smooth batter.  Put the egg whites in a clean, grease-free bowl and, using an electric mixer, whisk until they hold soft peaks. Continue to whisk while you slowly pour in the remaining sugar until the meringue is stiff and glossy.  Add the meringue to the batter and gently fold together. Cook the batter according to your waffle iron's instructions.
To make the chocolate sauce, put 200ml water in a medium pan and add the cocoa powder and caster sugar. Whisk together until smooth.  Put over a medium heat and bring to the boil, then reduce to a simmer and cook for 2 minutes or until the syrup has thickened. Remove the pan from the heat and leave to cool for a few minutes, then add the chocolate and stir together until melted and smooth. You can serve the sauce warm or cold, but it gets a lot thicker as it cools down. If you have any sauce left over it can be kept in the fridge for up to a month and then reheated at a later point.
Tip
This recipe makes quite a lot of waffles, so you could, of course, halve the quantities, but you can also freeze the cooked waffles. Leave them to cool completely then wrap them in a double layer of clingfilm. When you want to serve them, leave them to thaw fully before reheating them in the oven at 120c (100C fan oven)/gas ½ for about 10 minutes or until heated through.
Edd Kimber is the author of Patisserie Made Simple
Whole grain banana bread waffles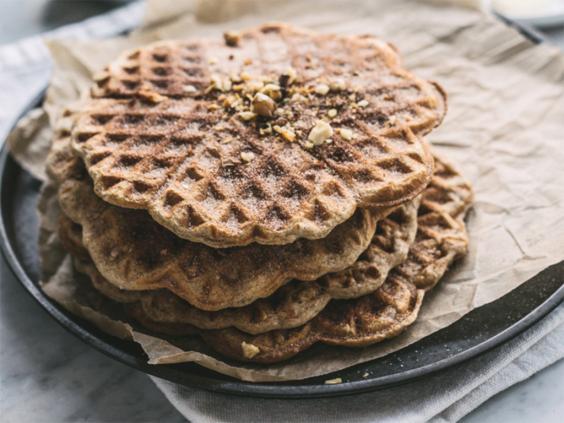 Ingredients (for 2 waffles)
1/2 cup (60 g) spelt flour (you can sub whole wheat flour if preferred)
1/3 cup (30 g) oat flour (made by blending oats in a food processor)
2 tsp ground flaxseed (this is optional)
1/4 tsp ground cinnamon
1/4 tsp salt
1 1/2 tsp baking powder
1 tsp vanilla extract
1 ripe banana, peeled and mashed
1 egg
1/2 cup (125 ml) milk
1 tsp vegetable oil
For the cinnamon-sugar
1 tbsp butter
2 tbsp superfine (caster) sugar
1 tsp ground cinnamon
Method
Stir together the first 6 ingredients in a large jug. Add in the vanilla, banana, oil, milk and egg and stir together with a fork until smooth. Leave it to sit whilst you heat up your waffle iron.
Scoop the batter into the waffle iron - about 1/3 cup - and cook according to the waffle iron's instructions until golden brown.
Stir together the 1 tsp of ground cinnamon into the superfine sugar. Use a knife to lightly swipe the waffles, hot from the waffle maker, with butter then sprinkle with the cinnamon-sugar.
Izy Hossack is the author of Top With Cinnamon: Stylish Sweet and Savoury Recipes
Reuse content