Taiwan – Gua Bao  (pork buns)
This gua bao recipe from Nisha Thomas offers useful tips on making these classic Taiwanese street food snacks. Packed with braised pork belly and garnished with tangy pickled vegetables, these buns are great for a party or get-together.
I first had gua bao at a street food stall in Shoreditch and there was no looking back. It's been on my mind ever since to try them at home and was on the lookout for a trustworthy recipe. This Taiwanese street side snack is delicious and the soft steamed buns make it impossible to just stop at one.
I admit it was a bit intimidating to see the different steps involved and the prep work needed, especially because I'm such a last-minute, impulse cooking kind of person. Planning ahead is not my forte and so this idea of trying the gua bao at home was put to the back of my mind until I ended up having it again from the Kurobuta stall at Taste of London earlier this year. I had to make it, and so I did. Planned ahead, bought everything as per list and even made the pickle three days ahead so I could have the ultimate experience.
It all worked out well, except that I didn't use baking paper to separate the folded buns and so they stuck together in spite of oiling them properly. It meant I had to slice them open and use the filling. Lesson learnt, so next time I did it the right way with a baking paper. Please make sure you do this. Having a big bamboo steamer also helps because you can steam two or three at a time. I had a small one so it took an awful lot of time to steam individually.
The good thing is you can make the buns, the pork and the pickle way in advance, which makes the process less stressful. The buns can be made a week in advance and they just need to be stored in the refrigerator. Just re-steam before use and they will be as good as fresh. You can also experiment with different filling, like chicken or pulled pork, and I'm sure they'd taste fab.
300g of plain flour, plus extra for dusting
10g of milk powder
4tbsp of caster sugar
7g of fast-action dried yeast
1 pinch of salt
½tsp baking powder
½tsp bicarbonate of soda
200ml of water, at room temperature
Oil, to brush the buns
Red food colouring (optional)
Braised pork filling
500g of pork belly
2 red chillies
5 garlic cloves, crushed
1 ginger, peeled and crushed
1 cinnamon stick
4 cloves
8 peppercorns
4 tbsp of dark soya sauce
2 tbsp of sugar
Water, as needed
Pickled vegetables
½ cucumber
10 radishes, small, cut in rounds
¼ cabbage, julienned
1 green chilli, slit
120ml of distilled vinegar
2tbsp of sugar
3tbsp of water
To serve
Coriander, chopped
To begin, prepare the pickled vegetables. Mix together all of the cut vegetables in a bowl. Bring the vinegar, sugar and water to a simmer in a saucepan until the sugar has dissolved. Adjust the seasoning according to taste. Set aside to cool, then add the pickling liquid to the prepared vegetables, mixing well. Transfer to a clean glass jar and refrigerate until ready to use. It's ideal if you can prepare this a day or two ahead for the pickling effect to be obvious.
Now make the dough. Add the flour, milk powder, sugar, yeast, salt, baking powder and baking soda to a mixing bowl. Make a well in the centre and pour in the lukewarm water, using a wooden spoon to bring it all together. Either using the dough hook of a standing mixer or with your hands on a clean surface, knead the dough until it no longer sticks and is elastic and pliable – this should take around 5-6 minutes on medium speed in a mixer or around 10 minutes by hand. If you feel it needs more flour, add only a spoonful at a time. Grease the mixing bowl with oil and put the dough inside. Cover with cling film and set aside to rise. I preheated my oven at 100°C for about 6-7 minutes and placed the bowl inside with the light on.
It took the dough about 2½ hours to double in size. Cut out 20 square pieces of baking paper while the bun dough is proving. Punch the dough down, transfer the to a lightly floured surface and shape into a thick log. Slice the log into 10 equal parts and roll each part into a neat ball. Roll out each ball into an oval shape and brush with some oil. Place one square of baking paper on one side of the dough and fold the dough over the paper, so it is sandwiched inside. Place this on another baking paper sheet and repeat the process with the remaining balls. Set aside to double in size for around an hour or so.
I decided do a design of three spots over the bun as is traditionally done, but it's purely optional. Use a chopstick to dip in the red colour and put 3 spots on each bun. When ready to steam, place a bamboo steamer over a pot of simmering water and place the bao buns (with baking paper still attached) into the steamer. Steam them for about 10 minutes, making sure the water temperature is not too hot. Once the buns are really puffy, take them out of the steamer and set aside until ready to use.
To make the filling, place the cut pork belly in a pan and fill with enough water to cover the meat completely. Bring to a rolling boil on high heat for a couple of minutes until you can see that all the foam-like impurities are floating on the top. Remove these with a spoon and drain the meat in a colander, rinsing well with cold water while you're at it. Transfer the meat to same pan and add all of the remaining ingredients. Give everything a good mix. Cook on low heat for about 1½-2 hours, checking occasionally and adding dashes of water if you think it's drying out. Let the meat braise until it is completely cooked and is tender, but not falling apart.
Remove the pork from the stock and set aside. Resist the urge to eat this on its own. If your sauce isn't thick enough, add a bit of cornflour and keep boiling until it becomes thick and syrupy. To assemble, fill the buns with pickled vegetables and pork belly. Spoon over the thickened sauce and serve with a sprinkling of chopped coriander.
This Gua Bao recipe by Nisha Thomas first appeared on Great British Chefs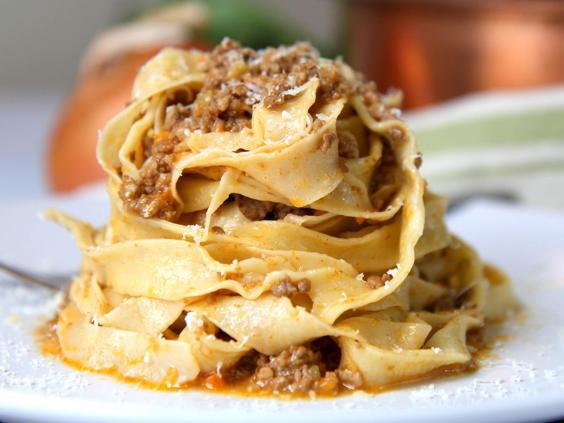 Italy – Bolognese ragù
Learn how to make a classic Bolognese ragù, or Ragù alla Bolognese, with Filippo Trapella's family recipe. Served with homemade tagliatelle, this ragù recipe is a quintessential dish of Emilia-Romagna.
Ragù alla Bolognese or bolognaise sauce as it is known outside of Italy, is one of the world's most popular pasta sauces. Unfortunately, the international version of Bolognese is very different to the traditional sauce eaten by the people born and raised in Emilia, where it has been enjoyed on Sundays and at festivals for centuries. Here I am sharing with you the authentic recipe of my family. Ragù alla Bolognese can be served with short pasta, like maccheroni, rigatoni or gobbi. But, the best and most traditional ways to taste this great sauce is with homemade tagliatelle, or in lasagne alla Bolognese.
300g of beef mince, 85% fat
150g of pork mince
50g of unsalted butter
50g of onion, finely chopped
50g of carrots, finely chopped
50g of celery, finely chopped
125ml of red wine
30g of tomato paste, triple concentrated
125ml of whole milk
Salt, to taste
Black pepper, to taste
Food and drink news
Food and drink news
1/27 Food School

Kids celebrate Food School graduation with James Martin – a campaign launched by Asda to educate young people on where food comes from. New research has revealed that children across the UK just aren't stepping up to the plate when it comes to simple facts about the food they eat – with almost half of children under eight not knowing that eggs come from chickens

RichardCrease/BNPS

2/27 'Do-It-Yourself' restaurant

To encourage more people to cook and eat together, IKEA has launched The Dining Club in Shoreditch – a fully immersive 'Do-It-Yourself' restaurant – which will open its doors from 10 - 25 September 2016. Members of the public can book to host a brunch, lunch or dinner party for up to 20 friends and family. Supported by their very own sous chef and maître de, the host and their guests will orchestrate an intimate dining experience where cooking together is celebrated and eating together is inspirational

Mikael Buck / IKEA

3/27 Ping Pong menu with a twist

Gatwick Airport has teamed up with London dim sum restaurant Ping Pong to create a limited edition menu with a distinctly British twist; including a Full English Bao and Beef Wellington Puff, to celebrate the launch of the airport's new route to Hong Kong

4/27 Food photography masterclass

To celebrate the 2016 Sony World Photography Awards, photographers share tips on how to create an award winning food photography using the full-frame, palm-sized interchangeable lens Sony α7R II camera. A series of stunning food photography images capture the exquisite, mouth-watering detail of the dinner table close up. Tapping into the growing trend of food photography, renowned food photographer Hugh Johnson has shared his step-by-step guide to capturing incredible gastronomic imagery. Winning and shortlisted photographers will be exhibited at Somerset House from 22 April – 8 May

5/27 Zizzi unveil the Ma'amgharita

Unique pizza art has been created by Zizzi in celebration of the Queen's 90th birthday. The pizza features the queen in an iconic pose illustrated with fresh and tasty Italian ingredients on a backdrop of the Union Jack

6/27 Blue potatoes make a comeback

Blue potatoes, once a staple part of British potato crops, are back on the menu thanks to a Cambridge scientist turned-organic farmer and Farmdrop, an online marketplace that lets people buy direct from local farms. Cambridge PhD graduate-turned farmer, Adrian Izzard has used traditional growing techniques at Wild Country Organics to produce the colourful spuds, packed with healthy cell-protecting anthocyanin, which had previously disappeared from UK plates when post-war farmers were pushed towards higher-yielding varieties

7/27 France plans to usurp Scotland as the home of the world's best whisky

France is planning to usurp Scotland's reputation as the home of the world's best whisky, fired by a growing national obsession with the drink. According to a study by retail consultants Bonial, the French drink more whisky than any other country – an average of 2.15 litres a year, compared to 1.8 litres in second-placed Uruguay and the US in third on 1.4 litres

Bloomberg via Getty Images

8/27 Chocolate-filled extravaganza

The London Contemporary Orchestra prepares for one of a kind performance in iconic St Luke's in Old Street. After unique collaboration with Cadbury Dairy Milk they've produced an incredible multi-sensory live event, which will go ahead on 23 February, pairing the sound music with the taste of chocolate (the event is free to the public!)

© Jane Stockdale, © Jane S

9/27 Creme Egg Cafe in London

The Cadbury Creme Egg cafe has opened on Greek Street in Soho, London and it welcomes everyone on the weekends, until 6 March 2016. The menu offers most delicious creme egg toasties and cakes and you may want to jump in to the ball pool for some more fun (available for children and adults!)

Cadbury Creme Egg / Joel Anderso

10/27 Cronut inventor Dominique Ansel to open first bakery in London

The inventor of the Cronut – a croissant and doughnut hybrid – is set to launch his first bakery in London. Dominique Ansel announced that his eponymous bakery will open at some point in 2016 on Instagram by posting an image of one of his famous pastries decorated with a Union Jack flag. The chef said he was "thrilled" about his new venture

11/27 Eating cereal may not be the healthiest way to start the day

The old saying goes that breakfast is the most important meal of the day, so many of us do as we are told and grab a bowl of cereal before we head out the door. But an expert has warned that while many cereals boxes claim their contents are the perfect start to the day, many are packed full of sugar and carbohydrates with little nutritional value. Even some seemingly-health muesli cereals have a lot of added sugar in the form of honey, malt, molasses, dried fruit or "even fruit juice"

Getty Images

12/27 Alton Towers Resort launches the UK's first Rollercoaster Restaurant

For guests seeking a dining experience with a twist, Alton Towers Resort launches the UK's first Rollercoaster Restaurant, brand new and opening in May 2016. The new restaurant is set below a vast rollercoaster track where diners can watch as their order tackles two gravity defying loop-the-loops before dropping 8m/26ft down the tornado spiral to their table. To ensure that the menu is up to the challenge, each of the dishes will be put through its paces at the Resort's extensive test centre to guarantee that each one can withstand the force

13/27 'Heat map' shows which areas of Britain enjoy the spiciest curries

After Bradford was named the Curry Capital of Britain for the fifth year running, a map has been released showing which regions of Britain enjoy a spicy curry and which prefer the milder variants. According to the map developed by Hari Ghotra, Kent, Essex, West Yorkshire and Lancashire are the heat-handling kings of Britain, while Scotland, Northern Ireland and Wales all prefer milder curries. The data was collected by monitoring the location of social media posts that mentioned names of curries. These were then given a spice rating and were then collated to give each area a score out of 1000

14/27 Peckham-based business develops 'first hangover-preventing meat'

Victorians threw cold water over themselves, Native Americans licked their own sweat and Ancient Egyptians would cast spells on their beer. These days, the office barfly is more likely to be seen sipping an Alka-Seltzer the day after the night before. But the hangover-treatment industry is now reported to be worth billions, so it's no wonder everyone from big pharma to quirky hipster start-ups are inventing new and enticing ways to cash in on the painful headaches and slumps in productivity – starting by preventing hangovers in the first place. One of the latest miracle cures to hit the shelves in 2015 is salami. Serious Pig, a Peckham-based craft meat business, has developed what it calls "the world's first hangover- preventing meat treat"

15/27 French cheese under threat from mass production and 'bacteriological correctness'

Search where you will in the most exclusive cheese shops in France and you will no longer find a bleu de Termignon, a vacherin d'Abondance or a galette des Monts-d'Or. They are among 50 species of French cheese to have vanished in the past four decades. The survival of French cheese made in the traditional manner with lait cru or raw, unpasteurised milk, is threatened by the "bacteriological correctness" of European and national food safety regulation

16/27 Non-alcoholic cocktails are seriously chic

We are living through a new era of creative, non-alcoholic drinks that go way beyond a coke or sweet mocktail. The world is becoming more health conscious. There's the war on sugar, and teetotalism is on the rise, with more than one in five not drinking at all (especially young adults), according to The National Statistics for Adult Drinking Habits. This abstinence is even more pronounced in London, with almost one in three turning away from alcohol. An increasing number of mixologists are applying their talents to the creation of non-alcoholic drinks that taste as good as their boozy alternatives

17/27 Japanese whisky crisis

Suntory's chief blender Mr. Fukuyo San blends component whiskies to create Suntory Yamazaki Distiller's Reserve, a blend of young and old single malts. Japan's warm climate and varied seasons makes it perfect environment to age and blend whiskies, creating subtle, refined and complex expressions.The recent trend for Japanese whisky has put the spirit on the verge of a global shortage

18/27 Crisps made with real ingredients

Michelin starred chef, Simon Rogan in action cooking a menu inspired by the provenance ingredients in the new Chef's Signature range from Kettle Chips. Kettle Chips, the nation's favourite premium crisp brand, has launched the new range of crisps with exciting new seasonings, made with the highest quality food ingredients rather than chemicals or artificial flavours

19/27 The price of an avocado is set to rise

Britain's avocado coulovers are facing a significant increase in the cost of their favourite salad food because the so-called superfood is becoming too popular. High demand from health-conscious consumers has led Peru to triple its avocado exports since 2010, with exports to the UK up 58% over the past year

20/27 Burger King to sell alcohol in the UK

Burger King could become the first fast food chain to sell alcohol in its UK restaurants. The popular eatery plans to sell American beers in plastic bottles from this month onwards. The beverages are only to be consumed on restaurant premises

21/27 Guinness to become vegan-friendly

Guinness is set to become vegan friendly for the first time in its 256-year history, as the company announced its plan to stop using fish bladders in its filters

22/27 Why the salmon on your plate might not actually be salmon

Salmon that ends up on the dinner table may not be salmon at all, a study has suggested. The problem of salmon mislabelling has become an increasing issue in the US in the winter months, according to American research published by Oceana. The findings show that 43 per cent of the salmon tested was mislabelled – the most common instance of this being when farmed Atlantic salmon was sold as wild salmon

23/27 McDonald's launches 'premium' burger range

Fast-food chain McDonald's is throwing its hat into the UK's gourmet burger ring after launching its Signature Collection. The premium burgers, which feature the restaurant's thickest ever beef patty made from 100 per cent British and Irish beef, were made available in 28 restaurants in London and the South

24/27 Additives in popular chicken nuggets

Ingredients, a new book co-created by photographer Dwight Eschliman and food writer Steve Ettlinger distils 25 products, including popcorn, Red Bull and chicken soup, focusing on 75 of the most common food additives and revealing what each one looks like, where it comes from and why it is used. McDonald's chicken nuggets were found to contain 40 different ingredients. These included dextrose, a sugar also used by shoe makers to make leather more pliable, and corn starch, used for thickening food as well as also being a substitute for petrol

25/27 New Zealanders are behind a lot of the interesting food and drink stuff happening in the UK

Dark beers are more suited to cold months, so the thinking goes, but in one part of the world they're always popular. "Lots of breweries in New Zealand have got stouts and porters among their best sellers," says Stu McKinlay, one half of the duo behind Wellington brewing company Yeastie Boys. McKinlay recently swapped Wellington for west Kent in order to launch Yeastie Boys in the UK, and he's joined forces with four other breweries (8 Wired, Renaissance, Three Boys, Tuatara) as part of the New Zealand Craft Beer Collective, to promote his country's finest over here

26/27 How dangerous is a bacon sandwich

A recent WHO report warning that processed and red meats can cause cancer may have left you thinking a little harder about whether to pick up that bacon butty for breakfast or ditch a beef-filled Bolognese for dinner - but how worried should we be? The review of 800 studies for the International Agency for Research on Cancer (IARC) prompted global health experts to cast processed meats - including bacon, ham and sausages - into the ominous-sounding list of group 1 carcinogens, where they joined formaldehyde, gamma radiation and cigarettes. Eating just a 50g portion of processed meat – or two rashers of bacon - a day increases the risk of bowel cancer by 18 per cent, the experts concluded

27/27 Best UK fish and chip shops revealed in 'Oscars' of fish-frying industry

Devon, Norfolk, Yorkshire and Somerset offer the best fish and chips in the UK, according to the 2016 National Fish and Chip Awards. Selected from a shortlist of 10 semi-finalists, Hanbury's Famous Fish and Chips in Babbacombe, Devon; No 1 Cromer in Cromer, Norfolk; Papa's Fish and Chips in Willerby, East Yorkshire; The Scallop Shell in Bath, Somerset; and Trenchers Restaurant in Whitby, North Yorkshire have been declared the best restaurants serving the traditional English dish
Place a large thick-bottomed saucepan over a medium heat. Add the minced pork belly to the pot and cook until all the liquid from the meat has evaporated, then add the minced beef and cook until golden, stirring frequently. Transfer the meat to a bowl and set aside. Add the butter to the saucepan and place over a medium heat. Add the onion, carrot and celery and cook until the onions are very soft and translucent. Finally, add the tomato paste and sauté for 5 minutes more, stirring occasionally. Return the meat to the saucepan, turn up the heat and pour in the red wine. Cook over a high heat for 2 minutes, then cover the pan and turn the heat down to low.
Leave the ragù alla Bolognese to simmer very gently for at least 3 hours. The meat must not be excessively dry. Pour in the whole milk and cook for a further 40 minutes just before serving. Ragù alla Bolognese is very tasty when just cooked, but is even better the next day. Reheat the sauce over a very low heat with a little bit of milk and use it to season pasta or simply eat it with slices of toasted bread.
This bolognese ragù by Filippo Trapella first appeared on Great British Chefs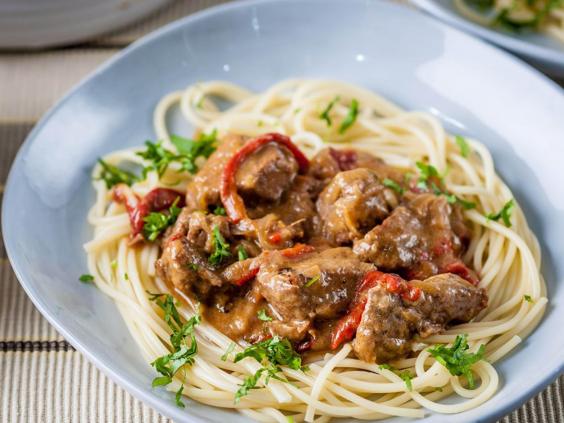 Hungary – Goulash 
Goulash is a Hungarian dish consisting of meat and noodles. In this simple recipe Geoffrey Smeddle uses spaghetti instead for an Italian twist, but it works equally well as a base for the creamy paprika and red pepper sauce.
800g of braising beef, cubed
4 red peppers
2tbsp of plain flour
50g of butter
3 medium onions, thinly sliced
2tsp smoked paprika
200ml of beef stock
450g of spaghetti
150ml of sour cream
1tbsp of chives, chopped
3 pinches of salt
1 pinch of pepper
2tbsp of olive oil
Preheat the oven to 180°C/gas mark 4. Peel the peppers, then cut them in half lengthways and de-seed. Lay in a roasting tray, cut-side down, then drizzle with a tablespoon of oil and season with a pinch of salt and pepper. Cook in the oven until soft, approximately 10 minutes. Remove and allow to cool, then cut into 1cm slices and set aside – leaving the oven on. Combine a pinch of salt with the flour in a bowl. Lightly coat the diced beef in the seasoned flour. Place a large flameproof casserole dish over a high heat and add a tablespoon of oil and all of the butter.
Once the butter has melted, add the beef in batches and fry until browned all over. Remove with a slotted spoon and set aside. Add the onions to the same dish and cook for 4-5 minutes until golden. Stir in the paprika and peppers and cook for another minute, then pour in the stock. Return the beef to the casserole dish and cook in the oven for 1½ hours until the beef is tender and cooked through. Once the meat is almost tender, cook the spaghetti in salted boiling water for 8-10 minutes, or until soft but with a bite. Remove the casserole dish from the oven, season (if necessary) and skim off any fat that has risen to the surface. Then, stir in the sour cream. To serve, divide the spaghetti into bowls. Spoon the goulash on top and sprinkle with the chives. Serve immediately
This Hungarian goulash recipe by Geoffrey Smeddle first appeared on Great British Chefs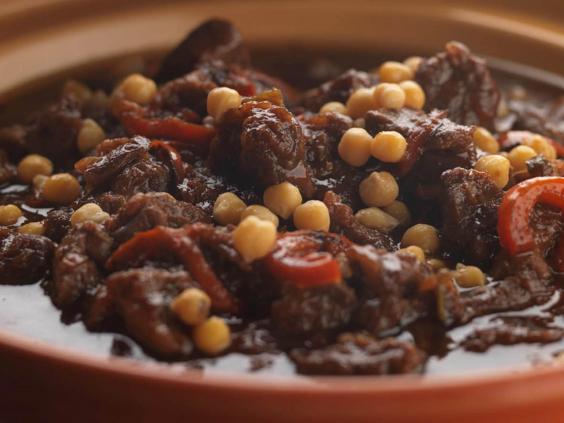 Morocco – Lamb tagine 
A good lamb tagine recipe can be just the thing to wow dinner party guests and family alike. The intense flavours of this one-pot dish from Geoffrey Smeddle disguise the simplicity with which it is prepared. 
700g of shoulder of lamb, diced
16 dried apricots, halved
2tbsp of raisins
350ml of white wine
1 large onion, finely diced
1 red chilli, sliced
3 garlic cloves, peeled and finely chopped
4 cloves
2 star anise
1 cinnamon stick
1 red pepper, peeled and sliced into strips
1tbsp of tomato paste
1 pinch of saffron stamen
400g of tin of chopped tomatoes
570ml of lamb stock
150g of cooked chickpeas
1tbsp of clear honey
1tbsp of coriander, chopped
1tbsp of parsley, chopped
Olive oil
Salt
Black pepper, freshly ground
Soak the apricots and raisins in the white wine for at least an hour before starting. Heat a wide casserole pan and cover the base with a generous amount of olive oil. Season the diced lamb well and fry in the pan, browning it all over. If necessary, do this in batches to keep the pan very hot. Remove the meat once it is browned and set aside. Set the oven to 150°C/Gas mark 2.
In the same pan, fry the onion, chilli and garlic in a couple of tablespoons of olive oil until soft but not too coloured. Add the sliced red pepper and cook for a further 2 minutes. Then add the cloves, star anise and cinnamon stick, then season with the black pepper. Fry for a further 3-5 minutes then add the tomato paste and stir through for another 2 minutes. Next add the saffron, apricots, raisins and wine. Let the wine come to the boil before adding the tinned tomatoes.
Add the lamb and the stock to the pot. Bring to the boil and reduce to a very gentle simmer, cover with a lid and place in the oven for 2-3 hours, or until the lamb is very tender. Before serving, add the chickpeas and stir in the honey and herbs. Serve piping hot
This lamb tagine recipe by Geoffrey Smeddle first appeared on Great British Chefs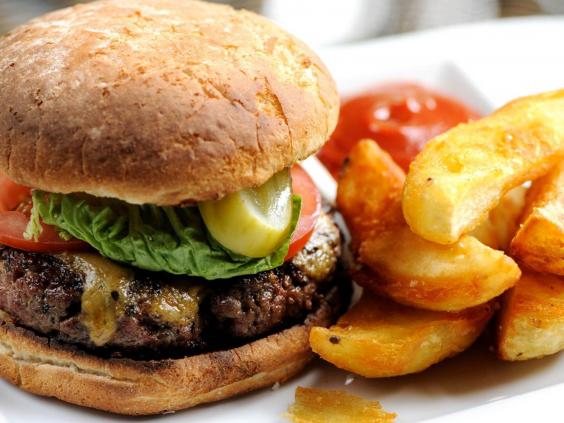 America  – Beefburger
This classic homemade beefburger recipe from Matthew Tomkinson includes Stilton rarebit, along with an easy homemade burger sauce and a side serving of chunky chips.
800g of beef mince
1 small onion, finely diced
2 garlic cloves, crushed
2tbsp of Worcestershire sauce
2tbsp of anchovy sauce
2tbsp of parsley, chopped
Salt
Pepper
Oil
Chunky chips
6 Maris Piper potatoes, peeled
Salt
Pepper
Stilton rarebit
65g of Stilton, crumbled
25g of butter
25g of plain flour
110ml of ale
65g of cheddar, grated
½tsp English mustard
½tsp Worcestershire sauce
Salt
Pepper
Burger sauce
50ml of tomato ketchup
50g of French's classic mustard
To serve
4 burger buns
1 head of baby gem lettuce, leaves picked
2 tomatoes, sliced
Sweat the onion and garlic in a little olive oil until translucent. Allow to cool. Mix with the beef mince and the rest of the ingredients. Shape into 4 even burger patties, using a press or by hand. Chill the patties for 30 minutes in the fridge. Meanwhile, slice the Maris Piper potatoes into thick chips and wash well under cold water. Place in a pan and cover with fresh cold water. Season and bring to the boil. Once boiling, remove from the heat and drain – making sure not to break up the chips. Spread out on a tray to cool and dry.
For the rarebit, melt the butter in a saucepan and add the flour to form a roux. Cook gently for 2 minutes and then slowly add the beer, whisking all the time. Bring to the simmer and cook very gently for 5 minutes, stirring continuously. Add the rest of the Stilton rarebit ingredients, season, and mix well until smooth. Pour into a suitable container and leave to cool. Season the burgers and sear both sides in a hot pan with oil. Transfer to an oven set to 180°C/gas mark 4 and allow to cook through for 10 minutes.
Remove the burgers from the oven, spoon a little of the rarebit mix over each and transfer to the grill or barbecue for a few minutes so that the rarebit mixture is bubbling on top. Allow to rest for a couple of minutes. Deep fry the chips in oil at 180°C until crispy and golden, then drain and season. Mix the ketchup and mustard together in a bowl to make the burger sauce. Place the burgers in the buns along with some lettuce and slices of tomato. Spoon the burger sauce onto the burgers and serve with the chunky chips.
This burger recipe by Matthew Tomkinson first appeared on Great British Chefs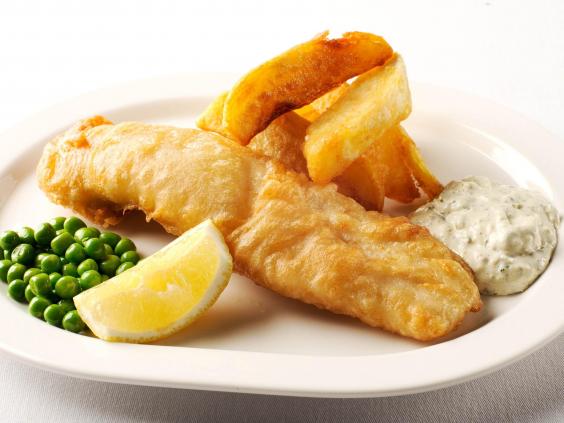 United Kingdom – Fish and chips 
This classic fish and chips recipe from Nathan Outlaw demands a homemade tartare sauce. Rather than the usual cod it uses hake and is given added gravitas by the knowledge that Nathan is perhaps Britain's best fish and seafood chef and has recently produced a phenomenal cookbook, British Seafood.
Fish
4 hake fillets, each weighing 130g
Tartare sauce
3 egg yolks
1tsp English mustard
1tsp white wine vinegar
250ml of rapeseed oil
1tsp fresh tarragon, chopped
1tsp fresh chives, chopped
1tsp fresh chervil, chopped
1tsp fresh parsley, chopped
2 gherkins
2tsp capers, chopped
Salt
Pepper
Beer batter
350ml of ale
230g of plain flour
15g of dried yeast
1tsp salt
1tsp sugar
Chips
6 large Maris piper potatoes
Salt, season
Vegetable oil, for frying
To plate
100g of peas, boiled
For the tartare sauce, start by making the mayonnaise. Whisk the egg yolk, vinegar and mustard together in a bowl until well combined. Slowly add the rapeseed oil in a steady stream while continuing to whisk until emulsified. Finely dice the gherkins and add to the mayonnaise along with the capers and chopped herbs. Taste and adjust the seasoning with salt and pepper as necessary. Store in the fridge until ready to serve.
For the beer batter, combine the flour, yeast, salt, sugar and beer. Whisk together to form a smooth mixture and leave in a warm place for 10 minutes to activate the yeast and develop the flavour. Move to a cooler place until ready for frying.
To start the chips, peel the potatoes, then cut into large chips. Put them in a saucepan, cover with cold water and bring to the boil. Cook until still slightly raw in the centre, strain and cool.
Heat some vegetable oil in a deep-fat fryer to 180˚C ready to cook the fish and chips. Once the fryer has come up to temperature, add the chips to the fryer basket and drop into the hot oil. Cook until golden brown, remove from the fryer and allow all the oil to drip off. Place in a bowl and season generously with salt.
To cook the fish, mix the beer batter again to ensure it is smooth. Drag each fillet of hake through the mixture to evenly coat and drop into the fryer. Cook for 6-8 minutes until golden brown. Always drop items into the fryer away from the body so the oil does not splash back.
To serve, place the fish on top of the chips and serve with peas and a healthy dollop of tartare sauce.
This fish and chips recipe by Nathan Outlaw first appeared on Great British Chefs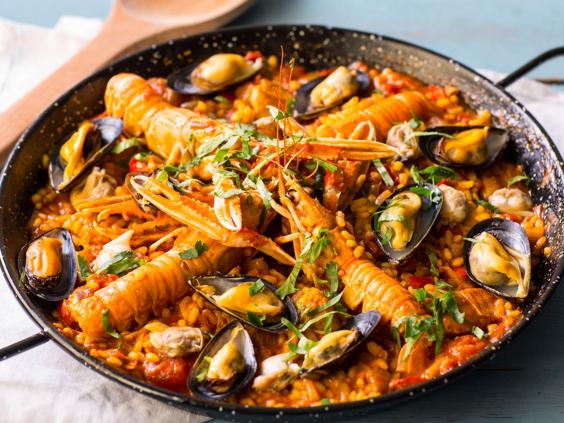 Spain – Paella
Sally Abé's paella recipe is a true Spanish classic, given a luxurious twist from the inclusion of langoustines, but feel free to use prawns instead. The trick to paella is to not stir it too often, or the rice will release a lot of gluten, giving it a risotto-like texture. Instead, leave it be and allow the rice absorb all of those amazing flavours.
4 langoustines
500g of mussels, washed and cleaned
500g of clams, washed and cleaned
1 onion, diced
3 garlic cloves, minced
2 chicken breasts
4 chipolatas
1 pinch of saffron
1tsp paprika
400g tin of chopped tomato
400g of short grain rice, preferably Bomba rice
1.2l shellfish stock
1tbsp of parsley
Salt
To begin, heat a paella dish over a medium heat and add 1tbsp of oil. Sweat down the onions with the minced garlic until softened. Dice the chicken and cut the chipolatas into small chunks. Add to the pan, season with salt and fry. Once browned, add the saffron, paprika and chopped tomatoes. Cook until the pan is almost dry, then add the rice and give it a really good stir to coat in the tomato. Bring the shellfish stock to the boil and add three-quarters of it to the rice. Stir and allow to boil rapidly for 5 minutes before turning the heat down to a gentle simmer.
Cook without stirring (this is very important for a paella) for around 15 minutes, then add the langoustines and cook for a further 8-10 minutes, until the rice is cooked. If the paella begins to look dry, top it up with the remaining shellfish stock. While the rice is cooking, cook the clams and mussels. Heat a large saucepan with a tight fitting lid over a high heat. Quickly tip in the mussels with about 50ml water and replace the lid. Give the pan a good shake – the idea is to steam the mussels as quickly as possible so you need to keep the lid on and the heat high.
After a couple of minutes, take the lid off and have a look at the mussels – if they have opened up they are ready. Strain through a fine sieve and cover with a tea towel until you need them to stop them from drying out. Repeat the exact same process with the clams. I removed the clams from their shells to fit everything in the paella dish, but you can leave them in if you prefer for presentation. When the rice and langoustines are cooked, top with the mussels and clams and sprinkle over a handful of chopped parsley.
This paella recipe by Sally Abé first appeared on Great British Chefs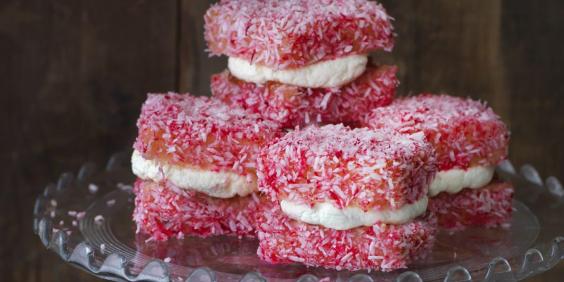 Australia – Pink Lamingtons
Claire Clark shares her recipe for Lamingtons, a classic Australian sweet treat. Little squares of soft sponge cake are rolled in icing and desiccated coconut, then filled with the delicious combination of whipped cream and raspberry jam.
Pretty as a picture, these pink cakes originate from Australia. There is some controversy about their origins. Some say they were named after Baron Lamington, the Governor of Queensland from 1895 to 1901. Others think that Lady Lamington, patron of a famous cooking school in Brisbane, was so admired that the cookery teacher, Amy Shauer, named them after her. I like this version of events, as Baron Lamington didn't even like cake and was apparently a rather grumpy man. Traditionally the cakes are chocolate and coconut, filled with a layer of plum jam, but I love this pink version and they can be adapted to several flavours. I have used raspberry jam here but strawberry, redcurrant and, of course, plum all work a treat. For extra texture, these are filled with fresh cream.
Batter
250g of unsalted butter, at room temperature
300g of caster sugar
4 medium free-range eggs, lightly beaten
½tsp vanilla extract
500g of self-raising flour
1 pinch of salt
250ml of milk
Icing
385g of icing sugar
125ml of milk
20g of unsalted butter, finely diced
Pink food colouring
250g of shredded coconut
Filling
250ml of double cream
15g of icing sugar
½tsp vanilla extract
4tbsp of raspberry jam
Preheat the oven to 170°C/gas mark 3.5. Grease a 3cm deep 17x27cm baking tin and line the base with baking parchment. Place the butter, sugar and cream in a food mixer and mix until pale and fluffy. Add the eggs one at a time, beating well after each addition, then add the vanilla extract. Sift the flour and salt together and fold them in alternately with the milk, starting and finishing with the flour. Be careful not to over-mix the batter. Pour the mixture into the cake tin and level the surface with a palette knife. Bake for 30-35 minutes, until the cake is well risen and golden and springs back when lightly pressed with your finger. Leave to cool in the tin, then remove from the tin and leave in the fridge for 1 hour to firm up.
Cut the sponge into 12 equal-sized pieces with a long serrated knife. Sift the icing sugar into a heatproof bowl and slowly add the milk, whisking to keep the mixture smooth. Add the butter. Place the bowl over a pan of gently simmering water, making sure the water doesn't touch the base of the bowl. Stir continuously for 3-4 minutes, until the icing is hot. Remove the pan from the heat and stir in a little pink colouring. Dip each Lamington, one at a time, into the icing, using a spatula to lift them out
Place the shredded coconut in a mixing bowl. Ensure any excess icing has drained off each Lamington, then roll the them in the coconut. Lift them onto a tray lined with baking parchment and leave for 2 hours to firm and set. To make the filling, place the vanilla, icing sugar and double cream in a bowl and whisk to medium peaks. It should be a thick enough consistency to spread. Cut each cake in half and spread a layer of raspberry jam and whipped cream on each half. Sandwich the Lamingtons back together and serve. Once filled, eat within 3 days. The unfilled cakes can be frozen for 3 months.
This pink Lamingtons recipe by Claire Clark first appeared on Great British Chefs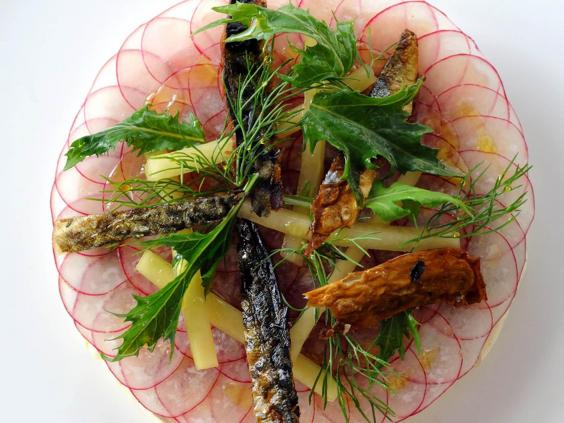 Peru – Ceviche
An aesthetically stunning Cornish mackerel ceviche recipe from Michelin star chef Robert Thompson which is remarkably simple to make. Pickled cucumber and horseradish cream combine with the mackerel to create a perfect melange of flavours. Just ensure that the mackerel you buy for this seafood dish is the best you can find.
1 whole mackerel, filleted and pin boned with skin reserved
Olive oil
12 red radishes, thinly sliced
200g of Japanese white radish, peeled and thinly sliced
1 lime, juiced
1 lemon, juiced
Pickled cucumber
200ml of white wine vinegar
100g of brown sugar
2 bay leaves
4 juniper berries
1 cucumber, deseeded and cut into a matchstick shape
Horseradish cream
250ml of double cream
100g of fresh horseradish, grated
1 lemon, juiced
Salt
Black pepper
For the pickled cucumber, bring the vinegar, sugar, bay and juniper berries to the boil in a pan and allow to cool. Submerge the cucumber in the liquor, season and set aside. To make the horseradish cream, whisk the double cream and grated horseradish until softly whipped, season with lemon juice, salt and pepper. Continue whisking until slightly firmer. Place mixture in a piping bag. Preheat the oven to 180°C/Gas mark 4. Remove the skin from the mackerel. Bake the skin between parchment paper brushed with a little olive oil for 8 minutes or until the skin has coloured nicely, allow to cool. Remove any bones down the centre of the fish fillets and dice the flesh into 1cm cubes. 
Arrange the white radish in the centre of 4 plates (12cm diameter approximately). Arrange the red radish slices onto 4x12cm circles of parchment paper that have been brushed with little olive oil. Overlap each slice to form a full circle, repeat the process working into the centre until the parchment circles are covered. Take the cubes of raw mackerel and dress with a little lime and lemon juice, olive oil and seasoning. Pipe a layer of horseradish cream over the white radish then, place the dressed mackerel on top. Finally turn the red radish over and gently place over the fish. Remove the parchment and finish with the drained cucumber and shards of crispy skin
This cevice recipe by Robert Thompson​ first appeared on Great British Chefs
Japan – Miso ramen soup
This deliciously simple ramen soup recipe from Shu Han Lee is a great way to jazz up your noodles. Shu creates a tasty miso broth to simmer the noodles, complete with a poached egg, spring onions and a scattering of crispy shallots. The perfect quick, healthy dinner for a weeknight.
I think every Asian student has had his/her fair share of emergency ramen noodles while cramming for exams. While I've moved on from a dark time in my life when literally the only thing I could do in the kitchen was boil water, I still love my ramen soups. What I do now, is a pimped-up version of these instant noodle soups, with plenty of fresh vegetables and an egg poached right in the simmering broth. For this recipe, I used Clearspring's brown rice ramen, which comes with a packet of organic miso-based paste, so it was all in all the healthiest ramen soup one could ever have. If you can't get hold of the brand but still want a delicious, wholesome bowl of miso ramen, I've also shared a recipe for making the simplest miso soup so you can ditch the packet.
Ramen and pak choi
Ramen noodles, 1 packet
1 free-range egg
1 pak choi, trimmed
1 spring onion, finely chopped
1tsp chilli oil, optional
1tbsp of crispy shallots, or toasted sesame seeds
Miso soup
600ml of water
2tbsp of miso paste, red or white
1tsp sesame oil
White pepper, a generous dash
Sea salt, to taste
Put the kettle on to boil. Pour 600ml (a bit more than 2 cups) of boiling water into a saucepan. Add the ramen noodles and let cook on medium heat for about a minute, or until almost cooked according to packet instructions. In a separate little bowl, combine the red miso and steal a few tablespoons of hot water from the saucepan. Stir the miso and water together till you get a smooth runny paste. When the noodles are almost cooked, lower the heat and stir in the miso solution, sesame oil and white pepper. Taste and adjust the seasoning with salt, if necessary. Add the pak choi and crack an egg straight into the simmering soup, letting them poach gently with the noodles. Cook until the pak choi is tender and the egg whites turn opaque, scooping the hot broth over the egg to speed up the process if you like.
The trickiest bit here is transferring the whole pot's contents into a bowl. In my lazier student days I would have quite simply dug straight into the pot with a pair of chopsticks. Carefully scoop the noodles and pak choi into a bowl before pouring the soup and poached egg over. Finish with a drizzle of chill oil and a sprinkle of spring onions and crispy shallots/toasted sesame seeds.
This Miso ramen soup recipe by Shu Han Lee first appeared on Great British Chefs
Reuse content