Amazon has launched a $99 internet-streaming device for TVs in a move that puts it in direct competition with similar offerings from Google and Apple.
The Fire TV offers instant access to more than 200,000 films and television series through various services including Netflix, Hulu, YouTube and Amazon's own Prime Instant Video – previously known as LoveFilm.
Although the design is not the most imaginative (Amazon have plumped for the simple, black box) the components inside are more powerful than its competitors, with the Fire TV offering a quad-core processor, 2GB of RAM and a dedicated GPU.
There's also a Bluetooth remote with a seven button configuration and built-in microphone that can be used for voice activated search.
"Tiny box, huge specs, tons of content, incredible price - people are going to love Fire TV," said Jeff Bezos, Amazon.com founder and CEO in a statement.
"Voice search that actually works means no more typing on an alphabet grid. Our exclusive new ASAP feature predicts the shows you'll want to watch and gets them ready to stream instantly."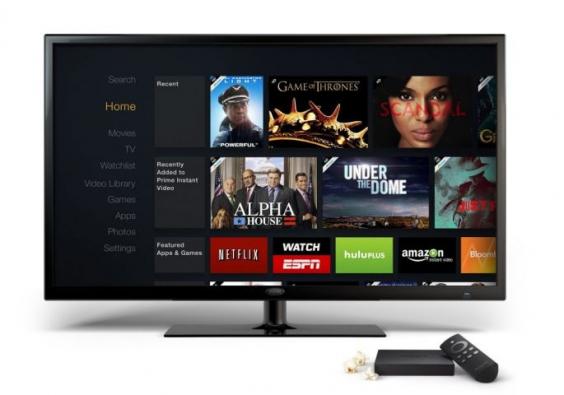 The Fire TV also offers X-Ray, an Amazon feature that gives customers access to extra information such as bloopers and movie trivia without having to leave the TV. The Fire TV can also be used to run music-streaming services such as Amazon MP3 and Pandora, as well as casting home photos and video via Amazon's Cloud Drive.
Amazon has not mentioned a UK release date for the device, but if the Fire TV can mimic the success of the company's range of Kindle tablets than we can expect to see it in stores before long.
The retailer claims that customers who own an Amazon tablet spend, on average, $443 more on items from Amazon that shoppers who do not, and with DVD sales continuing to fall, the retailer needs to find new ways to put its content in front of customers first.
As well as films and TV, Amazon says its Android-powered device will also give users access to various games for an average price of $1.85.
Although the selection of titles currently available isn't enough to tempt any dedicated gamers (neither does the thought of using the Fire TV's clunky controller - costing an additional $40), Amazon's decision to push this as a feature from launch could prove to be an important decision.