After Apple unveiled the first iPad in 2010 tablet sales grew faster than pretty much any other gadget in history. From selling 18 million units in the first year, CEO Tim Cook announced last week that the company has shifted more than 225 million iPads in just four years – a colossal number for what was essentially a 'new' product category.
However, interest has been slowing quarter after quarter and ahead of Apple's latest earnings report (due at the close of market today) analysts are predicting that iPad sales will drop to 13 million – an eight per cent fall year-on-year. So, the question is: is it all over for the iPad?
Judging by the first reactions to the new iPad Air 2 and iPad Mini 3 last week the outlook is not good. The new devices have been welcomed while being quietly dismissed as mere updates, with the only major selling point being that both now come equipped with Apple's Touch ID fingerprint sensor.
The iPad Air 2 also got a new, less reflective display, faster processor and is 18 per cent thinner, but the iPad Mini 3 is identical apart from the addition of Touch ID.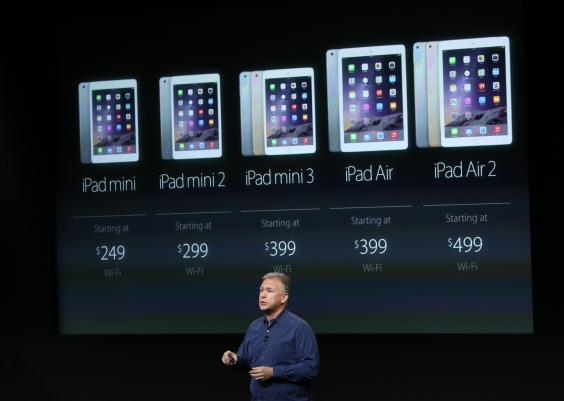 Sure, some people will be choosing to buy their first tablet from Apple, but not many current-owners will be bothered to update – especially with the larger display of the iPhone 6 Plus offering a sort-of tablet experience but with calls and messages too.
However, just because there have been no major innovations this year (at least, none that we haven't already seen in previous products) it doesn't mean the iPad is dead. After all, what sort of gadget can sustain triple-digit growth figures year after year?
For iPad-believers, Apple has already created the perfect tablet (reviewers agree on this much) and although sales are slowing, the iPad Air 2 could be ideal for a market that Apple has yet to crack – big business.
The company's recent partnership with IBM has set the stage for greater enterprise sales and the addition of Touch ID in the new devices is crucial here. Fingerprints provides user-friendly security measure for corporations that demand long, tedious-to-enter passwords, with Apple's API's allowing even custom apps to get in on it.
For this reason the launch of Apple's new tablets has been described as a "dog-whistle event" by Charles Arthur of The Guardian; that is, one that appeals to a specific section of the audience but passes the majority by.
"The sense of relief from iPad users in business was (to me) surprisingly palpable on Twitter after the announcement," writes Arthur, "in retrospect it's understandable that pressing a finger looks far more desirable than typing a long, hard-to-remember code."
Over at Quartz, Jean-Louis Gassée is of a similar opinion, noting that Apple's tablet sales may be slowing but the company's plan looks solid for the long term: "Instead of a hybrid product as promoted by Microsoft, the sweet spot in Apple's business model seems to be a tablet and a laptop, each one used for what it does best, unencumbered by hybridization," writes Gassée.
'Leaked' iPad Air 2 photos
This sense of division between products certainly seems to be Apple's preference, with the company's senior vice president Craig Federighi telling reporters last week that they had no plans to introduce touchscreens to their computers.
This suggests that indeed, it might be posible that Apple's next tablet will be a larger and more powerful 'iPad Pro' - a device that won't appeal to most consumers but could be extremely useful for certain professionals. Would this constitute the end of the iPad maybe? Not if they sell like the old ones.
Reuse content