Apple has been accused of collecting users' location data and search data without their knowledge in OS X Yosemite, the latest version of the company's desktop operating system.
The free software update – released to the public last week – contains a revamped search function named Spotlight that allows users to hunt for files in their computer and find information on the web from the same search bar.
However, Apple now sends collects these search terms as well as approximate location data (used to answer searches about, say, nearby cinema times), also sending some of the information on to Microsoft (who help to power the search function using their Google-rival Bing).
Critics have noted out that even if Apple and Microsoft do not use this information for anything more annoying than targeted advertising, governments could still demand the information, potentially gaining access to citizens' location data and search terms.
This information is sent under three new features built into Spotlight, all of which can be disabled from System Preferences in Mac OS X. (Worried users: go to System Preference> Spotlight > Search Results and disable the following: 'Spotlight Suggestions', 'Bookmarks & History' and 'Bing Web Searches'.)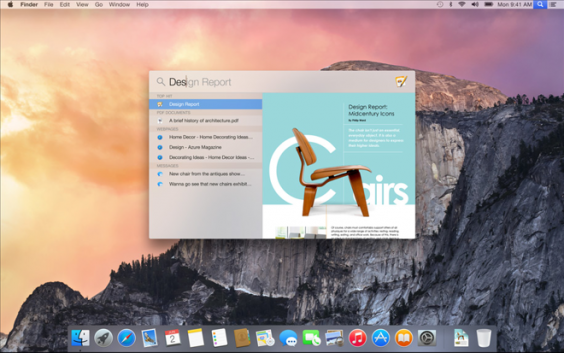 Apple has responded by clarifying the nature of this data and protesting that they are "absolutely committed to protecting our users' privacy and have built privacy right into our products."
They point out that the main Spotlight function that collects data ('Spotlight Suggest' – it offers personalized results just like any web search engine) "doesn't use a persistent identifier, so a user's search history can't be created by Apple or anyone else" and that the temporary identifiers that are used are discarded every fifteen minutes.
They also note that they "blur" any geographical data to hide exact locations and that the information that is forwarded on to Microsoft only contains "commonly searched terms" and "city-level location information".
This will still be too much to stomach for some users (again, if that's you – check the instructions above and disable those categories) and critics point out that Apple has not done enough to inform users about the changes – even as they take an increasingly protective stance on users' data on mobile devices.
Speaking to The Independent, security and privacy researcher Runa Sandvik said that the fact that Apple wasn't collecting personal identifiers "removes some of the big, potential dangers with this type of 'feature'," but added that the company was still participating in a worrying trend in tech companies to "learn as much as possible about users, where they are and how they use your services."
Reuse content