From smartwatches to mobiles, the first 24-hours of this year's IFA electronics fair seemed devoted towards smaller screens.
But on the second day it's been the turn of the bigger displays, with new TVs from expected (and unexpected) sources hogging the limelight. Doing most of the hogging was a new set from Samsung,officially the world's largest Ultra HD TV, clocking in at a eye-blasting 110 inches (above).
However, if you can tear your gaze away from that marvel, here's a couple of our favourites from the show so far:
Samsung's curved 55-inch OLED screen lets you watch the same thing twice.
Samsung's S9C features a 55-inch curved OLED screen that the makers promise offers a cinema experience for your living room. However, it's the S9C's MultiView feature that really stands out: a feature that uses special glasses to let two different shows be watched on the same screen.
"It is like having two televisions in one," says Michael Zoeller, senior director of European sales and marketing. "Two people can watch two different programmes at the same time in full screen in full HD and even in 3D with Samsung MultiView glasses."
This isn't the first curved OLED TV (LG got there first) but it is the cheapest. The S9C goes on sale exclusively at John Lewis for £6,999, but you could split that price in two if you're planning on viewing everything in double-vision.
Ambilight from Philips promises new levels of immersion, but isn't a little off-putting?
Plenty of TV manufacturers have been busily showing off sets that offer 4K – the resolution standard the next 'step up' from HD, but that actually offers four times the pixels – but Philips had undercut them all in price.
Its 9000 series includes two models at 65- and 84-inches for €4,999 (£4,229) and  €14,999 respectively. As there's not much 4K TV about at the moment the sets also feature Ultra Pixel HD Engine upscaling to adapt normal HD.
As well as offering 4K on the cheap (a relative term here), these TVs will also feature Philips' Ambilight: four strips of multi-coloured lights that detect that match the shades currently on your TV. It sounds like a gimmick but used correctly can really create an immersive experience.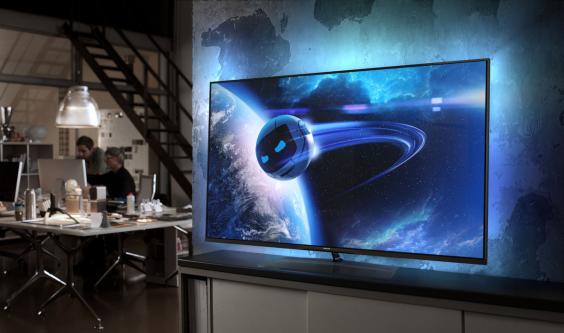 And another curveball from the so-called 'Apple of the East' (but still no TV from Apple...)
It's not the most innovative new TV on the scene (and in fact it's not from IFA either) but its origins should raise a few eye-brows. Fast-growing smartphone makers Xiaomi have launched their own 47-inch 3D Smart TV, confirming that the ambitious company is not content with the mobile market.
This from the company that recently poached top Google talent in the form of Android exec Hugo Barra, after making a phone that sold 100,000 units in just 90 seconds.
The new device has an LCD screen (rather than the latest OLED tech) but is extremely thin: 4.8cm at its thickest and just 2cm at its slimmest. It also supports dual-band Wi-Fi frequencies to allow streaming shows direct to the TV and supports Bluetooth accessories.
Reuse content