Don't make the mistake I did, nv doesn't stand for non-vintage. Even though this is called Piper, it is not champagne. That disappointment over, Piper nv (the nv stands for night vision, it turns out) is a home security camera that's straightforward to set up and offers great peace of mind.
It's a small, light plastic gizmo available in black or white that you can place on a shelf thanks to its aluminium stand, or wall-mount. It has a camera, motion sensor, microphone and speaker built in. There are also other sensors to measure temperature, humidity, and ambient light. Once you've plugged it in and downloaded the iPhone or Android app to your phone or tablet you're mostly done. A light on the front of the Piper turns blue and creates a wi-fi network (called Piper). Connect your phone to that and Piper can join your home broadband network. Now the camera is linked to your phone whether you're sitting next to it or halfway across the world.
Actually, I made a second mistake, too. Once the Piper has checked for firmware updates the app presents you with an onscreen dashboard. On this is a small moon icon which you can swipe across to reveal a clock, a bit more information and a big red button marked PANIC.
Do not, as I did, casually swipe this. The result is that it manually trips the alarm. The company claims this is a piercing 105-decibel alarm and they're not kidding. It's a well-named button as panic is exactly what I did when I'd pressed it. I can still hear it ringing in my ears.
There are lots of features on the Piper, which I explored as my heartbeat began to return to normal. You can set it to home, away or vacation modes, each with their own rules. So if you're at work, the Piper can send you a text, email or other message on your phone if it spots movement, hears a noise or realises that the temperature has changed – perhaps indicating that the windows were left open.
And if you're away on holiday, different rules can apply, so that it starts recording video or switches on that remarkable alarm. There are more options to adjust. You can create a trusted circle of contacts who can be notified as well as you, for instance.
The Piper is also compatible with other gadgets using the Z-Wave standard, so you can add a smart switch (available separately). The switch is a plug with wireless connections. It has a three-pin socket to receive the plug of a light, say. Plug it in and let Piper know to connect to it and you can control the light from the app. You can control this manually or set it so that if it hears a noise, Piper can automatically turn the light on. You can also schedule the light to come on on at set times or when the ambient light sensor spots it's getting dark, which is especially handy.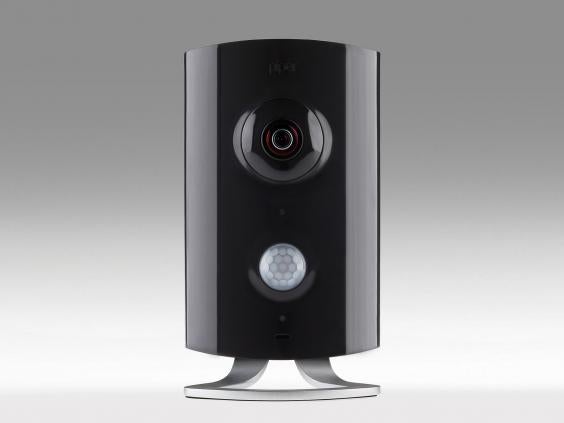 The Piper is also great for snooping on your dog while you're out. Touch the Live Video button and your phone or tablet can show what the camera is seeing. You can then baffle Fido by pressing the microphone button and saying "Here, I'm over here, hiding behind this little black box." The built-in speaker means you can also use the Piper as a two-way audio intercom with, you know, humans as well.
The camera is pretty wide-angle and you can move the screen to adjust what you see. Images are clear and the camera can record video at 1080p resolution. Night vision activates automatically when the light fades.
That nv feature, by the way, is good enough to make a dark room completely visible – in black-and-white of course. An infra-red ring glows faintly on the Piper and picks up movement efficiently. Even when I did a pantomime burglar-on-tiptoe manoeuvre.
The Piper nv is a simple but highly effective system. There are cheaper alternatives than the £229.99 price. Even so, I'd still say this is good value, not least because many rival systems are much less versatile. Plus, there are no subscriptions or monthly fees to be paid after you've splashed out on the device itself. Just mind what you do with that Panic button.
From £229.99, amazon.co.uk
Reuse content