Arriving yearly in the pre-Christmas slot, sales of previous Call of Duty games have frequently broken records around the world since the series' inception back in 2003.
10 winters on, approaching the transition to a whole new console generation, what can Infinity Ward provide that we haven't already encountered in the deeply dug trenches of existing first person shoot-em-ups?
The single player campaign seems constructed from a Michael Bay guide to blockbusting setpieces, seismic events strung together with a thin plot that rather unbelievably manages to cast the military might of the USA in an underdog role. Due to the rise of an unlikely South American alliance known as the Federation, armed with stolen orbital superweapons, America finds itself menaced by its neighbours.

There's no sign of tangible impediment with regards to getting your hands on lethal ordnance though, as within minutes you'll be blasting helicopters from the sky with laser-guided rockets.
An amalgamation of space station explosions, earthquakes and scuba dives attempt to break up the corridor carnage, but it's clear the game engine is beginning to creak with old age, and it often feels disappointingly bloodless out in the killing fields. The novelty of taking control of attack dog Riley soon wears off, effectively re-skinning drone levels seen before in several titles.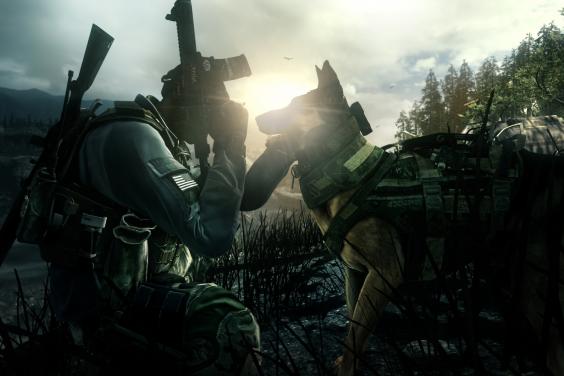 Online offers much more entertainment, with plentiful new modes and maps, including an excellent Skyfall inspired number. CoD still proves one of the most popular multiplayer titles available, a thriving community waiting obligingly to snipe you in the head at the earliest opportunity, with the online experience continuing to satisfy basic explosive needs.
However, it's difficult to hide the impression that this veteran has perhaps seen better days, and should consider taking a desk assignment to make way for fresher combatants.
Reuse content